11 Colorado Waterfalls
Waterfalls are one of the best side effects of a Colorado hike. They might be tiny, wispy ones you happen by along a scenic trail, or they might be bigger destinations unto themselves.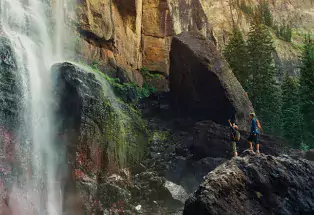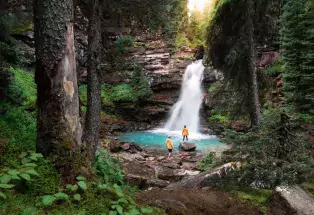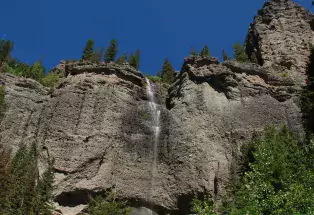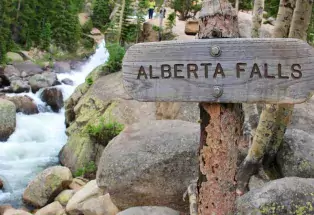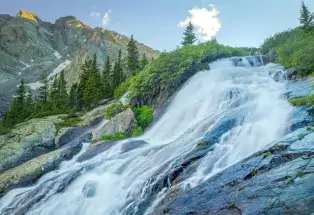 The Colorado waterfalls below are worth making the trip. And check out other ideas for Colorado hikes
1. South Mineral Creek Falls
Reached via the South Mineral Creek Campground, hikers will trace South Fork Mineral Creek on the way to these falls, which flow into an ethereal turquoise pool with red and gray peaks standing sentinel in the distance. Nearby towns: Durango and Silverton
2. Seven Falls
Trek up 224 steps alongside the Seven Falls (or take the mountain elevator), which tumble 181 feet down the canyon in seven distinct segments. Nature trails and views of Colorado Springs and the sprawling Great Plains to the east add to this attraction's natural appeal. Nearby Town: Colorado Springs
3. Bridal Veil Falls
The well-preserved Victorian-era town of Telluride — nestled at the foot of a box canyon — is a beguiling sight all on its own. But 365 feet above, the white spray of Colorado's tallest waterfall plummets to the canyon's depths, adding the final touch to a charming scene. Nearby Town: Telluride
4. Helen Hunt Falls
Colorado Springs' North Cheyenne Cañon Park is home to these falls, which can be reached after a steep but manageable hike amid spectacular views. A visitor center gives details about the area and the falls' geology. Nearby Town: Colorado Springs
5. Fish Creek Falls
These waterfalls are spectacular any time of year, but they are most breathtaking in the spring. When temperatures rise and the snowmelt reaches its peak and winds its way downhill, water whooshes over Fish Creek's cliff, emitting a thunderous sound and a gentle spray that serves as a cool reward to those who've trekked in to see the water works. Fish Creek is also unique in that it's accessible to people who use wheelchairs. Nearby Town: Steamboat Springs
6. North Clear Creek Falls
For a hidden treasure along the Silver Thread Scenic Byway, keep your eyes out for Forest Road 510 on your left, just past Spring Creek pass. A short distance down the road affords views of gushing North Clear Creek Falls as it plummets from a willow-covered bench into a box canyon. Nearby Town: Lake City
7. Zapata Falls
As hikers approach the Zapata Falls along a windy trail at the base of the Sangre de Cristo Mountains on the way to Great Sand Dunes National Park and Preserve, it feels a bit like they're chasing it — they can hear the roar of the 40-foot-tall gusher and feel its cooling effect long before they can actually see it. Nearby Town: Alamosa
8. Box Cañon Falls
Tucked in a narrow Ouray box canyon, Box Cañon Falls' 280-foot cascade can be experienced top to bottom via staircase, hiking trail and suspension bridge. As thousands of gallons of water rush and roar their way down, take a moment to look up — the National Audubon Society has named the area an important bird site. Nearby Town: Ouray
9. Ouzel Falls
On the path to Ouzel Falls inside Rocky Mountain National Park, in one of the greenest, must lush spots in the state, hikers come across several smaller falls and cascades that entreat them to keep moving to the mother lode. Breathtaking Ouzel drops more than 40 feet through a sliver in the dark rock wall surrounding it and flows into a chilly pool filled with boulders and fallen trees. Also check out the park's Columbine Falls, near Chasm Lake, with view of Longs Peak in the distance. Nearby Town: Estes Park
10. Rifle Falls State Park
On a hot summer day, the mist that drifts from the exhilarating gush of water over 70-foot-high limestone cliffs and the dark caves below them in Rifle Falls State Park are a sublime natural air conditioner. Nearby Town: Rifle
11. Horsetooth Falls
West of Fort Collins in the Horsetooth Mountain Open Space, amid the area's famous red-rock formations, you'll find these falls on a moderate 1.2-mile hike fit for families and pets. Best visited in the spring, when the hike is peppered with purple, pink and yellow wildflowers, there's also a pool at the base of the falls where you can cool off before the hike back to the trailhead. Near Town: Fort Collins
BONUS BEAUTY:
Hanging Lake
Appearing to cling to the edge of a mountainside, this almost supernaturally teal-green Hanging Lake is surrounded by moss-covered rocks and a meandering trail. Waterfalls cascade quietly off a cliff into the lake's still depths, adding to an already surreal atmosphere. Note: This is a busy place. You will need a reservation to hike. Find out how to navigate it and help preserve its beauty here. Nearby Town: Glenwood Springs
Want More?
Want Even More?
Stop and smell the columbines on these wildflower hikes