12 Colorado Beer & Food Pairings
Colorado's reputation as a top producer of stellar craft brews goes hand in hand with our growing status as a culinary trendsetter.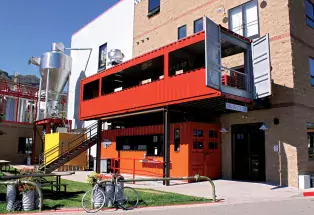 From the annual sell-out at Denver's Great American Beer Festival — the largest domestic beer festival in the United States — to popular restaurant pairing events, Colorado has a knack for marrying small-batch suds with delicious dishes for an unforgettable gourmet experience.
Here are our favorite places around the state to drink local beer and savor delicious beyond-pub grub. 
Beer: Shamrock Brewing Company's Irish Red Ale is easy drinking, which means you should probably save room for more than one.
Food: Can't leave Colorado without gobblin' up a buffalo burger. They're lean (but not mean), so you'll feel zero guilt afterward.
Beer: EddyLine Brewing's Grapefruit Yanker IPA has crisp, citrusy notes of mango and grapefruit that will brighten up any day; try it on draft and then take it along on your winter adventure in 16-ounce to-go cans.
Food: Step out of the ordinary with the White Water Pizza, made with creamy roasted-garlic alfredo sauce, mozzarella, fresh spinach, parmesan and roasted chicken.
Beer: The LowDown Brewery's India pale ale, made with ruby red grapefruit, pine and tangerine, has area reviewers buzzing. 
Food: We can't shut up about the Legion of Shroom sammie with, you guessed it, marinated and grilled portabella mushrooms, honey-whipped goat cheese spread, mozzarella and more on sea-salt focaccia. 
Beer: With a touch of maple syrup, Tommyknocker Brewery's Maple Nut Brown Ale is, well, nutty and sweet — just like the name implies.
Food: The Gold Rush Pork Green Chile favors Colorado's Southwestern flavors and is served with a warm tortilla.
Beer: Push the robust envelope with Ska Brewing Company's Decadent Imperial IPA.
Food: Pop out to The Container, a culinary-repurposed shipping unit, for the Beer-Fed Burger or a mushroom goat-cheese pizza.
Beer: Palisade Brewing Company's chocolatey, toffee-y, hoppy Porter of Love is the perfect winter warmer.
Food: The sandwiches here rival those of any five-star deli — whether you're into tender brisket or the bright pesto vibes of a caprese — and we wholeheartedly recommend the potato salad. 
Beer: Watch the bubbles rise in a Colorado Boy Brewing Company chilled-cask English Pub Ale.
Food: Choose from a dozen artisan pizzas to further warm your belly, including delish ingredients like capicola ham, gorgonzola, and local sausage. 
Beer: Go decadent from start to finish at Rockslide Brew Pub with the Big Bear Oatmeal Stout.
Food: The pecan-crusted chicken salad is topped with pecan chicken, bacon and … who cares? Chicken and bacon is all you need! 
Beer: Sip Coopersmith Pub & Brewing's aggressively spiced Signa's Ghost Chili which'll light you up with delight on so many levels. 
Food: Eat your beer with Horsetooth Stout-simmered bangers and mash, served with a side of applesauce.  
Beer: Inhale flavors of the Southwest with Pagosa Brewing Co.'s Chili Verde Cerveza, a crisp, pale beer with chile aroma and flavor.
Food: Munch on the beer-battered, wild-caught salmon fish and chips, made with the brewery's own beer. 
Beer: Start the night off with a bang and a pint of Amica's Pizza & Microbrewery's Big S Brown Ale, tinged with caramel and chocolate malt.
Food: Those who've hopped off the gluten train will be happy to find many gluten-free options, including crowd-pleasing, wood-fired pizzas. 
Beer: San Luis Valley Brewing's bold Valle Caliente Lager is infused with Hatch green chiles.
Food: Made by hand for six generations, Gosar's European-style sausages come in flavors like chicken, chile and chive; pork, cheddar and chipotle; and turkey cranberry chipotle. (Extra credit: Step around the corner to the brewery's sister operation, Roast ~ Craft Coffee & Libations). 
Want more?
Read about top winter beers at Colorado's craft breweries >>