12 Months of Colorado Dining
More and more restaurants are brandishing the Colorado Proud logo, indicating locally grown produce, on their menus as top chefs are teaming up with regional farmers to take the fresh-food movement to a new level.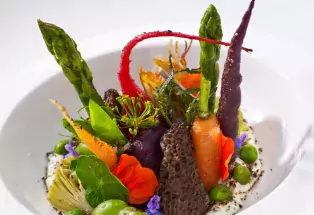 Farm-to-fork experiences are available year-round in Colorado. Here are our monthly harvest picks and the mouthwatering restaurants where you'll find them. 
Note: Many of these restaurants offer menus that rotate based on what's in season, so available dishes are subject to change. (But we bet you'll find a delicious alternative.)
January
Fresh Picks: watercress, cows' milk artisan cheese
Find It Here: The Ore House, Durango
The Ore House calls on local businesses like Fox Fire Farms and James Ranch for fresh greens, cheeses and meats, including pork belly, beef and chicken. Complement your meal with the Up in Smoke, featuring Colorado bourbon, vermouth, aromatic bitters, cherry-wood smoke and a brandied cherry.
February
Fresh Picks: mushrooms, cabbage
Find It Here: Bramble & Hare, Boulder
Sister restaurant to the award-winning Black Cat Farm Bistro, Bramble & Hare's larder is stocked by its organic farm and Front Range foragers that harvest mushrooms, juniper and wild plums. Taste the true flavors of Colorado in their seasonally rotating menu, with past delights like Duo of Beef with creamy polenta and winter faves like mushrooms, cabbage and turnips. 
March
Fresh Picks: lamb, beef
Find It Here: Juicy Lucy's Steakhouse, Glenwood Springs
Enjoy high-quality Colorado beef, lamb or elk and locally grown produce — all of which pairs perfectly with one of the Centennial State wines they offer.
April
Fresh Picks: goat cheese, parsnips
Find It Here: Duo Restaurant, Denver
In Denver's hip Highland neighborhood, bustling Duo serves a decadent butter-poached-parsnips dish with beets, pears, fennel honey, goat cheese and a crisp herb salad.
May
Fresh Picks: asparagus, rhubarb, green garlic
Find It Here: Margarita at Pine Creek, Colorado Springs
Margarita's comfortably contemporary cuisine puts innovative twists on fresh Colorado ingredients in dishes like the roasted portobello, beet and leek napoleon with butternut squash, asparagus and spinach pesto.
June
Fresh Picks: chilies, watermelon, asparagus, carrots
Find It Here: Bin 707, Grand Junction
Bin 707's thoughtful and creative menu changes periodically, but could include smoked local porchetta with green-chili pozole along with roasted carrots, beets and oyster mushrooms with creamed black quinoa. 
July
Fresh Picks: mint, basil, cucumbers
Find It Here: The Farm Bistro, Cortez
This eatery serves up fresh produce and meat sourced right from Montezuma County. Enjoy comfort food, like yak burgers, chicken pot pie and grilled pizza. Only Colorado-crafted libations are served — beer, wine and spirits.
August
Fresh Picks: sweet corn, chilies, beets
Find It Here: Sweet Basil, Vail
With Mediterranean, Italian and Asian influences, Sweet Basil is a mountain-town favorite. Cut into the double-cut pork chop with sweet-corn puree and grilled king trumpet mushrooms.
September
Fresh Picks: watermelon, apples, peaches
Find It Here: Hot Tomato Pizzeria, Fruita
Each year, the locals eagerly await the release of The Peach pizza topped with fresh area peaches, Gorgonzola, mozzarella, Canadian bacon and rosemary.
October
Fresh Picks: pumpkin, kale, eggplant
Find It Here: Potager, Denver
Potager's menu changes monthly to ensure the ripest seasonal offerings. Everything is made from scratch, including the crispy duck dumplings in pumpkin soup with dates.
November
Fresh Picks: onions, radicchio, escarole
Find It Here: Twist, Breckenridge
Twist's seasonally updated comfort food menu is loaded with regional ingredients. Cozy up to the venison and root vegetable stew or the five-onion cheddar mac-n-cheese.
December
Fresh Picks: turnips, leeks, squash
Find It Here: Café Vino, Fort Collins
This diverse European-inspired menu employs nearby Grant Family Farms produce and meats. Dive into the seared scallops over winter squash puree with a blood orange and sage butter sauce.
Photo by Jason Dewey for The Little Nell.