14 Quirky Roadside Attractions in Colorado
Jumping in the car for a road trip can evoke nostalgia for a past era in travel — think sightseeing vacations in the family station wagon. Luckily, you can add some classic Americana to your next trip through Colorado by visiting the numerous unique — and sometimes kooky — sights across the state. These lasting relics are perfect for photo ops and tourist bucket lists.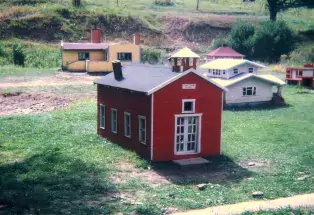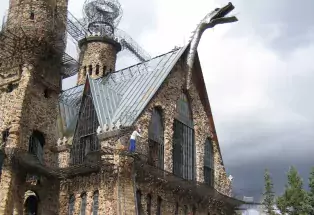 On a trip to Great Sand Dunes National Park and Preserve, take a detour on State Highway 17 — also called the Cosmic Highway by extraterrestrial buffs — for a chance to spot a UFO. In actuality the watchtower is a 10-foot-tall viewing platform that takes advantage of the remote area's high elevation. Pass the time with your eyes on the sky, checking out the Healing Garden or even camping on site.
Not too far from Fort Collins, avid collector Lee Maxwell has gathered more than 1,000 vintage washing machines, many of which he's restored to working condition. Dozens of brands and types are represented, along with other old-school household appliances like dishwashers, refrigerators and vacuum cleaners. To see the museum, though, you'll have to arrange for a tour by phone or email.
Bigfoot, Yeti, Sasquatch — call the hairy cryptids what you want, there's no denying their place in folklore. Co-owners Jim and Daphne Myers have dedicated their store in Bailey to all things Bigfoot, selling not only camping, hiking and fishing supplies (handy for those plotting a stakeout in the forest), but also squatchy swag like T-shirts, signs and mugs. Plus, they've opened the on-site Sasquatch Encounter Discovery Museum, where you can learn about sightings. Snap a photo with the lifesize Sasquatch replica!
Largest Fork in the U.S., Creede
Tucked into southwest Colorado's San Juan Mountains is the small town of Creede, where you'll find a giant fork propped up against the side of a building. Forty feet long and weighing more than 600 pounds, the aluminum fork is an art display that was specifically built by the owners of a restaurant and rental cabins to beat out the size of another fork in Springfield, Missouri.
Take a look back on the history of the state's prison facilities and corrections within a historical cell house. Originally the Women's Correctional Facility that was built in 1935, nowadays you can take an audio tour through 32 cells. Peek in on exhibits and artifacts ranging from infamous inmates to a former gas chamber.
The name of this building (501 N. Main St.) refers to its original purpose, but presently it functions as an office for a used-car dealership. The history dates to 1932, when a lumber dealer built the walls and floor out of petrified wood, estimated to be more than 175 million years old.
What started as a tilapia fish farm north of Alamosa has grown into a sanctuary for alligators, snakes, lizards and tortoises. In addition to education about the animals and a focus on maintaining an ecosystem, there are also classes on reptile handling and gator wrestling, documented by a photographer.
Head out to the foothills of Denver for a kid-size experience at a century-old attraction. Explore the miniature buildings built at 1/16 scale to resemble an Old West town, ride the trains (two real steam engines and one diesel replica), enjoy a picnic and have fun on the playground.
If you've ever wanted to see a castle built with beer cans and other scrap metal, here is your opportunity. Located a few miles north of the New Mexico border, Cano's Castle is actually several structures that have been under construction since the 1980s and expanded upward over time.
Who knew Colorado could lay claim to more than one castle? Southwest of Pueblo, Jim Bishop has been building a stone-and-iron fortress for more than 40 years. Though there has recently been a dispute over the ownership and name, the three stories of interior rooms, grand ballroom, towers, bridges and even a fire-breathing dragon feature all still await visitors.
Junkrassic Park, Cheraw
Bent's Old Fort National Historic Site may draw visitors to the La Junta area, but not too far away is a bonus attraction in Junkrassic Park. Peruse the 80 or so sculptures made out of recycled farm implement metal, ranging from animals to punny notable figures (think: John L. Weigh) and even an oil tower "Awful Tier," spoofing the famous Parisian landmark.
Perched above Estes Park and next to Rocky Mountain National Park, the former Baldpate Inn boasts more than idyllic views and cozy accommodations — you'll also find the largest public key collection in the world. In the early days of the inn the owners gave a key to each visitor, but the tradition evolved into guests donating interesting keys back to the inn, becoming a competition of sorts. Over the years, the Baldpate has amassed 30,000 or so keys (and counting) from all over the world, including Mozart's wine cellar, Westminster Abbey and the Pentagon.
Herkimer the World's Largest Beetle, Colorado Springs
If you're heading south out of Colorado Springs along Highway 115, pay attention to the right side of the road past Cheyenne Mountain State Park to catch a glimpse of this big bug. Originally built in the 1950s, Herkimer is a monster-size West Indian Hercules beetle. Though a fence prevents getting up close and personal, its location makes for easy roadside photo snapping.
Punny Sign, Indian Hills
Just south of Morrison's Parmelee Gulch Road, what began as an April Fool's prank has become a local landmark. When Vince Rozmiarek posted "Indian Hills annexed by Morrison slow down" on the Indian Hills Community Center sign, people began calling the police to confirm that the sign was true. All the attention inspired him to post a punny message every few days. Recent displays have included: "You can't plant flowers if you haven't botany, " "Eyes on the road and head out of…your apps" and "Relish today…ketchup tomorrow." Make sure to grab a photo of the latest phrase on your drive.
Want more?
Read about planning a family RV vacation through Colorado.
Learn about Colorado's mythological creatures (and where to spot them).