4 Reasons the Cumbres & Toltec Scenic Railroad is a Must-Visit
Climb aboard the Cumbres & Toltec Scenic Railroad — a National Historic Landmark — to crisscross the borders of Colorado and New Mexico and take in 64 miles of stunningly picturesque Rocky Mountain landscapes.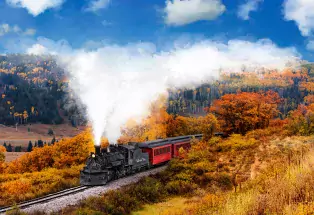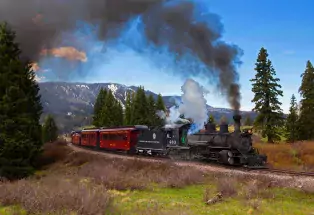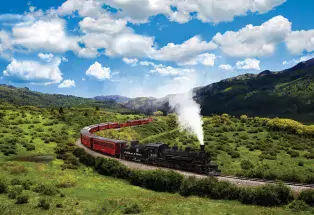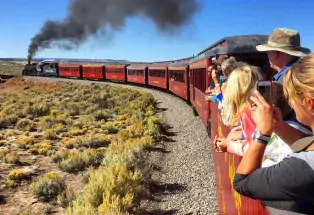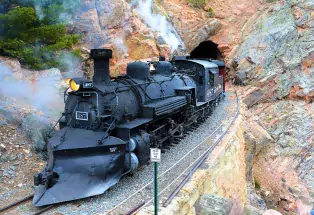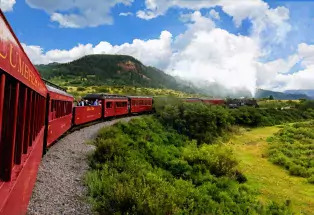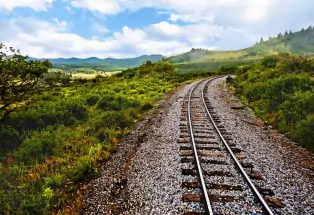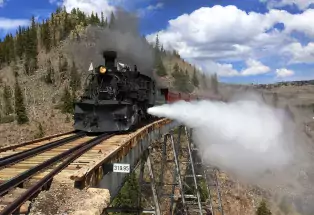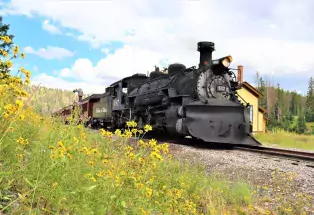 Known for being the longest, highest and most authentic steam railroad in North America, the Cumbres & Toltec weaves across state lines 11 times. As you cruise at a tranquil speed of 12 mph, you'll be able to catch some great photos of Colorado's natural beauty. We're talking canyons and wildflower-sprinkled glades, winding creeks and, in fall, the rich gold of dense aspen groves.
1. Wild West & Cinema History
When you board the Cumbres & Toltec, you're taking a step back in time. This is an authentic experience of turn-of-the-century steam railroading on tracks laid down in 1880. And as this is a National Historic Landmark, you'll essentially be riding in a museum on wheels. Your conductors will re-create the thrill of traveling by steam railroad, and you might even feel like Wyatt Earp, Doc Holliday or other outlaws and lawmen of the Old West who rode this very train. 
The journey will give you a chance to relive some of your favorite movie scenes along the route, too. The Cumbres & Toltec Scenic Railroad has been in more than two dozen films, including "Indiana Jones & The Last Crusade," "Wyatt Earp," "A Million Ways to Die in the West" and "Hostiles."
2. Breathtaking Mountain Scenery
As the train burrows through two tunnels and steams over the Cascade Trestle, you might forget to take your camera out because it's easy to get lost in the stunning natural landscape. Gather your wits and snap a photo as you climb to the top of the 10,015-foot Cumbres Pass, the highest point reached by any steam railroad in North America. Be sure to bring a light jacket. Even in summer, it can be cool up here; after all, it's almost 2 miles above sea level.
Make your way to the open-air gondola car, free with every ticket, where a docent offers commentary on historical, cultural and geological focal points along the route. You'll rumble past forests of quaking aspens, meadows awash with colorful wildflowers and other stunning alpine sights. Watch for deer, antelope, elk, foxes and eagles as you go. Keep your head, hands and feet inside the train as you tunnel your way through mountainsides and teeter on narrow ledges along a craggy gorge studded with fascinating geologic formations.
3. Luxurious Experience Options
With different ticket options, you can leave from either the Colorado or New Mexico station and return to your car by luxury motorcoach. Classes range from Coach, which is perfect for budget-conscious travelers, to Parlor cars, where you ride in Victorian style — just like the railroad presidents of yore. Learn more about each class of service.
All full-day trips include a hot lunch at the scenic Osier Station, about halfway through your journey. The new menu includes local Colorado and New Mexico specialties like barbecued pork, grilled chicken and enchiladas — and don't forget about the pinto beans, fingerling potatoes, cornbread, assorted cobblers and cinnamon peaches. 
4. Off-The-Grid Family Fun
Since much of the train route goes through wilderness where no roads go, it's off-the-beaten-path entertainment, where kids put down their phones (they won't work out here anyway) and enjoy nature as it should be. All passengers are free to move about the train or ride between cars, and there are bathrooms and a bar car on all trains.
Arrive early and you can watch while crews move the locomotives to be loaded with coal and water. It was steam railroads like this that "won the West," and the Cumbres & Toltec has been named the No. 1 train ride in the nation on the USA Today 10Best Reader's Choice Awards multiple times. 
Cumbres & Toltec Scenic Railroad Planning Info
The train runs late May to mid-October, Tuesday through Sunday. Whether you choose to depart from Antonito, Colorado, or Chama, New Mexico, you'll be treated to jaw-dropping mountain views and a whole lot of family fun. Check the official schedule for fare info, more departure times and special trains.