5 Challenging Colorado Cycling Routes
Colorado is home to some of the world's most scenic high-altitude drives and byways, which means it also lures road bikers to its hundreds of miles of scenic roadways. Below are a handful of Colorado's best and most popular cycling rides for those looking to gain some altitude and test their cycling limits.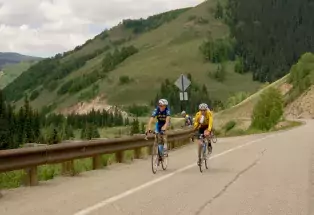 Mount Evans Road
Distance: 48 miles (77 kilometers)
Start/End: Idaho Springs
Elevation Gain: 5,540 feet (1,689 meters)
Time: 2.5 hours
Cycling to the peak of one of the nation's highest points certainly isn't easy, but every summer throngs of cyclists test their will against this 48-mile incline. The Mount Evans byway runs through a variety of ecosystems, from forested glades to high-altitude tundra. Near the peak, the road begins a lengthy section of switchbacks.
At the top, views of the Rocky Mountains expand across the horizon and overlook massive, serrated peaks. Look to the far end of the parking lot for an informational sign identifying each jagged mountain. While catching your breath before tackling the sharp decline downhill, walk over to the roofless stone building where rangers are often found giving hands-on lectures about plants and animals in the area. 
Quick Tip: There are no services along the way, so be sure to bring a bike kit along. Also, weather can change quickly at this altitude, so layered, water-resistant clothing is highly recommended. The road is closed from Labor Day to Memorial Day, and the mountain will be open only when road conditions are safe. Call the Clear Creek Ranger Station at 303-567-3000 before you begin your trip to Mount Evans.
Distance: 28 miles (45.1 kilometers)
Start/End: Estes Park/Grand Lake
Elevation Gain: 4,661 feet (1,421 meters) 
Time: 6 hours 
The grandeur of rocky peaks and lush blankets of pine trees accompany you as you bike along the Trail Ridge Road scenic byway — and you might also catch a glimpse of grazing elk, bighorn sheep and other animals on the roadside and surrounding cliffs. The ride combines straightaways and twists that showcase aspects of the park's beauty. Higher up, tundra with brush no taller than a few feet is a stark contrast to the granite peaks of the Rockies that loom in the distance. The most scenic section of the ride comes across 4.5 miles of roadway that travel continuously at an altitude of more than 12,000 feet. Catch your breath here and enjoy the scenery. 
Quick Tip: Services are limited along the route, with a few ranger stations interspersed along the 28-mile ride. Traffic can be heavy toward the middle of summer, though drivers are usually courteous and well warned to share the road with cyclists. It's a good idea to stop at a few of the overlooks along the way to enjoy scenery and give your body a break. Consider stopping at the Alpine Visitor Center, somewhat of a halfway marker between park entrances, complete with a snack bar and viewing stations. You should be aware of two switchback sections in particular, those near Fairview Curve and Rainbow Curve. Views are spectacular here, so drivers may be more focused on the scenery than on laboring cyclists. Road closures generally occur between Labor Day and Memorial Day.
Independence Pass
Distance: 37.6 miles (60.5 kilometers)
Start/End: Aspen/Twin Lakes
Elevation Gain: 4,187 feet (1,276 meters)
Time: 3.5 hours 
Independence Pass rises to its summit at 12,095 feet. Along the road, watch aspens and evergreens dissolve into one another, and the peaks of the surrounding mountains cut jagged lines against the sky. Ride the route just before its fall closure for an ideal way to see the aspens' colors change from green to shimmering gold and orange. The town of Aspen, one of the ride's endpoints, certainly has everything if you choose to finish your ride here — including many spas to help work out any knots the journey may have caused. Twin Lakes, while not as posh, is certainly just as scenic. Ending your ride here means not having to change out of your cycling attire before heading off to an energy-replenishing brunch, lunch or dinner. 
Quick Tip: Due to its high altitude and winter road conditions, this route is only open from Memorial Day to Labor Day.
Peak to Peak Scenic and Historic Byway
Distance: 55 miles (88.5 kilometers)
Start/End: Estes Park/Black Hawk and Central City
Time: 3.5 hours 
As you ride, skirting the lower ridges of the Front Range, make sure to take in views of the craggy Indian Peaks and the hulking mass of Longs Peak near Allenspark. As the name suggests, the Peak to Peak scenic byway runs along the peaks of the Rocky Mountains, which create undulations in the road. This constant increase and decrease in elevation make for a challenging and varied ride. A number of towns are located along this 55-mile stretch, each offering places to stop and rest. If your ride takes you north to south, your final stop will be in the gaming towns of Black Hawk and Central City. If you take the route north, you'll end up at the doorstep to Rocky Mountain National Park in Estes Park. 
Quick Tip: Estes Park, Black Hawk and Central City are all within a short drive from Denver. If you're staying in the city, but want to spend a day cycling, consider this ride.
Loveland Pass
Distance: 19 miles (30.6 kilometers)
Start/End: Dillon/Intersection of I-70 and US Hwy. 6
Highest Elevation: 11,930 feet (3,636 meters)
Time: 1.5 hours 
Loveland Pass is a popular route used by Denver locals to access nearby ski areas in the winter. In the spring, summer and fall, when temperatures are more welcoming, cyclists power over the Continental Divide on this switchback-heavy route. The road is a constant climb, with a steady 6.7 percent grade. If you need a breather, use Keystone as a rest point. Best-known as a winter ski area, Keystone is a full-service town year-round. The town of Dillon, on the route's western end is quaint and welcoming, and a number of residents are avid cyclists themselves. The entire ride laces through evergreen forests, and the top of the switchback section provides a superb vantage point for views into a high-mountain valley. 
Quick Tip: While this road is open year-round, it's best to schedule a ride during the relatively warmer months of spring, summer and fall.
Want more?
Check out these locally loved cycling and running routes in Colorado >>