5 More Colorado Wildflower Hikes
As soon as the snowshoes are hung up for the season and Colorado's trails begin to dry out, natives are all atwitter in anticipation of spring and summertime hikes on favorite trails alongside hills and meadows blanketed in a cacophony of wildflower color.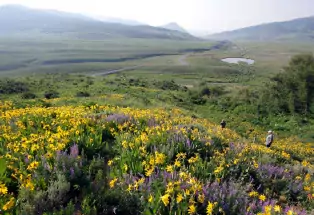 Copley Lake, Crested Butte
If you've never seen a summer in Crested Butte — the Wildflower Capital of Colorado — we're here to tell you that it's beautiful even without the blush of blooms. But the wildflowers will certainly mesmerize you with their beauty and provide your photo lens with an overwhelming amount of inspiration on the 3.7-mile path to Copley Lake, a secluded alpine pond that happens to be one of the guided tours in the town's annual party for wildflowers. The 1,000-foot elevation gain makes this a challenging route, but it doesn't get much better than this. Visit during the Crested Butte Wildflower Festival in July to be immersed in wildflower celebrations and to chum around with like-minded folks who share your passion for beauty.
Level: Advanced
Most likely to be in bloom: July
Check out our All About the Wildflowers in Crested Butte itinerary.
Rabbit Ears Peak Trail, Steamboat Springs
While the peak may not resemble its namesake as much as it had in the past due to erosion, the Rabbit Ears Peak Trail near Steamboat Springs still rewards with phenomenal wildflower blooms in mid to late summer. The trail is 5.5 miles round-trip, but meadows along the route will tantalize your senses well before you reach the summit, making this trail perfect for wildflower hunters of all ages and abilities. The Dumont Lake picnic area and campground provides bathroom facilities as well as the perfect respite to absorb the dazzling efflorescence. Bring sunscreen, as most of the trail length is open to sun rays.
Level: Moderate; difficult on the final ascent
Most likely to be in bloom: Late July
Lory State Park, Fort Collins
For one of the best chances to experience colorful hillsides, head west of Fort Collins to Lory State Park's 20 miles of trails. A prime wildflower route is 1.7-mile Arthur's Rock Trail, where a confetti of blooms play peek-a-boo behind rock formations. Typically more than five dozen varieties of wildflowers have roots along this trail. Hikers will weave in and out of open meadows and forested areas prior to reaching the summit at 6,780 feet. Take a breather at the top while enjoying the panoramic view of the Front Range.
Level: Moderate to difficult
Most likely to be in bloom: Mid-June
Cub Lake Loop, Rocky Mountain National Park, Estes Park
The odds are in your favor for a memorable trip no matter where you choose to go in Rocky Mountain National Park in Estes Park to find wildflowers in bloom. We'd like to entice you to try Cub Lake Loop, which is often overlooked, but nevertheless has a tremendous variety of flora on the 6-mile loop. As long as the crew that's with you is up for it, we highly suggest completing the full loop to experience upward of 80 wildflower varieties.
Level: Easy to moderate
Most likely to be in bloom: July
Hessie Trail, Nederland
Easily accessed from the Denver metro area, the Hessie Trail near Eldora Mountain Resort is an ideal 4-mile route for visitors trying to get acclimated to higher elevations and families with all age ranges and abilities. Within 15 to 30 minutes of starting the hike, you'll see a bounty of wildflowers, so don't fret if you're not prepped for the long haul. When you've reached Lost Lake, you've made it to the halfway point. Abandoned cabins are reminders of the area's mining history, while glimpses of Eldora's ski runs, a waterfall and a beaver colony (not to mention a diverse range of wildflowers) create a visual feast enticing enough for even the most challenging to impress. This is a popular spot, so visit early in the day or on weekdays to avoid crowds.
Level: Easy
Most likely to be in bloom: July
Want More?
Check out 5 Colorado Wildflower Hikes and 8 Ways to Love Summer in Colorado.