5 Ways to Travel Without Your Car
Everybody knows that the best views come from the passenger seat. Whether you're looking to skip the traffic, keep a little money in your pocket, reduce your carbon footprint or avoid wintery road conditions, find your first-class all-access ticket to Colorado through our public-transit options.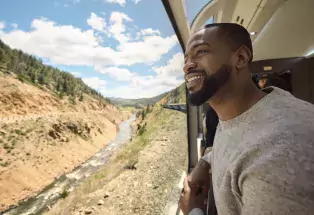 From buses, shuttles, light rails and trains, you don't need a car to experience the boundless wonders of Colorado. So kick back, listen to that audiobook or podcast you've been saving and watch as glorious mountainscapes pass you by.
Click to locate:
Find your preferred mode of transportation:
1. Buses
Enjoy your mountain visit completely car-free by using transit options like Bustang and Bustang Outrider. Passengers love all the creature comforts aboard like on-bus bathrooms, speedy WiFi, USB and power outlets, roomy luggage bays and bike racks. Book Bustang and Bustang Outrider tickets using its handy mobile app.
 
Bustang's North, West, South and Denver Tech Center lines conveniently connect Denver to destinations like Loveland, Fort Collins, Grand Junction, Idaho Springs, Frisco, Vail, Avon, Eagle, Glenwood Springs, Colorado Springs and more.
 
Bustang Outrider's routes connect Colorado's farther-flung towns with ease — like Lamar to Colorado Springs, Alamosa to Pueblo, Durango, Telluride to Grand Junction and much more.
 
Here's a quick breakdown of what else is available for travel in and between Colorado's cities and mountain towns:
Learn more about getting from Denver to the mountains at GoI70.com/transit.
2. Shuttles
Bustang's brand-new and zippy Pegasus shuttle van — it transports weekend warriors to the mountains from Denver's Union Station Thursday through Monday — with stops in Idaho Springs, Frisco, Vail and Avon. All Pegasus vans feature sweet traveler amenities like USB ports, charging outlets and speedy WiFi.
 
Several private shuttles — like Epic Mountain Express and Summit Express — run between Colorado cities, ski towns and airports. Book your private ride, then use the local bus or hotel shuttle for trekking short distances around town upon arrival.
3. Light Rail
RTD, Denver's public transportation network, is easy and inexpensive, and you can get pretty much anywhere in Denver via its light rail or bus. The system also serves six cities surrounding Denver, including Boulder, Longmont, Aurora, Littleton, Lakewood, Golden, Arvada and others.
Headed to the airport? Ease your travels and skip the traffic by taking the RTD A Line rail. The RTD A Line is the Train to the Plane, running between downtown Denver and Denver International Airport. For $10.50, riders have quick access to the airport from seven Denver stops.
4. Trains
In addition to 10 historic and scenic railroads, Colorado offers modern and convenient train-travel options. Amtrak's California Zephyr line makes the trip from Chicago to Emeryville, CA. On its way, it makes a stop in Denver and passes through Fort Morgan, Fraser, Granby, Glenwood Springs and Grand Junction. The Southwest Chief goes from Chicago to Los Angeles, with Colorado stops in Lamar, La Junta and Trinidad.
The Winter Park Express "ski train" zips winter lovers straight to the slopes from Denver's Union Station right to the base area of Winter Park Resort in just two hours on winter weekends.
Spend four days traveling between Utah and Colorado in luxury with  Rocky Mountaineer. Aboard the glass-domed coaches, you'll spot towering red -rock arches, vast deserts and deep canyons. Featuring locally inspired dining, the train also offers a sparkling -wine toast as you cross the Continental Divide.
Bonus: Carpools, E-Bikes & Scooters
Feel the wind in your hair, and be good to Mother Nature, by using a green-ride option like renting an e-bike or hopping on a shared e-scooter. Electric scooters have grown in popularity, especially along Colorado's Front Range, so you can find them in urban destinations like Denver, Colorado Springs and Fort Collins.
Rather take a car? Do your part to reduce single-occupancy vehicles on the road by carpooling with a friend. It'll decrease congestion on the highways — meaning you'll theoretically arrive at your destination faster — and reduce emissions.
If you're a solo traveler, check out TreadShare, a carpool app that connects Colorado drivers and passengers heading in the same direction so they can share a route and split the associated costs.
Pro tip: Use GoI70's travel forecast for predictions on the shortest drive times and ways to avoid heavy traffic. Not only will you have more hours to spend in your destination, you'll have more time to enjoy the journey by making pit stops in beautiful places along the way. Up the green-travel ante by booking an electric vehicle for your group via the Turo app.
Visit codot.gov/travel/winter-driving and cotrip.org for more tips.
Want more Colorado transportation information?
Learn about Colorado's cities and regions
Explore our 26 scenic and historic byways
Find more Colorado travel info, like airports and driving tips