6 River Canyons for Colorado Whitewater Rafting
Whitewater rafting is a must-do activity in Colorado. Each spring, gravity and sunshine draw Colorado's beloved winter snow down from the high country and into the state's river-carved canyons. Get ready to paddle some of Colorado's best rivers!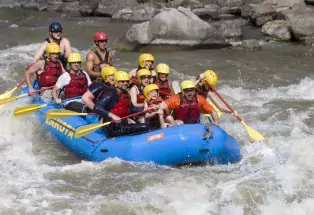 For more, check out our complete guide to Colorado's whitewater rivers and our list of whitewater outfitters.
1. Poudre Canyon
The Guts: Colorado's only nationally designated wild and scenic river, the Cache la Poudre River carves down the canyon through narrow sections flanked by alpine mountainsides and natural rock cliffs. Look up to see the "kissing gorillas" rock formation.
The Glory: Consistently technical, rafters negotiate five bridges and stretches of continuous class III and IV (see rating definitions at end of article) rapids such as Devil's Staircase and Pine View Falls.
Departure City: Fort Collins
2. Browns Canyon
The Guts: One of the country's most popular whitewater rafting destinations, the Arkansas River takes you along five mountain peaks higher than 14,000 feet, through boulder-strewn Browns Canyon National Monument, between skyscraping granite walls and past bighorn sheep (if you're lucky!).
The Glory: Hit rapids such as the infamous Seidel's Suck-hole and get vertical on the Silver Bullet's seven-foot drop.
Departure City: Buena Vista
3. Ponderosa Gorge
The Guts: The Dolores River runs through a desert of pink and burnt-orange sandstone walls laced with contrasting pinyon-juniper trees, yucca plants and ponderosa pines. Class III-plus rapids carry you past ancient petroglyphs and Ancestral Puebloan ruins.
The Glory: Take on the famous and most challenging rapid along the Dolores — the steep, quarter-mile-long Snaggletooth cascade.
Departure City: Cortez
4. Yampa River Canyon
The Guts: Tucked in Colorado's northwest corner, the remote Yampa River is a geological trip between fossil-­laden Dinosaur National Monument's canyon walls.
The Glory: Paddle through Big Joe and Tepee rapids and sit back to take in millions of years of folding and curving rock layers at Tiger Wall and the 1,000-foot-high Steamboat Rock.
Departure Cities: Dinosaur or Steamboat Springs
5. Bighorn Sheep Canyon
The Guts: Bighorn Sheep Canyon offers a calmer, more family-friendly stretch of the Arkansas River, great for wildlife viewing. Lucky rafters will see a herd of the canyon's namesake bighorn sheep.
The Glory: Full-day trips continue into the Royal Gorge, where you'll find 1,100-foot-high cliffs and bigger, rollercoaster rapids such as Shark's Tooth and Wake Up!
Departure City: Buena Vista
6. Glenwood Canyon
The Guts: The mighty Colorado River heads westward through this 16-mile canyon that parallels scenic Interstate 70 and an Amtrak railway. Eagle sightings are common within the high-walled canyon.
The Glory: Colorado's oldest hydropower station churns out consistent rapids that rafters have dubbed Tuttle's Tumble, The Wall and Man-Eater. Paddle hard through these, then it's smooth sailing as the river calms to a gentle flow.
Departure City: Glenwood Springs
When to Go
The Colorado whitewater rafting season runs from May to September, with the swiftest and highest whitewater occurring in May and June and milder flows later in the season. August provides more opportunities for milder, family-friendly rafting.
Rafters always have the option of half-, full- and multi-day trips, leaving flexibility to work rafting in with other activities or to indulge in several days' worth of river fun.
Find more information on our rafting page or check out the Colorado River Outfitters Association site.
International Whitewater Difficulty Rating Scale
Class I: Moving water, riffles, small waves
Class II: Easy rapids, waves, clear channels
Class III: Large waves, obstacles, narrow passages
Class IV: Long rapids, unavoidable waves, many obstacles
Class V: Violent rapids, extremely difficult, unseen hazards
Class VI: Unpredictable, dangerous, nearly impossible to run