6 Spiritual Attractions in Colorado
With its cathedral mountains, rolling rivers and skies that stretch into infinity, Colorado is a natural choice for connecting with your spiritual side. Just breathing in the mountain air will remind you there's something much bigger than you out there.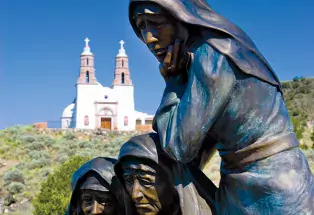 Whether you follow a specific religious path or are just in search of a little serenity, you'll find plenty of inspiration. Here are a few spiritual spots in Colorado to explore for earnest worship or simple reflection. For best results, bring an open heart and mind and leave behind your stress, worries and smartphone.
This otherworldly, expansive rock garden is filled with sandstone formations in every shape and size, in amber hues that glow like the sunrise. Follow the 1.1-mile Central Garden Trail to view the park's most scenic rocks, including the Three Graces, a cathedral-like formation with a trinity of soaring spires, and Balanced Rock, a powerful reminder that even the heaviest things in life can find balance.
It started with a simple idea: a local artist would create small plaques for the local churchyard to honor the area's historic culture. The idea evolved into an open-air art installation that is now as much a part of the old town as its mountain vistas. A 3/4-mile path traverses the hillside on a journey through the 15 Stations of the Cross, each a bronze sculpture of a scene from Christ's last hours. Visitors of all faiths come to admire the skillful depiction of suffering and redemption.
An oasis for those seeking inspiration and relaxation, Shamabala is a 600-acre mountain retreat surrounded by lush forests and miles of wilderness trails. At the heart of it all is the Great Stupa, a 108-foot-tall monument that is said to liberate all who see it. Visitors can choose from more than 100 spiritual offerings, from writing and meditation retreats to courses in enlightenment and personal transformation. 
Spiritual seekers travel from around the nation to soak in Crestone's healing and meditative qualities. Known as the Shambala of the Rockies — "Shambala" refers to a mythical kingdom north of Tibet where inhabitants enjoyed health, harmony and well-being — the tiny town is home to just one gas station yet dozens of spiritual healing centers. Visitors can explore holy temples and Tibetan monasteries; wander through a labyrinth; hike pine-scented mountain paths or escape to Joyful Journey Hot Springs, just a short drive away. Whichever path you choose, it will lead you to a calm mind.
The Air Force Academy chapel can be seen from miles away, its 17 steel spires jutting into the sky like fighter jets preparing for takeoff. The chapel is a breathtaking tribute to modern architecture and spiritual diversity, as the only place in the country where multiple faiths have their own chapel under the same roof. Each worship space has a unique beauty and significance to admire. 
Sometimes you don't have to go far from the city to get away from it all. Set against a canyon just south of Boulder, Eldorado Mountain Yoga offers an easy opportunity to discover the divinity within. Nurture your body, mind and spirit with a variety of yoga and meditation offerings. You'll emerge refreshed and ready to bring calm and consciousness to the rest of your vacation. A sister center, called Shoshoni Yoga Retreat, is located just south of Nederland.
Want more?
Check out 99 Gorgeous Places in Colorado >>