7 Epic Outdoor Adventures in Rangely
Flat-top mountains and peaceful desertscapes greet you as you make your way through northwestern part of the state to Rangely, Colorado — a town that is an outdoor wonderland for visitors and locals alike. You'll be welcomed as one of their own and invited to make yourself at home during your stay in this quaint enclave.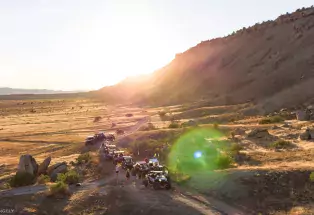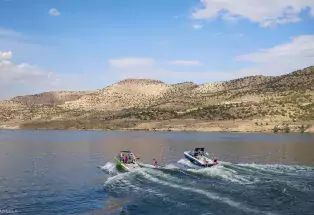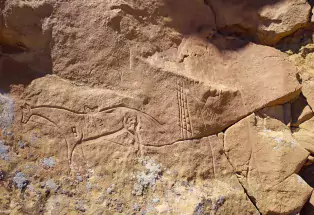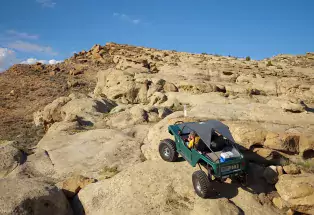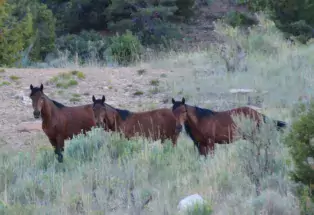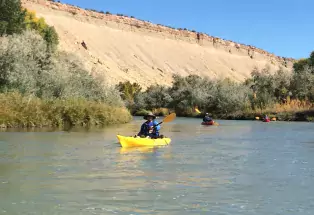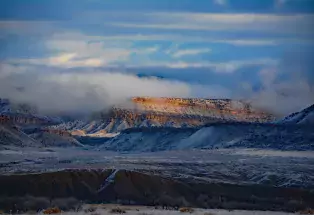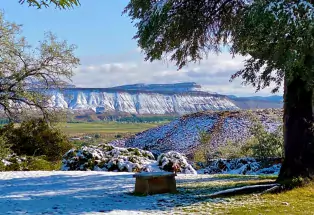 Anything you've ever dreamed of doing in your backyard is possible here — whether you want to go off-roading in the only designated natural rock-crawling park of its kind in Colorado or float down the White River on an inner tube surrounded by lush greenery. Read on to learn more about our favorite fresh-air adventures in Rangely. 
 1. Go Off-Roading & Rock Crawling
Hit the Wagon Wheel Trails for off-roading along 160 miles of interconnected roads and pathways through vast canyons and pinyon forests framed by mountain views and blue skies. Trails range from beginner to expert levels and maps are available at the town's Chamber of Commerce. Visiting during May? The Rangely OHV Adventure Rally is a three-day event on the Wagon Wheel trails system — bringing together off-road enthusiasts from around the country for guided rides, a poker run, shrimp boil, rodeo and scavenger hunts. 
As the only designated natural rock-crawling area in Colorado, the Rangely Rock Crawling Park has more than 560 acres of natural terrain, including playfully named trails such as Chain Break, Poison Ivy and Willy's Way. And since many of the routes are yet to be discovered, you can channel your inner Lewis and Clark as you conquer uncharted territory in this delightfully free 4X4 spot.  
2. Discover History in Nature: Rock Art, Rangely Outdoor Museum & Automotive Museum
Petroglyphs and pictographs decorate the sheer sandstone walls of the Canyon Pintado Historic District, which is listed is on the National Register of Historic Places. Prehistoric peoples began occupying the region as long as 11,000 years ago and the canyon contains the largest concentration of Fremont archaeology sites along the Dinosaur Diamond (a 512-mile scenic and historic byway in Colorado and Utah that showcases traces of prehistoric dinosaurs). Is that an elk? A human? What do the symbols mean? Find out at eight marked sites along Highway 139 as well as more sites on Highway 64 and Dragon Road.  
After admiring the artwork, head to the Rangely Outdoor Museum. Three historical buildings house exhibits about dinosaurs, Fremont cultures and pioneers, ranchers, oil field workers and other individuals who shaped the landscape. Then, drive over to the Rangely Automotive Museum to see 35 classic cars owned by a local collector, including a McFarlan once owned by Warner Brothers Studios that has starred in multiple movies.
3. Unwind With a Game of Golf
Swing for the tippy top of a mesa at Cedar Ridges Golf Course, located 2 miles east of Rangely. This nine-hole course tests golfers on uneven terrain like rolling swells, mounds and sand traps. The par-36 course is open annually mid-March through mid-November and offers a pro shop, snack bar, putting and chipping green as well as a driving range.  
4. Bike Along the White River
The best way to survey the real Rangely is atop a bicycle, be that a regular cruiser or a mountain bike. Routes around town are sparsely traveled so you can fall in love with the beauty of the mesas without the crowds and without feeling like you'll be run off the road. As an added bonus, pathways and trails are well-maintained. Rent a bike and get out on the Western White River Trail network for chances to encounter wildlife, caves, the ghost towns like Dragon and more. Check out the printable bike map >> 
5. Boat on Kenney Reservoir
With 4,000 acre-feet of water for canoers, kayakers, water skiers, fishers and floaters, the Kenney Reservoir is a one-stop shop for all things water sports. Each spring the water is stocked with 5,000 rainbow trout that mingle (and are caught) with the crappie and catfish. Due to Rangely's unique location, the swimming areas and docks are seldom crowded and make for the perfect afternoon on the water. If you are feeling inspired to camp out like you did as a kid, pitch a tent or park your RV on the reservoir at one of the 16 campsites. 
The reservoir sits on the White River, just off Highway 64, which is home to a wetlands habitat where you can see bald eagles, waterfowl, mule deer, elk, river otters and beavers, plus so much more — so pack your binoculars. Once you're done appreciating the local wildlife, get your kayak, canoe or inner tube to float downstream with your family and friends, or hook a line to catch a smallmouth bass or catfish. Since river conditions can change rapidly, be sure to use the White River Boating Guide. 
6. Explore Dinosaur National Monument
Located 20 miles west of Rangely, Dinosaur National Monument preserves one of the world's largest collections of Jurassic-age dinosaur fossils. Examine a Stegosaurus or Apatosaurus in the Quarry Exhibit Hall at the Canyon Area Visitor Center, where you can touch real 149-million-year-old dinosaur fossils. 
Finish up checking out those ancient bones at the center, and enjoy a hike through the park. We suggest the Plug Hat Trail, an easy half-mile loop with panoramic views of surrounding canyons, or the Harper's Corner Trail, a moderate 3-mile round trip with shots of the Yampa River. If you are looking for a day hike, the Ruple Point Trail is a 9.5-mile round trip ending with a gorgeous view of the Green River winding through Split Mountain Canyon. At historic Echo Park just 60 miles from downtown, the majestic Steamboat Rock towers over the merging Yampa and Green rivers and is also a geological marvel to behold. The top of Harper's Corner Trail also has a great view of the area. 
7. Spot Grazing Wildlife
Some of Colorado's most famous residents run wild in Rangely, such as deer, antelope, elk, bald and golden eagles, hawks, owls, coyotes, red foxes, bobcats and mountain lions — some of which you can spy on from the comfort of your car. But be sure to drive carefully and stay a safe distance away. South of downtown lives a group of wild horses, descended from a runaway Spanish herd. Have your camera ready to photograph these spirited mammals on Highway 139 and Dragon Road in the spring. In the summer, they migrate to higher elevations and spend winter congregating on ridges and exposed southern slopes.