8 More Ways to Experience Colorado History
Learning about the history of your destination makes the place come alive — with old stories and clues that give context and meaning to your travels.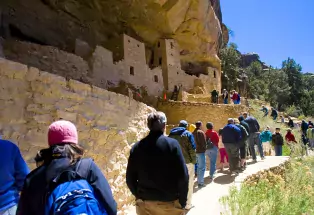 1. Relive History
Remember the Oregon Trail computer game, with its bartering, endless wagon miles, cholera and buffalo hunting? Experience some of the game's history (not the cholera part, if all goes according to plan) at Bent's Old Fort National Historic Site in La Junta with Old West re-enactments, hikes and lively tours in this adobe "Castle of the Plains" that served traders, the U.S. Army, trappers and travelers along the Santa Fe Trail in the 1800s. Tip: Check the fort's official website for when it's open while you're planning; its hours can change during different seasons. 
2. Dinner Train
Call it old-fashioned, but there's something romantic about winding through the Colorado Rockies on rail lines. The Royal Gorge Route Railroad (running a route that originated in 1871) offers a spectacular dinner train that showcases regional fare like Colorado prime rib or chicken that perfectly complement seasonal veggies decorated with a sweet balsamic glaze as it whisks you along the Arkansas River through the Royal Gorge in Cañon City. Learn more about Colorado's scenic and historic trains >>
3. St. Elmo Ghost Town
For an adventurous exploration of a dusty town of yore, rent an ATV and cruise through St. Elmo's abandoned streets, looking through windows that take you back to life during the mining boom. Residents of St. Elmo (near Buena Vista) took the last train out in 1922, leaving it as one of the best preserved ghost towns in Colorado.
If you think we forgot to use spellcheck for "chile," settle down; we're talking about the famed Pueblo green chile here. That city's chile is so popular that every September, 100,000 people celebrate its harvest by strolling along Pueblo's historic Union Avenue listening to live music, browsing through local art and, of course, smelling roasting chiles and then tasting the yummy dishes made from them.
5. A Good Ol' Road Trip 
Follow the Trail of the Ancients byway in the southwestern portion of the state and be blown away by the sheer amount of Ancestral Puebloan sites you'll uncover. The 116-mile drive skirts ancient cliff dwellings, pueblos and kivas as well as several history-rich museums. Colorado has 25 other byways that weave, climb and traverse through the state's varied terrain.
6. Colorado Day (Aug. 1 every year)
Denver's History Colorado Center puts on an annual event that truly lives up to the "hands-on" trope. Learn important life skills, like how to weave a traditional Native American blanket, square dance and do rope tricks. Engage with performers detailing historic Colorado eras, like the story of Lincoln Hills, an African American resort popular during the 1940s. Or, listen to traditional American Indian drummers and the dancers as they meticulously move to the beats.
7. Satisfy That Sweet Tooth 
Stop by Beeyond the Hive in Salida, where a family-owned sweet-tooth satisfier has been in operation since 1908. Pick up an array of honey edibles, like the raw orange-blossom honey (only to be surpassed by the wildflower honey), or stock up on honey lotion and candles to capture the naturally sweet fragrance.
8. Pickin' Peaches
The peaches from Colorado's Western Slope are legendary for their juicy, sweet goodness — or as High Country Orchards in Palisade says: "It's where a peach tastes like a peach!" Here, growers pride themselves in reducing the water content of their fruit, inducing a more flavorful peach punch. See and taste for yourself with a tour through their 126 acres and take home your own pickings.
Want More?
Check out our other eight ways to experience Colorado heritage here
Learn about the Colorado State Capitol in Denver