8 Colorado Adventures You Can't Miss This Summer
The forecast for summer vacation in Colorado calls for big blue skies in the day and cool evenings at any altitude. Claim your share of our mild weather by getting outside and exploring every corner of the state, where there's no end of summer things to do.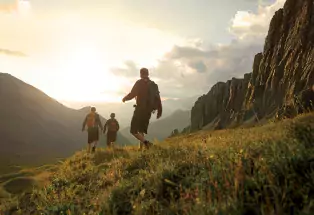 1. Reach Your Summit on a Hike
Whether your goal is "Summit or Bust" up the steep side of a fourteener or more of a lazy creekside amble, Colorado has hundreds of miles of trails that are just your speed. Not only are they easy to access, but the catalog of available hiking experiences is incredibly diverse — paths through wildflower-strewn meadows, treks amid cliffs and canyons to petroglyphs left by ancient people, journeys through swaying grasslands that haven't changed since pioneers first set foot there hundreds of years ago, walks that lead to rushing waterfalls and so many more.
Popular hiking havens to see:
2. Connect With Nature on a Camping Trip
There's no guarantee you'll be able to totally unplug from digital life on a camping trip, but Colorado will make sure you have all the inspiration to do so. There's no better way to get close to the state's abundant wilderness areas than by making one of its campgrounds home for a few nights, either in a tent under the stars or a fully equipped RV. With campsites in 43 state parks, on more than 22 million acres of national forests and grasslands and in hundreds of private campgrounds, it's easy to find a tranquil spot to get back to basics and revisit the simplicity of nature. (Read 11 Amazing Colorado Campgrounds)
Campsites complete with:
3. Feel the Thrill of Mountain Biking & Cycling
In Colorado, bicycle riding is not just a way to get around before you get your drivers license: it's a way of life. From the state that invented mountain biking (Crested Butte claims that honor) and has dozens of endurance and high-altitude road biking races each year (including several where you ride for 24 hours straight), you can bet there's an abundance of bike trails. There are also hundreds of miles of paved, flat trails for the more casual pedaler, as well as outfitters across the state that can provide all the gear needed for a two-wheel outing. One of the most unique facets of Colorado's bike culture is that every spring, many ski areas become mountain-biking courses for every skill level. Riders take their bikes up the mountain on gondolas and then wind their way down slopes reserved for skiers in winter.
A few places to bicycle:
4. Make a Splash on a Boat
Colorado may be landlocked, but that doesn't mean there aren't shorelines. On thousands of acres of boat-worthy water, boaters find solace traveling through mountain basins and deep, blue-water oases on the wide-open plains. Tow a water skier or tuber or just feel the wind on your face as you glide across Colorado's lakes and reservoirs, which often allow boaters wide wakes. Some are BYOB — bring your own boat — but many have marinas that offer rentals to get you on the water. Don't forget to practice boat safety while you're there.
Wonderful water for:
5. Tee Up on a Golf Course
If you hear someone bragging about how far he hit the ball on a recent golf vacation, you might ask where he was when he experienced this feat. Chances are, it was in Colorado. At high altitude, where the air is thin and dry, everyone's ball flies farther and straighter. This feature is likely one of the reasons so many golfers are drawn to the state. Add year-round play — you can even go from the ski slopes to the green in one day in some locations — and only-in-Colorado backdrops, and you'll discover plenty of other reasons, too. Several companies offer packaged golf tours that allow you to sample several different layouts around the state.
Hone your skills:
6. Horseback Ride into the Sunset
Dramatic scenic backdrops, endless trails and a history of horseback riding make Colorado a perfect destination for equestrian immersion. Each region offers a different landscape for horseback riding and any level of horsemanship. Guided trail rides are best for beginners. Knowledgeable wranglers lead small groups, pointing out wildlife and points of interest. Pack trips, where guides accompany you from one campsite to the next as you head farther into the backcountry, are good for more seasoned riders. And dude ranches offer something for every level of rider and include weeklong stays, great food, tailored riding instruction, kids' programs and cattle gathering for a complete Wild West experience.
Riding resources for:
7. Get the Adrenaline Going While Kayaking & Whitewater Rafting
The headwaters of four major rivers begin in Colorado — the Colorado, Platte, Arkansas and Rio Grande — and every spring, whitewater lovers flock here with their kayaks strapped to the roofs of their cars. The season typically runs from May through September, with the swiftest whitewater occurring in May and June. August is the best month for a more laid-back outing. The state's abundance of outfitters, paddle parks, placid lakes, mellow rivers and challenging rapids make it the ideal place to learn to kayak and raft — and perfect your paddle on more formidable waterways. Make sure you raft (and kayak) safely.
Places to put your paddle in for:
8. Explore a Colorado Cave
One of the best ways to cool off from all these summer activities is to head underground, where two of the nation's most popular natural caves can be found:
Cave of the Winds in Manitou Springs grants access to more than 2 miles of limestone passageways. Well-lit, easy tours explore the cave's twists and turns. For those who want to peek into its haunting depths, they'll turn out the lights and you can explore by lantern light.
Reached via gondola ride with views of the Roaring Fork Valley, Glenwood Caverns in Glenwood Springs has wide-open, massive rooms lined with otherworldly rock formations. If you're feeling like you've got the hang of this caving thing, there are also tours of undeveloped portions of the caverns that include some crawling and squeezing to get into.
For experienced cavers, there are also several undeveloped caves, including those at Rifle Falls State Park and Dinosaur National Monument and many in the White River National Forest. Visitors to these caves must remember that they can be dangerous, and proper equipment is needed for a safe trip.
Want More?
Check out 16 of the best things to do in Colorado.
Find 5 Things to Do Before Summer's Over.
Colorado Family Attractions for Summer.
12 Quintessential Summer Festivals in Colorado.