9 Things to Love About Pagosa Springs' Hot Springs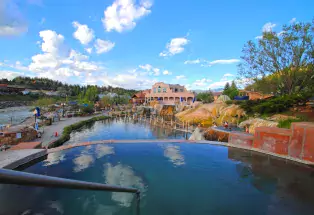 Here a few reasons why you won't find a better hot springs experience in Colorado (or anywhere else).
Pools With a View
The San Juan Mountains are breathtaking even when you're not soaking in a hot spring. At The Springs Resort, the pools are terraced along the San Juan River, so that you can enjoy the mountain and river views while you soak. At the Overlook Hot Springs Spa, the spring-fed rooftop pool has killer views of the mountains and downtown. Healing Waters Resort & Spa is located right along the San Juan River, which flows through downtown Pagosa. Plus, there are 3 million acres of wilderness and national forest areas to explore just beyond town.
Double Down on Relaxation
Don't stop with a soak! Pair your hot springs stay with a massage, acupressure, Reiki or other spa services available each of the hot springs.
Pagosa Springs has other massage therapists, as well, so options for soothing adventurous, Rocky Mountain-exploring muscles are virtually endless.
Never Leave!
Two of Pagosa's hot springs have lodging options to make sure you're never too far from relaxation, with many other lodging options within walking distance of all three facilities. The Springs Resort's luxurious rooms and suites come with plus robes, a 24-hour beverage bar and other amenities. Healing Waters Resort & Spa offers rooms, suites, and cabins for all sorts of hot-water-seeking travelers.
One for the Record Books
The spring beneath Pagosa Springs is listed in the Guinness Book of World Records for "Deepest Geothermal Hot Spring." Named in 2011, it had a maximum measured depth of 1,002 feet. The spring could actually run much deeper, but the plumb line ran out before it hit the bottom. 
Water for Everyone
With dozens of different pools at each location, you'll find waters ranging in temperature from the low 80s to about 114 degrees. So, when it comes to choosing the right soak, it's sort of like Goldilocks tasting porridge: Too hot, too cool…just right.
A History of Healing
Southern Ute tribes used the springs for hundreds of years, and "Pag-Osah" means "healing waters." Stories about the magical waters prompted the US Army to study the healing qualities of the springs starting in 1860 and they reported back glowingly about the effects. The first bathhouse on the springs was built in 1881 and people have been soaking here ever since.
The Minerals
Sodium, potassium, magnesium, silica, iron, manganese and sulfate are just some of the natural minerals you'll soak up during a dip in Pagosa's hot springs. And there are plenty of benefits associated: Strong bones, healthy joints, tissue repair, hormone balance and more!
Four Seasons of Fun
You might come to Pagosa for the healing waters, but you should stay for all the other fun things to do around here, including fishing, hiking, skiing, art galleries, hot air balloon rides, snowmobiling, rafting, museums, kayaking, performing arts, historic sites and more. 
Don
'

t Just Take Our Word For It

Pagosa Springs has lots of well-known fans, including Oprah, Sunset Magazine, Country Living and more. After a soak in the springs, you'll understand what all the hype is about.
Want More?
From breweries and the best places to eat during your stay to connecting with outfitters for outdoor adventure, check out 10 Ways to Spend Winter in Pagosa Springs and 10 Things to Do in Pagosa This Summer. And watch a video on Pagosa's hot springs.