99 Gorgeous Places in Colorado: Part 2, The Local Favorites
In the second of three stories about how to Come to Life in Colorado, we've rounded up (in no particular order) 33 of the local favorites — those spots that make Coloradans remember just how lucky we are to live here.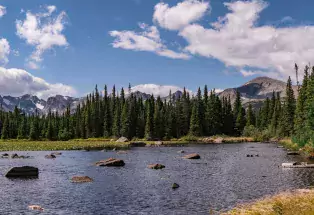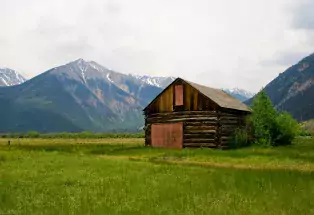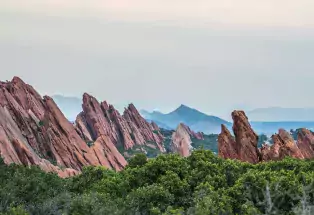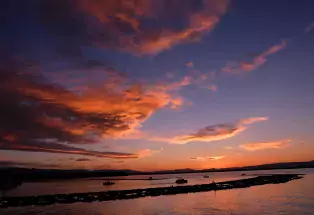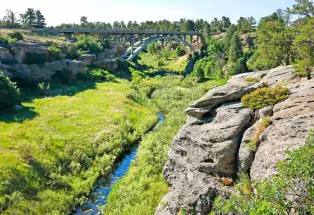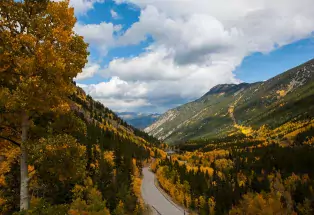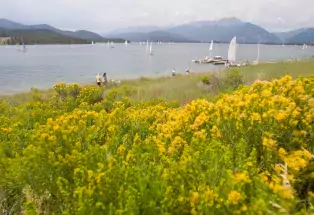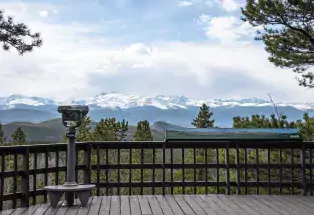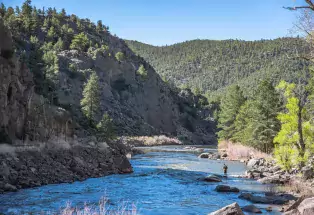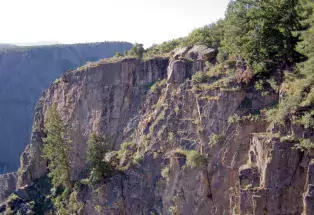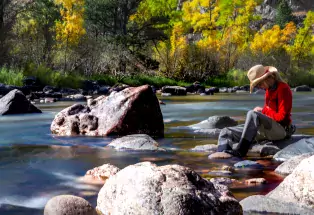 Read Part 1, The Postcard Places and Part 3, The Hidden Gems.
37. Grand Mesa
The Scene: The largest flattop mesa in the world rises above of one of Colorado's most fertile valleys, where pears, cherries and peaches hang low from the trees every summer. The land is peppered with hundreds of fishing lakes and ponds, as well as many trails frequented by dirt bikers and ATV riders. Explore Grand Mesa National Forest and Grand Mesa lakes. Nearby Towns: Grand Junction, Delta, Cedaredge, Hotchkiss, Paonia
35. Glenwood Canyon
The Scene: Sheer canyon walls stretch hundreds of feet above the whitecapped Colorado River. The 16-mile Glenwood Canyon bike trail runs alongside the river's twists and turns. Picnic pull-offs serve as a front-row seat to the rapids below, and three noteworthy hiking trails are accessed from the path, the most popular being Hanging Lake. Nearby Town: Glenwood Springs
36. Red Feather Lakes
The Scene: This handful of lakes in the Roosevelt National Forest draws boaters and fishers to its many shores every summer. While it's near the city of Fort Collins, the area is isolated enough to be popular with stargazers, and the surrounding Medicine Bow Mountains' gentle slopes are perfect for casual hikers and mountain bikers. Nearby Towns: Fort Collins, Red Feather Lakes
37. East Portal Road, Black Canyon of the Gunnison National Park The Scene: When viewed from above, this steep road looks as if it was a spaghetti noodle carelessly flung onto the canyon floor right inside Black Canyon of the Gunnison National Park. Those making their way along its hairpin turns and switchbacks drop 2,000 feet in elevation and get to see the canyon and park from a whole new angle. Nearby Town: Montrose
38. Brainard Lake
The Scene: Brainard Lake Recreation Area is one of the only places on the Front Range where those wanting to get outside can drive such a short distance for spectacular alpine scenery. Easy access and a network of trails built in the 1970s by the Colorado Mountain Club make it a paradise for hikers, cross-country skiers and showshoers. Nearby Towns: Boulder, Ward Brainard Lake may require timed-entry reservations. Plan ahead at Recreation.gov.
39. Browns Canyon National Monument
The Scene: One of the most beloved areas in Colorado for whitewater rafters, the Arkansas River cuts through this granite-walled canyon, where strong rapids followed by mellow pools allow paddlers to regain their bearings and take in views of unique rock formations and several Collegiate Range fourteeners. Read about Browns Canyon rafting. Nearby Towns: Buena Vista, Salida
40. Roxborough State Park
The Scene: Roxborough State Park's trails wrap around red-rock formations that seem to rip unexpectedly through fields of prairie greenery. The contrast between the red of the rocks and a bright-blue cloudless sky sets up a Technicolor scene worthy of the "Wizard of Oz." Nearby Town: Littleton
41. St. Mary's Glacier
The Scene: From the 1920s to '80s, this permanent snowfield was home to a tiny ski area. Today summer visitors who reach the top on foot, instead of by chair lift, pass by a sparkling lake and streams flowing from the melting snow, which makes for a refreshing July snowball fight. Nearby Towns: St. Mary's Glacier, Idaho Springs
42. Golden Gate Canyon State Park
The Scene: Hiking the Golden Gate Canyon State Park's winding trails between meadows scattered with blue harebells, scarlet paintbrushes and lavender columbine (Colorado's state flower) is a journey straight into serenity. Spreading a blanket next to a gurgling stream and watching yellow butterflies flit from bud to bud sends visitors over the top. Nearby Towns: Golden, Black Hawk, Central City
43. Lake San Cristobal
The Scene: The second-largest natural lake in Colorado is a favorite with fishers and boaters, who delight in its quirky treeline. The decidedly unlovely sounding Slumgullion Earth Flow, an 800-year-old, epically slow landslide, continues to shift the ground up to 21 feet a year, resulting in fir trees that grow at bizarre angles. Nearby Town: Lake City
44. Eagles Nest Wilderness
The Scene: There are so many 12,000- and 13,000-foot-high peaks in the Eagles Nest Wilderness area that many of them haven't even been given names. Rock climbers revel in the countless number of vertical faces and the relative isolation of the incredibly rugged area. Nearby Towns: Dillon, Frisco, Vail, Heeney, Avon, Wolcott, Bond, Kremmling
45. Cache la Poudre River
The Scene: Colorado's only nationally designated Wild and Scenic River carves down Poudre Canyon through narrow sections flanked by natural rock cliffs. The triumph of paddling over a rapid named Devil's Staircase is second only to the views and the chance to spot bighorn sheep and deer scampering along its rocky hills. Learn about Poudre River rafting. Nearby Town: Fort Collins
46. Guanella Pass Scenic and Historic Byway
The Scene: Bighorn sheep, golden eagles and the occasional mountain goat can all be seen on the jaunt up this pass from Georgetown to Grant. At the summit, views stretch toward a craggy and eroded peak known as The Sawtooth, as well as Mount Bierstadt, a 14,060-foot peak that is one of the state's most accessible fourteeners. (Pass often closed in winter.) Nearby Towns: Georgetown, Bailey, Grant
47. Chicago Basin Trail
The Scene: Backpackers love that the only way to start a serious adventure in this dramatic and remote alpine basin beneath the Needle Range in the Weminuche Wilderness is via the historic, steam-powered Durango & Silverton Narrow Gauge Railroad, which drops off and picks up in what feels like exhilaratingly like the middle of nowhere. Nearby Towns: Durango, Silverton
48. Fryingpan River
The Scene: Arguably one of the best trout-fishing locations in the world, the Fryingpan's Gold Medal waters offer encounters with rainbow trout whose monstrous size requires a cooler, not a creel. This stretch is loaded with trout, cutthroats and brookies that seem almost to beg to be plucked from the water by a well-placed cast. Nearby Towns: Aspen, Basalt
49. Arkansas Headwaters State Park
The Scene: This "park" is actually a 150-mile-long recreation area that starts in the mountains above Leadville and follows the Arkansas River to Colorado's plains. The river features great fishing and camping and is one of the nation's most popular locations for whitewater rafting, with everything from class-II rapids for beginners to the class-V variety craved by seasoned paddlers. Nearby Towns: Leadville, Buena Vista, Salida, Cañon City, Pueblo
50. Missouri Lakes Trail
The Scene: This Holy Cross Wilderness trail counts nearly 90 lakes, 90 species of wildflowers and four fourteeners among its chief attributes. Hikes, though strenuous, feel like a treasure hunt with one waterfall, cascade, gurgling stream and field of flowers after another. Nearby Town: Minturn
51. Ouzel Falls, Rocky Mountain National Park
The Scene: On the path to Ouzel Falls inside Rocky Mountain National Park, in one of the greenest, must lush spots in the state, hikers come across several smaller falls and cascades that entreat them to keep moving to the mother lode. Breathtaking Ouzel drops more than 40 feet through a sliver in the dark rock wall surrounding it and flows into a chilly pool filled with boulders and fallen trees. Read about 10 other Colorado waterfalls. Nearby Town: Estes Park
52. Twin Lakes
The Scene: Two pristine lakes sit at the foot of Colorado's highest fourteener, Mount Elbert (14,433 feet). Several log cabins from the area's days as a rest stop between the mining districts of Leadville and Aspen add to the quaint and historic feeling of the nearby town of the same name. Nearby Town: Twin Lakes, Leadville
53. Mount Zirkel Wilderness
The Scene: With 170 miles of trails that vary in elevation by 5,000 feet, it might seem as though this area would lend itself to only the most experienced trekkers. But the wilderness isn't quite as rugged it sounds — gradual, moderate rises in elevation make it a good first-time (albeit well-prepared) backpacking adventure, with almost guaranteed moose and elk sightings. Nearby Towns: Walden, Steamboat Springs
54. Lake Pueblo State Park
The Scene: Another one of a handful of lakes on Colorado's eastern plains, Lake Pueblo State Park boasts 60 miles of shoreline, 4,500 surface acres of water to play on and clear views of the Greenhorn and Wet mountain ranges in one direction and Pikes Peak in the other. Nearby Town: Pueblo
55. Lake Dillon
The Scene: At a lofty elevation of 9,000 feet above sea level, dozens of sailboats skim gloriously across the lake's deep blue waters between 27 miles of forested shores and a mountain backdrop, as smaller boats trace its many fingers and coves. Lake Dillon boat rentals can be made at the marina. Nearby Towns: Dillon, Frisco
56. Aiken Canyon Preserve
The Scene: Acquired by The Nature Conservancy to preserve one of the last examples of southern Rocky Mountain Front Range foothill ecosystems, the preserve's hiking trails lead past red-rock formations, a variety of plants and the habitats of more than 100 species of birds that provide a natural soundtrack for every hike. Nearby Town: Colorado Springs
57. Rifle Falls State Park
The Scene: On a hot summer day, the mist that drifts from the exhilarating gush of water over 70-foot-high limestone cliffs and the dark caves below them in Rifle Falls State Park are a sublime natural air conditioner. Nearby Towns: Rifle, New Castle
58. Boreas Pass Road
The Scene: Once a Ute Indian trail, then a narrow-gauge railroad pass linking Denver and Leadville during the 1880s silver boom, Boreas Pass is now an outlet to hiking and biking trails known for their access to brilliant fall color. An abandoned section house, cabins and railroad relics are reminders of its railroad past. Nearby Towns: Como, Fairplay, Breckenridge
59. Castlewood Canyon State Park
The Scene: Best known as the home of a dam that burst and unleashed a 15-foot-high wave onto the city of Denver in 1933, today's Castlewood Canyon State Park is decidedly more serene. It's home to 60-foot-high canyon walls ideal for climbers of all skill levels, four eco-systems (grasslands, shrublands, forest and riparian), a historic homestead house, and, of course, the ruins of that ill-fated dam. Nearby Towns: Castle Rock, Franktown
60. Cottonwood Lake
The Scene: This is the quintessential lazy-day lake, perfect for setting up the fishing pole and falling asleep on the shore, skimming across the glassy surface and many inlets in a canoe or kayak, and searching for mountain goats scrambling atop nearby cliffs. Nearby Town: Buena Vista
61. Monte Vista National Wildlife Refuge
The Scene: This federally designated wetland habitat is a major layover for the more than 20,000 migrating greater sandhill cranes who travel between New Mexico and Canada each year. Several hundred elk, mallards, Canada geese, avocets, ibis, egrets and herons call the refuge's peaceful lakes and meadows home. Nearby Towns: Monte Vista, Alamosa
62. Boulder Canyon 
The Scene: A drive up this canyon displays the classic outdoor scene Boulder has become synonymous with: mountain bikers whizzing down or cranking up the Boulder Creek path, kayakers deftly dipping and dodging swift rapids and climbers scaling bulbous boulders. Off the road, hikers search for Boulder Falls, the canyon's famous waterfall, and dip their toes in the creek (closed until further notice). Nearby Town: Boulder
63. Zapata Falls
The Scene: As hikers approach Zapata Falls along a windy trail at the base of the Sangre de Cristo Mountains on the way to Great Sand Dunes National Park and Preserve, it feels a bit like they're chasing it — they can hear the roar of the 40-foot-tall gusher and feel its cooling effect long before they can actually see it. Nearby Towns: Blanca, Mosca, Hooper, Alamosa
64. Jackson Lake State Park
The Scene: There's no better description for this Jackson Lake State Park than an oasis amid Colorado's expansive eastern plains. Its warm, South Platte River-fed water and sandy bottom and beaches welcome swimmers and waterskiers looking to cool off each summer. In 2020, Jackson Lake was named an International Dark Sky Park, making it the first Colorado State Park to hold the coveted designation. Nearby Towns: Orchard, Wiggins, Log Lane Village, Fort Morgan
65. Wolf Creek Pass
The Scene: Running along Wolf Creek and the Continental Divide, this gradually winding mountain road's sheer drop-offs are surely what inspired country singer C. W. McCall's humorous 1975 song about two truckers speeding down one of its climbs. Those who drive its western side in a less daredevil fashion find an idyllic, mountain-framed green valley dotted with little lakes. Nearby Towns: South Fork, Pagosa Springs
66. Hermosa Creek Trail
The Scene: Durango is quickly becoming a haven for single-track mountain bikers, thanks in part to nearby, streamside trails like this one. Hilly routes bob riders down into shady, wildflower meadows and up for sunlit views of the sky-scraping La Plata Mountains. Nearby Town: Durango
Want more?
Find the best things to do in Colorado >>