Accessible Activities in Colorado for Travelers With Disabilities
Many of Colorado's most popular outdoor attractions are accessible to people with disabilities. Below are a few resources to help you start planning a Colorado vacation.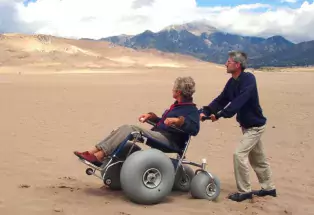 National Parks
Many of Colorado's 13 national parks and national monuments provide wheelchair-accessible touring information:
State Parks
Colorado Parks and Wildlife, which manages 42 state parks as well as wildlife programs and areas, has outlined accessible fishing locations, a big-game mobility-impaired hunting-license program and more; check out their Park Finder map, which locates parks with accessible camping, fishing, hunting, picnic sites, restrooms, showers, swimming, trails and visitor centers. In addition, the Columbine Pass from Colorado Parks & Wildlife,  provides reduced park-entrance fees to Colorado residents with disabilities.
Adaptive Sports Adventures
A number of centers and associations throughout Colorado have developed adaptive activities through the use of skillfully trained instructors and state-of-the-art equipment. From hiking trails and rock climbing, to skiing and snowshoe tours, Colorado offers a variety of year-round activities for disabled persons seeking indoor and outdoor adventures. See a sampling of summer and winter activities offered for disabled persons.
Learn about adaptive summer sports in Colorado.
Explore adaptive skiing, snowboarding, ice climbing and more.
Wilderness on Wheels
Wilderness On Wheels Foundation's mission is to stimulate the development of access for disabled persons to natural outdoor environments. WOW accomplished this through the construction of a 1-mile, 8-foot wide boardwalk starting at 9,100 feet to the top of a 12,300 foot mountain 60 miles west of Denver near Grant. They are open Memorial Day to mid-October, and it's free to hike the boardwalk at Wilderness on Wheels; there are are also fishing and camping at the site, as well as overnight cabins. 
Other Accessible-Travel Resources in Colorado
• TrailLink has a great list of wheelchair-accessible trails to aid in exploring Colorado's beauty.
• The Colorado Springs Visitor Center showcases accessible museums and other attractions.
• The Denver Convention & Visitors Bureau keeps a list of wheelchair-accessible services and tours.
If you know of others that should be on this list, let us know!