Beginning Hunting in Colorado
Hunting in Colorado often feels boundless, with public lands that include 23 million acres of pristine pines, plentiful pocket meadows and pure-water ponds, so it's no wonder Colorado hosts the world's largest elk herd and the best chance at hunting, or simply viewing, these majestic animals in motion.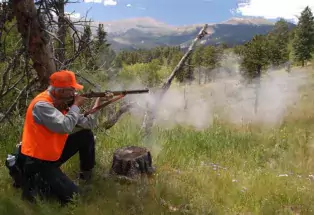 Find your path, see what it's all about and choose your own Colorado hunting and scouting adventure via the steps below:
1. Choose How, What & When to Hunt in Colorado
Species: Mule deer in the mountains, whitetail on the plains or the legendary elk of the Rockies — these are only some of many species that call Colorado home.
Method of Take: Go primitive with a longbow, stay modern with a centerfire rifle or split the difference with muzzle-loading. Colorado is accommodating to most types and styles of take as long as you have that handy hunter education card (from Colorado or your home state).
Season: It's hard to resist hunting among golden aspen leaves in early season bow-and-muzzle-loading seasons, but cool weather and snow often help in a successful hunt. Big-game seasons run from August through January.
2. Pick Your Colorado Hunting Spot
Scout It Out: Make a pre-season basecamp in one of Colorado's welcoming small towns and bring friends or family along. Staying stealthy any time of year can reveal the secret side of wilderness, which loud or talking hikers rarely encounter.
Fish Side Dish: Big-game habitat almost always overlaps with small-game and fish habitat. Bring along that shotgun or fishing rod and experience the richness of Colorado's varied terrain.
3. KNow About Rules, Resources & Licensing for Hunting in Colorado
Laws: Adherence to Colorado's hunting and fishing guidelines are extremely important to the overall health of the wilderness. The first responsibility on any trip is to read up on rules and regs online or pick up a printed manual to stay up to date on changes in the law.
Learn: Colorado Parks and Wildlife offers Elk Hunting University, instructional videos and a whole lot more to get you ready for the hunt. And find information on outdoor survival, a guide to Colorado's game management units, scouting tips and numbers to call when you have questions.
Plan: Apply by mail or online for your Colorado hunting license (including limited-draw licenses, always due on the first Tuesday in April). For more information on dates and fees, visit Colorado Parks & Wildlife.
Find a directory of Colorado hunting outfitters, who can lead you on guided or semi-guided hunts, as well as Colorado Parks and Wildlife field offices.
Colorado Parks & Wildlife offers both in-person and online hunting and fishing skills-building classes throughout the year. If you'd like news and event notices delivered to your inbox, you can sign-up for one of the CPW e-newsletters tailored with information to your interests. If you don't find the right learning opportunity on their event calendar, call the service center and perhaps one of their staff can help find what you are looking for. The main call center number is 303-297-1192 and is open Monday–Friday, 8am–5pm.
Want more? 
Find hunting programs in Colorado >>
Check out our guided-hunt handbook >>