The Best Hikes with Great Views in Boulder
There's nothing like a breathtaking view to reward all the sweat and hard work you put in on a hiking trail. Most every trail in Boulder has a refreshing vista or two, but the following offer particularly outstanding panoramas.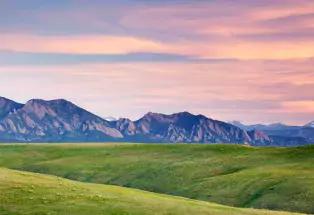 Wonderland Lake Loop Trail
Difficulty: Easy
Distance: 1.8 mile
Dogs allowed: Yes, but see regulations
Trail Map
Where to Park (No Fee)
This pretty little lake is nestled among neighborhoods and parkland in the foothills of North Boulder. As you start on the flat, pleasant, looping trail, you'll enjoy the distant Flatirons reflected in the water. Keep an eye out for paragliders, who use the top of the Wonderland Hill Trail as a launch point. 
Flatirons Vista
Difficulty: Easy
Distance: 3.5 miles
Dogs allowed: Yes, but see regulations
Trail Map
Where to Park (Fee)
While the most iconic views of the Flatirons are from the Chautauqua Trailhead, this trail south of town stands at a distance to the iconic formations, giving you unparalleled views of the whole mountain range. Equally great for trail runners and families, the open landscape of this trail (bring plenty of sunscreen) gives you a sense of scale and geography you won't get on trails that lead directly into the foothills. Plus, for those who want a longer trek, plenty of connecting trails make it possible.
Chapman Drive & Tenderfoot Trail
Difficulty: Moderate
Distance: 2.5 miles
Dogs allowed: Yes, but see regulations
Trail Map
Where to Park (Fee)
The drive alone, up Flagstaff Mountain to Realization Point, is a great way to take in views of the University of Colorado's red-tile rooftops and all of Boulder below. Once on the trail, start down Chapman Drive, a wide, dirt road (shared by mountain bikers) and gaze down at a canyon thick with ponderosa pine forest and beyond to the snow-capped Indian Peaks to the west. A mile and a half in, turn right onto Tenderfoot Trail, which winds through a flowering meadow. Follow the signs for the overlook spur trail for postcard-perfect views of some of Colorado's tallest peaks.
Rattlesnake Gulch
Difficulty:  Moderate
Distance: 3.6 miles
Dogs allowed: Yes, leashed
Trail Map
Where to Park (Park Fees to Enter)
The dramatic, striated walls of Eldorado Canyon State Park are just 20 minutes south of Boulder, and its full of hiking, biking and outdoor recreation opportunities. Rattlesnake Gulch is a moderate hiking option that will take you past spectacular views of the canyon and Colorado's eastern plains in the distance. You'll also pass the remnants of historic Crags Hotel, which was built in 1908 but burned down in 1913. Continue on to the Continental Divide Overlook, and have your camera ready!
Ride the Eldo Shuttle on Summer Weekends
Parking can fill up on summer weekends in Eldorado Canyon State Park, and when it does, guests arriving by car have to be turned away at the gate. Instead, ride the free shuttle from South Boulder to Eldo on summer weekends. Learn more about the Eldo Shuttle here. 
Mount Sanitas
Difficulty: Difficult
Distance: 3.2 miles
Dogs allowed: Yes, but see regulations
Trail Map
Where to Park (Free)
You'll feel like shouting, "I'm king of the world" from the summit of this lung-busting, thigh-burner of a hike — one of Boulder's most popular. In fact, it's so popular that it is best reserved for a weekday or wintertime, when crowds are (slightly) fewer. There are two way to approach the loop, but we recommend tackling the rocky, "staircase" side (Mountain Sanitas Trail) first and coming back down the way you came or via the Sanitas Valley Trail.
Want more? 
Check out the Boulder Hike Planner >>
Take on Boulder's famous Flatirons >>