Best Holiday Foods in Colorado
From farm-fresh eggnog to crispy latkes, Colorado is home to some of the most mouth-watering winter foods. Collect them all like holiday Pokemon.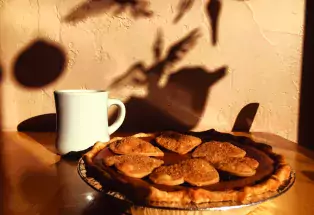 Eggnog
From Clark Griswold's Walley World mugs to your grandpa's spiked concoction, eggnog is synonymous with the holiday season. This dairy's thick glass bottles are full of whole milk, cream, cane sugar, egg yolks, nutmeg and cinnamon.
Latkes
Crunchy on the outside, delicate on the inside, Littleton's popular Jewish deli plates their latkes with homemade apple sauce and a cinnamon whipped cream that might make you cry tears of joy.
Meats
What's a holiday feast without the grand dame of meat sitting in the middle of the table? Sourced from local ranches, Homestead uses quality cattle raised without antibiotics. Pre-order online or nip by to see what they have in stock.
Classic Baked Goods
In what could be compared to a Swiss chalet, Wimberger's offers strudel bejeweled with apple chunks, dainty pastry-works stuffed with fruit reductions and holiday stollen (fruit bread with nuts) in a dense butter and sugar coating. 
Pies
December just wouldn't be the same without the Cadillac of desserts — pie. The Pie Maker in Cortez has been making succulent brandied ginger pear pies since 2012. Meanwhile in Granby, Showboat's Drive By Pie sells out of their Killer Apple pretty quickly, so get there fast.
Holiday Candy
Why decorate your tree with grocery-store candy canes when you can get them gourmet from Denver's favorite candy maker? But that's not all they offer. Pick up their peppermint stirrers to make your hot cocoa extra festive and the blue-raspberry lollipops for those keeping kosher. 
Mulled Wine
For the adults, Two Swede's Glögg is a spiced, supercharged wine. Pour the garnet-colored beverage into a pot and slowly heat it up before serving it in mugs near a fire. Find it in liquor stores around the state.
Gingerbread Cookies
This establishment cranks out some of the spiciest gingerbread in the state. Pick up at least a dozen of their gingerbread snowmen decorated with vibrant icing. 
Holiday Beer
Breck Brew's Christmas Ale is a full-bodied malt meant to be sipped near the hearth while "A Christmas Story" plays softly in the background.
Fruitcake
While fruitcake may be the butt of holiday jokes, Ginger and Baker elevates this holiday staple with notes of rum and spice.
Hot Chocolate
Known as Haute Chocolate, this is hot cocoa's fancy cousin. Melted Swiss chocolate in a copper mug is topped with a block of marshmallow and finished off with a generous pour of Chantilly creme.
Tamales
Resembling gold bricks, Liz's Tamales will warm you up inside with a heavenly combination of meat and spices.  
Mince Pies
Nothing says winter like flaky, buttery, saucy and meaty pies made New Zealand style. These hand-held creations come in a variety of flavors like Sunday roast chicken dinner.
Want More?
Holiday Markets in Colorado
11 Must-Visit Colorado Food Towns
Colorado Culinary Trends
9 Must-Eat Foods in Colorado
Photo Credits: The Pie Maker Bakery, Breckenridge Brewing