Get Back to Nature With Colorado Camping Basics
Thinking about camping during your Colorado vacation? A night spent at a campsite in Colorado's pristine wilderness is an experience unlike any other.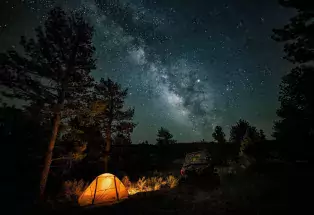 Here, everything shines brighter; from our stunning natural beauty and diverse landscapes to our pleasant temperatures and clear starry skies, you'll find your home away from home in Colorado's great outdoors.
With so many campgrounds to choose from, it's easy to find a tranquil spot to get back to basics and revisit the simplicity of nature. Once you set up camp, you'll soon realize that bird calls, meandering trails and lazy afternoons are welcome distractions from everyday life. Here's a breakdown to help you decide what style of camping best suits you, as well as some basic information you'll need to make the most of your experience.
Different types of camping in Colorado
There's a wide range of different camping options to choose from. Whether you like communing with nature or an outing with convenient amenities, we have something to suit your style — including accessible campsites at many of our state and national parks. Here are several camping methods that are perfect for beginners and experts alike:
• Car camping — The most popular form of camping for its rustic simplicity, sentimental tradition and easy accessibility. This form of camping allows you to drive up to an assigned spot and set up camp with your vehicle parked close by. These designated sites also provide access to amenities like bathrooms, showers and an electricity source. Learn how to set up camp.
• Glamping —  A more luxurious form of camping that provides elevated creature comforts with the outdoors aesthetic. You'll sleep in a tent or yurt permanently located in a scenic outdoor area and equipped with a cozy bed, private bathrooms and various perks, from Wi-Fi and kitchens to fire rings and mountain bikes you can use for free.
• RV or van camping — This method is perfect for people who want to be close to nature but aren't yet comfortable sleeping outdoors. It's also a good option if you want to sleep on a real bed and have easy access to the conveniences of home. Whether you bring your own or rent one when you arrive, you'll find many parks and campgrounds have dedicated RV sites.
• Backpacking or bikepacking — Of all the forms of camping listed here, these are the most adventurous. Dispersed camping often requires hiking into a spot with no access to bathrooms, power or water. The upside is that you'll be farther away from other campers in a more natural and remote setting, many times in a clearing with just an established fire ring. Trips can last anywhere from a night to several weeks, however, first-timers should consider shorter trips. And regardless of experience level, you should always let someone back home know your route and expected return time.
Pro tip: With dispersed camping, backpacking and bikepacking, you'll be carrying all of your supplies — including your tent, food and sleeping gear — with you. Because of this, you'll need to be mindful of what you pack so that you have everything you need, but don't weigh yourself down.
Picking a campsite in Colorado
There are thousands of campsites in Colorado's national parks, state parks and other public land systems, with hundreds more in private sites. Simply find the part of the state you want to visit, choose a site with the amenities you need, and make a reservation online.
Colorado State Parks Camping
There are 43 state parks with over 4,000 campsites all over the state that are administered by Colorado Parks & Wildlife. Amenities at many parks include restrooms, full electrical hookups, picnic sites and showers, while some even have laundry facilities and playgrounds. Yurts and cabins available for rent offer comfortable, year-round alternatives to traditional camping. Campgrounds can book up months in advance, so plan well ahead and make a reservation as soon as possible.
Camping in National Parks
Sometimes, when visiting any of Colorado's four national parks, one day just isn't enough. You've traveled a long way to visit our famous national parks, give yourself a little extra time to enjoy your destination by taking advantage of the campgrounds on site. Many of these developed campgrounds offer restrooms, tent pads, seasonal potable water and night-time programming. For a more remote option, consider getting a wilderness permit to camp at designated backcountry sites throughout the park. These sites are only accessible by hiking in and do not offer any amenities except for the beauty of untouched nature. Reservations can be made at recreation.gov.
Camping on Federal Lands
The U.S. Forest Service manages 14 million acres of land in the state's 11 National Forests and two National Grasslands, while the Bureau of Land Management oversees an additional 8.4 million acres. Both agencies have campsites that range from developed areas with restrooms, fire rings, water and other amenities to remote areas with no amenities that are reached only by horse, mountain bike or backpacking. Reservations can be made at recreation.gov.
Private Campgrounds
There are many privately owned campsites in Colorado, and they often have perks you may not find on public lands, including playgrounds, hot tubs, laundry facilities and Wi-Fi. Our campgrounds listings, the Colorado Campground and Lodging Owners Association and Colorado KOA Owners Association are just a few places to make reservations and locate campgrounds.
What you need to know
The weather can change quickly, even in the summer months. To stay comfortable, it's best to wear layered clothing.
Depending on location, you may be required to purchase a pass or permit. Plan ahead by reviewing the websites listed above and the information posted at campground entrances.
Campgrounds can book up months in advance, so it's best to make a reservation sooner than later.
Be aware of your location and obey all posted signs and notices at campgrounds and trail entrances. If venturing onto private property, be sure to first get the owner's permission.
Expect to run into wildlife, from chipmunks to bears depending on where you camp. Know the etiquette of wildlife encounters and follow area guidelines wherever you go. (For example, some campsites require food and scented items be stored in bear lockers — large metal cabinets at parks that bear paws can't get into.)
Remember to Do Colorado Right throughout your travels by following our Seven Care for Colorado Leave No Trace Principles.
Packing essentials
Keep in mind that if you're not ready to go all in on gear, many of these items can be rented from local outfitters.
Tent with a rain cover 
Down sleeping bag (even in summer, it can get below freezing in Colorado's higher altitudes)
Pillow and sleeping pad (adds an extra insulating layer)
Camp stove and/or matches to use your campsite's fire pit
Plenty of drinking water and food (If you're backpacking or at a dispersed campsite, you might want to learn about water-purification tablets and methods or reusable filters.)
Can opener, aluminum foil, paper plates, cups/mugs, utensils, multipurpose knife, trash bags, paper towels 
Layers of clothing, including a water-resistant coat, wool socks and long underwear
Flashlights/headlamps/lanterns
Sunscreen, bug spray, first-aid kit, toilet paper (Learn what to do when nature calls in the great outdoors.)
Other trip ideas
Lakeside Lodging
Cabin Vacations
Unforgettable RV Parks
The Colorado Culinary Camping Guide
Sleep Somewhere Cool Blog
Photo: Scott Dankof