Celebrate Colorado's Hispanic & Latinx History
Colorado's Hispanic and Latinx heritage dates back to 1598, and its influence is prominent throughout the state. Here's just a small snippet of our Hispanic and Latinx history, along with cultural sites, eateries and festivals where you can experience that legacy for yourself.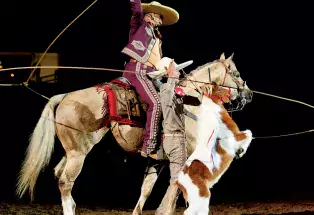 Mexican Rodeo Extravaganza at Denver's National Western Stock Show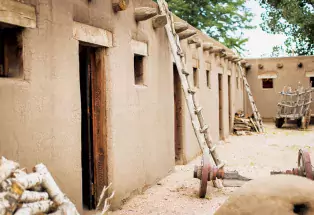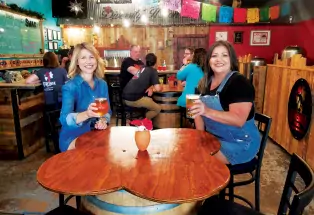 Atrevida Beer Company in Colorado Springs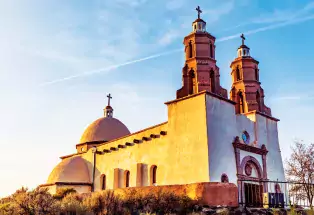 Shrine of the the Stations of the Cross in San Luis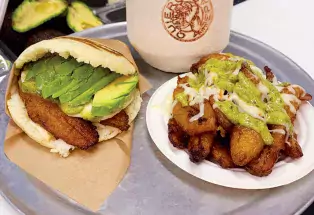 Quiero Arepas in Boulder & Denver
History & Cultural Sites
This history is by no means the full story of the impact Hispanic and Latinx communities and individuals have had on the state. History Colorado is a great resource if you want to learn more.
1842: El Pueblo Trading Post was founded on the then U.S.–Mexican border. One of Colorado's earliest independent trading posts, it was a hub for fur and trapping traders from the U.S, Mexico and Native American tribes like the Utes. 
Explore this history at: El Pueblo History Museum, Pueblo Heritage Museum Nuestras Familias exhibit
1848: Treaty of Guadalupe Hidalgo ends the Mexican-American War, surrendering property to the U.S. Terms were supposed to guarantee the rights of Mexican settlers, but they were not respected. (Also of note, the original occupants of this land were the Ute people.) 
Explore this history at: Trujillo Homesteads National Historic Landmark near Mosca
1851: Hispanic farmers establish La Plaza Media. After dedicating their church on the feast day of Saint Louis, the community is renamed San Luis in honor of its new patron saint. San Luis is the oldest continuously inhabited town in Colorado. 
Explore this history at: Plaza de San Luis de la Culebra Historic District in San Luis, Shrine of the Stations of the Cross in San Luis, Capilla de Viejo San Acacio in San Acacio
1865–1885: Post Civil War, 25 percent of New Mexico's Hispano population move to Colorado and establish towns. 
Explore this history at: Trinidad History Museum in Trinidad, Baca House, Borderlands of Southern Colorado exhibit
1904: Mexican workers are recruited to work farms for the sugar-beet industry by the Great Western Sugar Company, and a flourishing Hispanic community is formed in northern Colorado. 
Explore this history at: Museo de las Tres Colonias in Fort Collins
1960s–1970s: The Chicano movement for human rights and equality stemmed from many factors, including poor working conditions and discrimination. This led to an empowered embracing of Chicano culture and heritage. Three particularly notable events:
Feb. 15, 1969: A 221-day strike in protest of working conditions ends in tear gassing when Hispanic workers chain themselves to the gates of a carnation farm in Brighton.
March 20, 1969: Chicano students at Denver West High School walk out in protest of racism.
March 27–31: 1,500-plus students, laborers, educators and activists gather to discuss Chicano rights at the Denver Chicano Youth Liberation Conference. 
Explore this history at: Museo de las Americas in Denver, History Colorado's El Movimiento exhibit, nearby murals
2018: Land-grant disputes from the Treaty of Guadalupe Hidalgo are resolved, restoring rights to descendants of Mexican settlers. 
Explore this history at: Cielo Vista Ranch in San Luis, Trinchera Blanca Ranch in Fort Garland
Eats & Drinks 
Savor a tapestry of flavors, from traditional comfort foods to modern craft brews at these Hispanic-owned businesses.
Jess Fierro, Colorado's first Latina brewery owner and head brewer, will alter your perception of beer with Mexican-chocolate stouts and red ales brewed with chapulines (adobo-spiced grasshoppers).
Sweet Venezuelan cornmeal cakes are stuffed with plantains, beef, cheese and beans and served with guasacaca (tangy avocado salsa).
Nosh on Mexican favorites like tamales, pozole rojo and crispy rellenos at this locally loved family eatery.
Hand-crafted empanadas star regional chorizo, Argentinian chimichurri, potatoes and more.
Rotating taps unleash delights like sparkling hard teas and peanut-butter cookie stouts. Bonus: There's an on-site dog park, and you can sip a cold one at a communal table in the middle of the fun.
Mole, the national dish of Mexico, is a true labor of love. Steamy enchiladas showcase the Nunez family's secret recipe at this welcoming eatery.
Track 'em on Facebook for warm and comforting Salvadoran pupusas — thick corn tortillas filled with beans, pork, cheese and loroco (edible flowers).
Relish abuela-approved arroz con pollo (chicken and rice) and pastelitos — flaky turnovers bursting with coconut, sweetened cream cheese and guava.
This Latinx community hub serves up flavorful beers, house-made malta, soulful music and inviting vibes — with sweet outdoor seating and rotating food trucks to boot.
Las Camelinas in Salida
Go for the carnitas and Mexican coleslaw, a fave of residents. Stay for dessert specials like chocoflan (chocolate cake + dulce de leche + flan) and capirotada (bread pudding).
Events & Activities
Appreciate the unique aspects of other cultures at this range of events where fun is guaranteed.
Taste your way through Colombia, Peru, Brazil and beyond as strains of salsa and mariachi sweeten the air at Denver Botanic Gardens. (August)
Honoring Pueblo's Mexican roots, Fiesta Day excites with charros (expert horse riders in traditional dress), dancing horses and more. (September)
Savor year-round lectures on Colorado's Hispanic and Latinx history during this prix-fixe buffalo-sirloin dinner.
Hosted by Raíces Brewing Company, the country's first Latinx craft-beer festival is a rocking celebration of culture, cuisine and Colorado brews. (September)
Baile folklórico performers in bright skirts and Aztec dancers in traditional feather-adorned dress astound at this free event. (May)
Revel in displays of vibrant couture honoring the diversity in Colorado's creative community in this annual fashion show that celebrates the imaginative works of designers from around the world. (August)
Take in the sights, sounds and excitement of Mexican-style bull riding, trick riding, mariachi music and bull fights. (January)
Want More? 
Explore Colorado's Black history and heritage
Learn about Native American cultural sites in Colorado
Read articles that celebrate everyone in Colorado
Photo credits: Facebook/Mexican Rodeo Extravaganza, El Pueblo History Museum/Jeff Lopez Photography, Atrevida Beer Company, Flickr/Simon Foot, Facebook/Quiero Arepas
"7 Destinations for Celebrating Colorado's Hispanic Heritage." History Colorado. Oct. 5, 2018. https://www.historycolorado.org/story/going-places/2018/10/05/7-destinations-celebrating-colorados-hispanic-heritage.
"Colorado Hispanic / Latino Historical Overview." History Colorado. Accessed Nov. 15, 2021. https://www.historycolorado.org/colorado-hispanic-latino-historical-overview.
"Denver's Chicano Movement & the Espinoza Gang—Then and Now." CU Denver News. Oct. 12, 2021. https://news.ucdenver.edu/denvers-chicano-movement-the-espinoza-gang-then-and-now.
"History Colorado exhibit El Movimiento re-opens September 9." History Colorado. Sept. 5, 2017. https://www.historycolorado.org/press-release/2017/09/05/history-colorado-exhibit-el-movimiento-re-opens-september-9.
Alyse Campbell. "Great Western Sugar Company." Accessed Feb. 24, 2022. https://coloradoencyclopedia.org/article/great-western-sugar-company.
Devin Flores. "Where is the Oldest Town in Colorado?" History Colorado. Oct. 15, 2019. https://www.historycolorado.org/story/do-you-know-place/2019/10/15/where-oldest-town-colorado.
Devin Flores and Holly Norton. "Christmas 1854: The Tragedy that Ended El Pueblo." History Colorado. Dec. 23, 2019. https://www.historycolorado.org/story/2019/12/23/christmas-1854-tragedy-ended-el-pueblo.
Karen Juanita Carrillo. "How the Chicano Movement Championed Mexican-American Identity and Fought for Change. History. Sept. 18, 2020. https://www.history.com/news/chicano-movement.
Ricardo Simmonds. "Mexican Land Grants in Colorado." Colorado Encyclopedia. April 18, 2021. https://coloradoencyclopedia.org/article/mexican-land-grants-colorado.