Chimney Rock National Monument
During your visit to southwest Colorado, plan to stay an extra day to explore Chimney Rock National Monument, an intimate, off-the-beaten-path archaeological area located between Durango and Pagosa Springs. Walk in the footsteps of the fascinating and enigmatic Ancestral Puebloans of Chaco Canyon, following pathways that haven't changed for 1,000 years.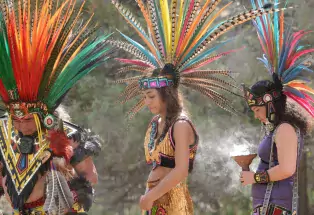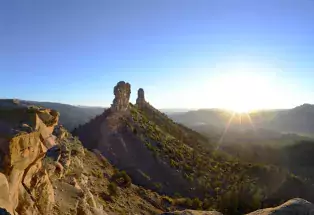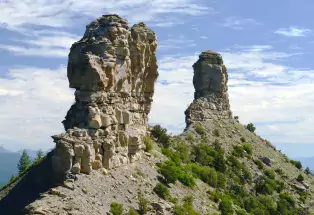 Explore Chimney Rock
Beautiful Chimney Rock National Monument is a sacred place with spiritual significance to two dozen modern-day native tribes, a celestial observatory and a natural, seasonal calendar that marked the equinox for the Ancestral Puebloans who lived here more than 1,000 years ago. More about Chimney Rock's history >>
Open May 15 through October 15, Chimney Rock covers 7 square miles and preserves 200 ancient homes and ceremonial buildings, some of which have been excavated for viewing and exploration: a Great Kiva, a Pit House, a Multi-Family Dwelling, and the most impressive — a Chacoan-style Great House Pueblo located at over 7,500 feet above sea level. The hike to the top is just a half mile and rewards visitors with dramatic 360-degree views of the San Juan Mountains — making Chimney Rock a southwest Colorado must-see.
Discover the Mystery
Guests to Chimney Rock often comment on the powerful connection they feel to the people and the place when they visit. Imagine first-hand how the people lived. Hear the story of what is known about them; ponder what is not known. Why did they vanish in 1125 A.D.? How much did they know about astronomy?
Our tour guides are all volunteers with different backgrounds and areas of expertise: botany, birding, geology, chemistry, history and more. With unscripted narratives, no guided tour of Chimney Rock is ever the same. You can also choose the self-guided audio tour, which allows visitors to explore the site at their own pace while learning all about each stop through a self-guided tour brochure. Learn more about Chimney Rock tours >>
See the Moon & the Stars
From May through September, Chimney Rock offers one-of-a-kind Archaeoastronomy programs. The Full Moon Program offers a hike to the Great Kiva to see the moon rise over the San Juan Mountains to the accompaniment of a Native American flute player — you'll descend the lantern-lit prehistoric trail and arrive back at the base with an unforgettable memory. Or try one of the national monument's  Night Sky Archaeoastronomy Programs: Stars & Galaxies and Our Solar System. There is nothing like the sight of the night sky viewed through a telescope from a truly dark environment like Chimney Rock. Several programs are held at the lower-level amphitheater and do not require hiking. Find more special programs >>
Other Attractions To Enrich Your Southwest Colorado Vacation
The nearest town to Chimney Rock, Pagosa Springs is just 15 minutes away and offers a multitude of activities, including hot springs, hot-air balloon rides, mountain biking, rafting, tubing, award-winning breweries and much more. 
Find More Ways to Explore Pagosa Springs' Playground >>
Plan Your Trip To Chimney Rock >>