Chimney Rock National Monument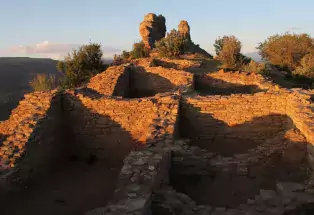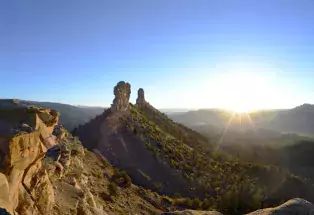 At Chimney Rock National Monument, walk in the footsteps of the Ancestral Puebloans of Chaco Canyon, following pathways that haven't changed for 1,000 years. Take in the beauty of scrubby desert plants and cactuses abloom in early summer. Learn about the area's history and geology on guided tours. 
About the Monument
Chimney Rock is a sacred place with spiritual significance to two dozen modern-day Native American tribes, a celestial observatory and a natural, seasonal calendar that marked the equinox for the Ancestral Puebloans who lived here more than 1,000 years ago. More about Chimney Rock's history
Open May 15 through October 15, the monument covers 7 square miles and preserves 200 ancient homes and ceremonial buildings, some of which have been excavated for viewing and exploration: a Great Kiva, a Pit House, a Multi-Family Dwelling, and the most impressive — a Chacoan-style Great House Pueblo located at over 7,500 feet above sea level. The hike to the top is just a half mile and rewards visitors with dramatic 360-degree views of the San Juan Mountains making Chimney Rock a southwest Colorado must-see.
Tour Chimney Rock
Visitors often comment on the powerful connection they feel to the people and the place when they visit. Imagine first-hand how the Ancestral Puebloans lived. On our tours, you can hear the story of what is known about them and ponder what isn't known. Why did they vanish in 1125 A.D.? How much did they know about astronomy? Note that tours tend to book up, so make your reservations in advance.
Guided Tours
Our tour guides are all volunteers with different backgrounds and areas of expertise. With unscripted narratives, no guided tour of Chimney Rock National Monument is ever the same. Set out to search for magenta-bearded broad-tailed hummingbirds, brilliant-blue Steller's jays and fast-diving peregrine falcons on a birding excursion. Hear about the history and significance of Chimney Rock to the Ancestral Puebloan people, as well as their connection to the structure and surrounding lands, on the Mysteries of Chimney Rock Tour. Or treat yourself to the sight of the desert awash with wildflowers as you learn about the plants that grow at the monument — and how the Ancestral Puebloans used them for food, tools, medicine and more. Get tickets for your Chimney Rock guided tour.
And that's just scratching the surface! Explore other guided tours at the monument. 
Self-Guided Tours
You can also choose the self-guided audio tour which, with the help of a brochure, digs into the secrets of the monument's fascinating artifacts and history. Explore the site at your own pace as you marvel at the ancient architecture and sweeping mountain views along the Great House Pueblo Trail. Awe-inspiring sights along the Mesa Village Trail include a Great Kiva, a pit house, several structures and gorgeous river overlooks. Learn more about Chimney Rock self-guided tours
Full Moon & Night-Sky Programs
From May through September, Chimney Rock offers one-of-a-kind programs in its serene surroundings. Note that programs tend to fill up, so make sure to book your spots in advance.
The Full Moon Program
During the monument's Full Moon Program, soak up the sights and sounds of the desert at dusk on a hike to the Great House Pueblo to see the moon rise over the San Juan Mountains to the accompaniment of a Native American flute player. Before the stunning spectacle of sunset competing with moonrise, your guide will teach you about Ancestral Puebloan culture, geology and archaeoastronomy. Get tickets for the Full Moon Program at Chimney Rock National Monument.
Night Sky Archaeoastronomy Programs
Try one of the national monument's Night Sky Archaeoastronomy Programs to revel in the tranquil darkness only experienced in a remote, natural setting while learning why astronomy was so important to Ancestral Puebloans. On the Stars & Galaxies outing, you'll set out under inky, moonless skies and dive into the Milky Way with telescopes. The Our Solar System Program offers illuminating facts (and telescopic views) of the moon and planets. Several programs are held at the lower-level amphitheater and do not require hiking. Get tickets for the Night Sky Archaeoastronomy Programs.
Check out all the programs offered by the monument, including special events for meteor showers and other stellar astronomical happenings.
More Things to Do in Southwest Colorado
The nearest town to Chimney Rock, Pagosa Springs is just 15 minutes away and offers a multitude of activities, including hot springs, hot-air balloon rides, mountain biking, rafting, tubing, award-winning breweries and much more. 
Find More Ways to Explore Pagosa Springs' Playground