Colorado Basics: Geocaching
When GPS spread to the masses in the early 2000s, a few techno-geeks with a travel bug started to build a community of modern-day treasure hunters.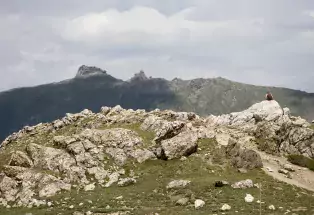 Now geocaching has exploded into a worldwide phenomenon with a dedicated group of followers in Colorado itching to get their hands on the most coveted caches.
Sustainability tip: Make sure you're following Care for Colorado Leave No Trace Principles as you hunt for treasure. In particular, be careful to stick to trails and leave things as you find them. (That includes not starting new caches!) 
Equipped with GPS devices or smartphones, players use coordinates to locate strategically placed hidden containers, called geocaches. Geocaches hold written logs and small prizes. The idea is that you take the prize and leave a new trinket but, of course, the real prize is the scenery along the way. Sound like a challenge? With tens of thousands of geocaches in Colorado, you're sure to find one!
Getting Started
Step one: Register for a free member account at the official Geocaching website.
Step two: Purchase a GPS device or download a geocache app on your smartphone.
Step three: Locate geocaches close to where you'll be visiting in Colorado or check out the recommendations below. Geocaching.com allows you to locate caches according to city, address, zip code or latitude and longitude.
Or use a geocache app to locate a cache at your present location. Bring your smartphone on a hike or drive with the family and pick up some caches along the way.    
Step four: Record your finding in the container logbook and online. Most users will simply write TFTC (thanks for the cache!) to show their appreciation to the cache owner.
Best Geocaching in Colorado
Colorado's Fourteeners
Geocachers are sure to stand out while climbing one of Colorado's 58 fourteeners: With GPS devices practically glued to their hands, they're seeking more than gorgeous views and athletic feats (as if those aren't treasure-worthy enough!). Find more info about geocaches on Colorado's fourteeners.
EarthCaches
EarthCaches are a category of geocaches where the prize isn't a trinket — it's locating and documenting geologic landmarks. Players complete the mission by answering questions or sending a photo of the landmark. Try some of these popular EarthCaches at Garden of the Gods Park, Dinosaur Ridge, Red Rocks Park and Rocky Mountain National Park.
Colorado State Parks Geocaches
State Forest State Park, located northeast of Steamboat Springs, is a hidden treasure within itself. Depending on the season, you can locate your caches through snow-covered pine trees on snowshoes or by hiking through blooming wildflowers. GPS devices are available for rent at the Moose Visitor Center. You can also rent GPS units at Cheyenne Mountain; and these parks have one or more geocaches hidden within (but you need your own GPS device): Jackson Lake, Lathrop, Ridgway and Sylvan Lake. Learn more about geocaching in Colorado state parks.
For more Colorado basics, check out:
Photo: Copyright Simplefoto/Tyler Olson; Flickr/Brokentaco; Miles/Matt Inden