The Colorado Farm Experience
Calling all locavores: Colorado's thriving culinary and agriculture industries have taken agritourism mainstream, delighting visitors with intimate, farm-driven experiences that feed not just the belly, but the soul.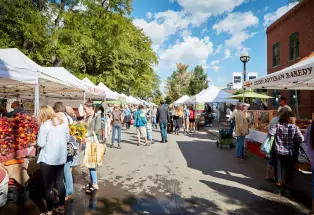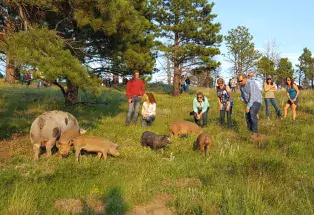 With more than 34,000 farms and ranches, 300 licensed breweries, 140 wineries and 100 farmers' markets at last count, Colorado truly is a land of plenty. From al-fresco farm dinners to craft beer that's local right down to the microbes, here's how you can have the farm experience on your visit.
Table, Meet Farm
Forget farm-to-table; these days, Colorado chefs are bringing the table to the farm, with hyper-seasonal dinners crafted from ingredients grown just a few steps from where you sit.
Whistling Boar (based in Louisville) delights with Farmhouse Supper Club dinners around the state. Feast on the likes of peach-kombucha-brined pork loin and mini carrot cakes with sorrel-infused buttercream and an edible flower garnish. On Colorado's golden eastern plains, May Farms in Byers serves up weekly Farm Fresh Menus, with past dinners featuring crowd-pleasers like juicy burgers and sausage and peppers. 
Hunger for experiences like these is growing. Meadow Lark Farm Dinners travel to farms around the state, putting on pop-up dinners inspired by the morning's harvest. Lyons Farmette, an organic farm 20 miles north of Boulder, hosts enchanting dinners where guests can mingle with goats, alpacas and peacocks. Even dude and guest ranches are getting in on farm dining, with gourmet tasting menus and organic gardens cropping up at places like Smith Fork Ranch in Crawford, The High Lonesome Ranch in DeBeque and Latigo Ranch in Kremmling.
Farmers' Markets
If you can't visit the farm, do the next best thing and hit one (or more) of Colorado's roughly 100 farmers' markets. Start with these standouts:
El Pueblo Farmers Market (Fridays): Held in the very spot of the historic El Pueblo Trading Post, the tradition continues today with local produce and handicrafts.
Vail Farmers' Market (Sundays): A Vail institution for nearly two decades, featuring more than 135 tents, local artwork and even farm dinners.
Grand Junction Downtown Farmers' Market (Thursdays): More than 5,000 weekly visitors pile in to stock up on produce from the famously fertile Western Slope.
The Front Range has its fair share of markets, too, like the Boulder Farmers Market and Denver's Cherry Creek Fresh Market, both held on Wednesdays and Saturdays.
More Colorado farmers' markets
Trends Worth Tasting
Farm-centered food trends are sprouting up all around Colorado. Everyone from bakers to brewers are rediscovering ancient methods, insisting on sustainable sourcing and rattling the food chain to see just how close to the source they can get.
Going Against the Grain
Until recently, grains had been all but left behind by the local food movement, despite the fact that local heritage varieties are more flavorful, nutritious and eco-friendly than mass-produced grains. Food advocate Mona Esposito and chef Kelly Whitaker formed Noble Grain Alliance in 2016 to facilitate the growth and distribution of heirloom grains among Colorado farms and restaurants, joining groups like Carbondale Community Oven that are dedicated to restoring the local "grain chain."
Also unwilling to settle for run-of-the-mill grain, Denver-based Laws Whiskey House sources from two family farms — Whiskey Sisters Supply in Burlington and Alamosa's Colorado Malting Company. Also in Denver, elder statesmen Leopold Bros. dips into the local supply, going so far as to house-malt their own Colorado barley. More Colorado distilleries
Hunting & Gathering
Knowing where your food comes from is one thing; actually hunting, catching or foraging it is another way Coloradans are getting back to their roots. Timber to Table Guide Service near Grand Junction teaches hunting, field dressing and processing game such as elk for meat, with special programs aimed at female hunters. At Rainbow Trout Ranch in southern Colorado near Antonito, the fish you catch becomes a glorious meal prepared by staff chefs.
Meat not your thing? Learn to forage for mushrooms, wild herbs and more around the state with Wild Food Girl find Colorado-foraged foods at markets like Marczyk's and Western Daughters Butcher Shoppe in Denver.
Farm-to-Bottle Beer & Spirits
A growing number of Colorado's 90 craft distilleries are partnering with farmers to turn our native crops into liquid gold. You'll taste fruits from Palisade in Peach Street Distillers' gins and eau de vies, Stobrawa potatoes from Basalt in Woody Creek Distillers vodka, and Pueblo-grown peppers in Rising Sun Distillery's Colorado Chili Spirit. At Marble Distilling Company in Carbondale, you can even take a helicopter tour of the Crystal Valley, touching down on farms that grow the wheat, rye and triticale used in their spirits. More Colorado beer, wine and spirits
Chefs-Turned-Farmers
Some of Colorado's leading chefs are taking a ground-level approach to growing and raising their own ingredients. James Beard Award winner and "Top Chef Masters" contestant Alex Seidel founded a sheep farm in Larkspur that produced milk for cheeses served at his Denver restaurants, Fruition and Mercantile dining & provision. At Boulder's Black Cat Bistro and Bramble & Hare, everything from heirloom vegetables to dry-aged ham comes from chef Eric Skokan's personal farm. Also in Boulder, SALT showcases its own chef-grown produce, too.
Farm-Fresh Fare
Enjoying the fruits of our farmers' labor is easy, with farm stores and stands, farmers' markets and harvest festivals in every corner of the state. Here's how you can get the goods.
Farm Stands & Stores
Rule of thumb: If you're driving around Colorado during market season and see a "Fresh Produce" sign, pull over. Dozens of farm stores and roadside stands stock a cornucopia of locally grown goodies, from the world-famous peaches at Aloha Organic Fruits in Palisade to fresh veggies at Garden Sweet Farm in Fort Collins. Along Highway 50 between La Junta and Pueblo, pick up famously delicious cantaloupes and watermelons from Rocky Ford. Open year-round, Lulu's Farm in Brighton sells sweet corn, roasted chilies, jams, pies and more. 
Small-Town Food Festivals
During growing and harvest season, locals and visitors alike can celebrate Colorado's good bounty at foodie-focused events like these:
Want More?