Colorado Farmers' Markets: What's Fresh This Summer
The rising popularity of farm-to-table cuisine has had a delightful effect on Colorado's farmers' markets: They've grown in number rapidly. Nearly 100 of these locavore hot spots now dot the state's landscape, giving you tons of opportunities to taste what's so delicious about Colorado.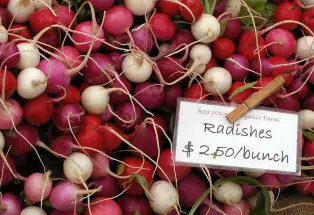 Colorado has long been a pioneer in supporting local farmers, organic practices and sustainability, and lately increased attention to these issues has made farmers' markets more popular than ever. At the larger ones, the typical experience goes way beyond tomatoes, cherries, radishes, apricots, eggplant, berries and cucumbers; you're also likely to find applesauce, cheese spreads, granola, tamales, honey, bread, pasta, hummus, fresh-cut flowers and much more.
Signature Colorado Crops
Several Colorado-grown items are known throughout the world for their sweetness. The state's hot days and cool nights, as well as soil full of important nutrients, create delectable Palisade peaches, Olathe sweet corn and Rocky Ford watermelons and cantaloupes, to name a few.
Another crop Colorado excels at is the chile pepper. The Pueblo area is particularly well known for its outstanding peppers. The Pueblo chile is unique to Colorado. Also known as the mirasol (Spanish for "looking at the sun"), the pepper grows pointing upward, rather than hanging down. This quite-spicy variety is typically fire roasted and can be served at every meal. Again, the climate conditions give rise to superior flavor development, but good irrigation water and, most importantly, very experienced farmers help make them so famously delicious.
Although potatoes sometimes get a bad rap because of their starchiness, many don't know how nutritious some varieties can be thanks to their high levels of potassium, fiber and vitamin C. Colorado produces a surprising variety, many grown in the San Luis Valley, that include Yukon Gold, russet, fingerling, all-blue, mountain rose (also called new) and purple majesty.
One thing you'll probably see more of at Colorado's farmers' markets this summer is lavender. The state's dry, sunny climate makes it an ideal spot for growing the versatile plant. With prompting and education from the Lavender Association of Western Colorado, growers have begun to see the benefits of growing lavender here — there are now nearly 30 growers across the state. The plant's dried bundles are great for decoration or creating sachets and potpourris; and soothing lotions, creams and soaps made with Colorado lavender oils are some of the most popular items.
Find a Colorado Farmers' Market
Visit coloradoproud.org to find a farmers' market directory, recipes, crop calendars, restaurants that serve farm-fresh menus, tips for picking produce, agritourism activities and much more. Another good resource is the Colorado Farmers Market Association. By buying items that are marked with the Colorado Proud logo, you'll be helping the state's farmers and ranchers maintain high-quality, fresh products.
Want More?
Check out these other stories on Colorado's farm-fresh products and cuisine:
    • What's Delicious Right Now in Colorado
    • Q&A With Colorado Organic Chefs
    • Unexpected Flavors: Beyond Wine in Colorado's Wine Country
    • Colorado Wine & Colorado Restaurants: The Perfect Pairing
    • Harvest Fun: Agritourism Activities in Colorado
Photo: Radishes at Boulder Farmers Market, copyright flickr/jiannone.