Colorado Fishing 101
Colorado is a fishing paradise, whether you're a pro-level angler or have never cast a line before.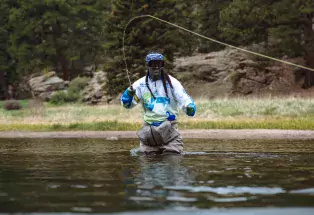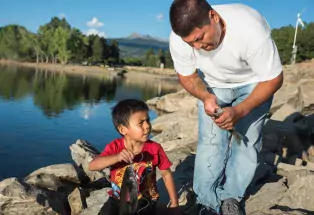 And, best of all, fishing is a sport you can take part in year-round here. The following basics can help you have a fabulous time on the water.
Fun fact: Colorado is home to 320-plus miles of Gold Medal waters — a coveted designation awarded for public fishing areas that can produce 60 pounds of trout per acre and at least 12 trout per acre that are 14 inches or larger. (That's a lot of monster trout!)
Types of Fish & Fishing Methods in Colorado
Though we're known for trout fishing — particularly rainbows, browns and greenback cutthroats — there are many more finned catches splashing around in our rivers, streams and lakes. You can also expect to find walleye, perch, channel catfish, pike, kokanee salmon, sunfish, bass and a number of other species.
In many cases, the kind of fish you're after will decide what type of fishing you're doing. Here's a list of several of the many ways to fish in Colorado.
Fly-fishing is by far one of the state's most popular methods and can be done via wading (walking into waters in special waterproof pants) or in a boat. You'll use an artificial "fly" — a lightweight lure that's designed to look like an insect — along with a special rod and reel. There's an art form to casting, so you definitely want to go with a guide or take lessons before you give this a shot. Expect to catch: Mostly trout and sometimes kokanee salmon
Tenkara is a form of fly-fishing that originated in Japan. It's similar to the above method, but there's no reel involved. Though not yet as popular to its reeled counterpart, the sport is catching on as a way to fish Colorado's mountain streams, and several guides around the state offer tenkara outings and lessons. It's known as being great for kids and beginners to learn the basics of fly-fishing. Expect to catch: Trout
Ice fishing in Colorado is a cherished winter pastime, and it's not uncommon to drive past frozen lakes and see them dotted with huts and chairs. It's also a pretty easy sport: You drill a hole on a frozen lake, drop your line in and wait. Because ice fishing can be dangerous, especially if you're new to it, we recommend going with a trusted guide, who will also provide the gear you need. Expect to catch: A little bit of everything, including trout, pike, crappie, yellow perch, walleye and others
Bait casting can take place from a shoreline, pier or boat. This is the method of fishing that most people are very familiar with. You simply tie the bait on your hook, cast and slowly reel in your line. Repeat until you nab a fish! Expect to catch: A little bit of everything, including walleye, muskie, channel catfish, bluegill, bass and others
Where Can You Fish in Colorado?
Honestly, the better question is "Where can't you fish?" The vast majority of our public rivers, lakes and streams are open for fishing. (And if they're not, you'll almost always spot a sign saying so.) In fact, it's not uncommon to cruise down a scenic road and see anglers wading in the shallows. But here are some starting points to help you along the way:
• Colorado Fishing Atlas: This is great CPW tool to help you find amazing places to drop a line in the state. Narrow your choices down using an array of filters to search options that best suit your needs, whether you're looking for accessible fishing locations, family-friendly areas, Gold Medal waters or stocked ponds.
• Guides and outfitters: If you're new to fishing in Colorado, a trusted guide or outfitter can show you the ropes to the sport as well as casting hot spots. There are a ton of professional guide services throughout the state, including guides and groups that are tailored toward inclusive and adaptive experiences: 
• Outdoor Afro and Vibe Tribe both offer group fishing outings for people of color, led by Black guides.
• Telluride Adaptive Sports Program and The National Sports Center for the Disabled offer adaptive fishing clinics around the state.
• Damsels on the Fly offers guided fly-fishing and tenkara trips with female guides.
Licensing & Resources
If you're 16 or older, you must have a license to fish in Colorado. (And our waters are patrolled regularly, so don't skip this step unless you like catching giant fines.) You can purchase a license at a local retailer or at the Colorado Parks & Wildlife online store. You'll need to keep your license on you at all times.
The CPW offers free fishing clinics and seminars across the state and throughout the year. Keep an eye on their events page and make sure to register as soon as you find one you're interested in. They book up fast!
This fishing basics brochure, also from CPW, provides great tips for beginners.
Tacklebox Tips
• Some Colorado fishing locations only allow artificial lures and bait, so make sure to research the park or site before you go. This info is usually very easy to find online.
• If you've hit your limit or aren't looking to take any fish home with you, you'll want to be up to speed on catch-and-release fishing.
• Keep things fun by fishing at a time of year when the water temperatures line up with your comfort levels. For example, if you're not cool with standing in cold water while waiting for a nibble, winter fly-fishing is not going to be your cup of tea.
• Make sure you choose a style of fishing that makes you feel safe on or around the water. While you probably won't be taking intentional dives in a river, consider sticking to shallows, banks and piers — or wearing a life vest — if you're not a strong swimmer. 
Want More?
Learn about winter fishing in Colorado >>
Check out fishing hot spots around the state >>
Photo credits: Mike DelliVeneri/CPW & Dustin Doskocil (CPW)