Colorado Hidden Gem: Phantom Canyon Road
Whether it's a Sunday afternoon or an extended vacation spurring you to fill up the tank and pack a picnic, Colorado's backcountry roads lead to secluded landscapes and historic landmarks that aren't found on just any old map.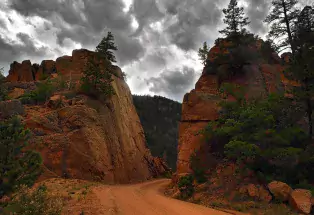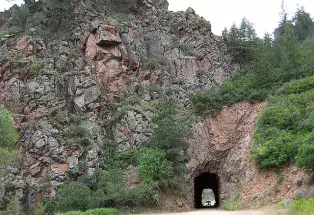 Phantom Canyon Road, a detour off the popular Gold Belt Tour scenic and historic byway in south-central Colorado, features green-spotted canyon walls and twisty turns lying on top of what was once a powerhouse railroad (the Florence and Cripple Creek Railroad) connecting the lucrative 1800s mining districts of Cripple Creek, Cañon City and Florence.
Ghost towns like Wilbur, Adelaide and Glenbrook (to name a few) that washed away in flashfloods or dissipated as a result of the slowing economy after the railroad closed in 1912 are eerily present throughout. We'll let you decide the significance of the word "phantom" in Phantom Canyon Road (especially if you're camping overnight!). Some believe it's named after an 1890s ghost sighting of a man wearing a prison uniform walking along the tracks. The passengers who spotted the man claim he was executed at the Colorado State Penitentiary a few days prior.
Engineers of narrow-gauge railroads like the Florence and Cripple Creek Railroad excelled at navigating sharp, narrow turns and steep, un-guarded drop-offs. As the road slowly gains in elevation from 5,500 to 9,500 feet, you'll squeeze through two tunnels that were meticulously chiseled out of dense mountainous terrain by miners making room for a booming gold industry.
Another sight to keep an eye out for is Adelaide Bridge, which spans Eightmile Creek. This steel architectural landmark is an official site of the National Register of Historic Places and is the only remaining bridge from the Florence and Cripple Creek Railroad.
Standard vehicles without trailers are welcome on Phantom Canyon Road as long the driver gives ol' lead foot a break (it's a stretch of the imagination to wonder how a train completed these angular turns). Pull off at one of the rest stops for a hike and snapshots of the area's tree-covered ravines and textured vertical walls.    
Getting There
Phantom Canyon Road is approximately one hour from Colorado Springs between the cities of Florence and Victor. The road can be accessed from Highway 115 to the south and 67 to the north.
Want More?
Read about Colorado ghost towns >>
Find other scenic hidden gems in Colorado >>
Photo Credits: Courtesy of Alla Gill; Aubrey Sun