Colorado Off-Highway Vehicle Trips
Colorado's off-roading motto is "Stay the Trail." Thanks to vast amounts of diverse, thrilling trail terrain, that motto doesn't limit the fun you can have exploring the backcountry on a Jeep tour, ATV or other off-highway vehicle (OHV).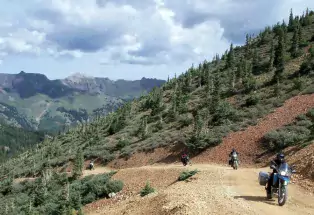 Keeping our trails and wilderness areas in good shape ensures generations to come will enjoy them as much as the current one. Here are some things to keep in mind when riding in Colorado:
1. Stage Like a Pro 
Pull off the road at trailheads to get your vehicle and group ready for adventure. And make sure you don't block access to the trail while you're staging.
2. Know Where to Ride 
Ride only on routes wider than your vehicle to preserve the trail and keep it challenging for riders who come after you. Vehicles more than 50 inches wide must stick to 4x4 routes. Vehicles 50 inches wide and smaller can use OHV routes.
3. Stay the Trail 
It's as simple as it sounds — keep your vehicle on the trail at all times, including when parking at trailheads. Drive over obstacles instead of around them. Going around widens the trail and can destroy vegetation.
4. Don't Pummel the Tundra 
Tundra is the thin layer of grasses, flowering plants and other vegetation that grows in the rocky terrain found near or above treeline at high altitudes. This landscape is especially delicate as the plants have a short growing season and must survive in harsh winter conditions — yet another reason why it's important to stay the trail.
5. Slow Your Roll
Most speed limits are 15 mph unless otherwise posted. Take it slow so you can enjoy the trail and soak up the gorgeous Colorado views.
6. Let Others Pass
If a faster vehicle is roaring up behind you, pull to the side of the trail to let them by. Choose a wider spot on the trail when you pull over to maximize safety and minimize damage to fragile vegetation and ecosystems.
7. Pack Trash Out
The rule of thumb around here is to leave trails cleaner than you find them. Always pack out any trash you bring in — including banana peels, apple cores and so forth — and pick up other litter you see as you cruise.
8. Keep it Quiet
Colorado has a noise limit for OHVs. Keeping your vehicle's noise level down, which can be done without losing any power, keeps complaints at bay — and trails open.
OHV Rentals & Outfitters
Check out our listings for Jeep, ATV and other OHV rental and tour companies.
If you're bringing your own OHV to Colorado, check out Stay the Trail's OHV trail guide, which shows you the best places to ride while respecting the state's wilderness areas.
Be aware that you must register your off-road motorcycle, dirtbike, three-wheeler, ATV and dune buggies with Colorado Parks & Wildlife before you can operate it in Colorado. The nominal fees fund trail maintenance, construction, maps and land acquisition. Colorado OHV registration information.
Want More?
Pure Powder: Snowmobiling in Colorado
A Beginner's Guide to Colorado Off-Roading
OHV Resources
Bureau of Land Management Regional Offices