Colorado Hot Springs: No Two The Same
There are a few things that Colorado hot springs have in common: All will offer relaxation, soothe muscles and have you marveling at how such an unglamorous occurrence as geothermal activity can result in such a luxurious experience. But the similarities pretty much end there.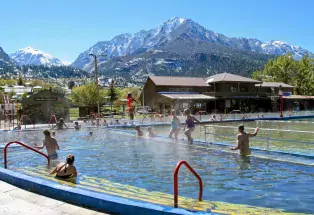 Colorado hot springs come in a variety of styles and with a plethora of amenities.
Watch Our Strawberry Hot Springs video
Luxe-Level Hot Springs Resorts
If you're seeking a fully pampered escape, take refuge at Dunton Hot Springs near Dolores. This former ghost town is now a highly acclaimed luxury resort area with high-end spa, dining and lodging options that maintain a Wild West feel while mixing in the finest modern comforts. Likewise in Pagosa Springs, The Springs Resort's collection of terraced pools, boutique lodging and a full-service spa allow guests to make a complete journey into rejuvenation. And at Mount Princeton Hot Springs Resort in Nathrop, several pool options, including one right in the waters of Chalk Creek itself, ensure you can find the soak or activity that's perfect for your mood.
Hot Springs Pools with Views
If gorgeous scenery is your primary criterion, there are several hot springs with views that are as much the attraction as the soaking. Orvis Hot Springs in Ridgway is a small, privately run, clothing-optional collection of pools situated in a narrow valley with priceless views of 14,150-foot Mount Sne­ffels. Dig your toes into the little pebbles at the bottom of the largest pool, lean back and enjoy the dramatic vistas.
Another facility that boasts a picturesque setting is Joyful Journey Hot Springs Spa near Salida at the north end of the expansive San Luis Valley. Tiled pools at varying temperatures allow you to soak for hours while letting your eyes wander across the beautiful Sangre de Cristo mountain range, whose craggy peaks turn crimson every evening at sunset and shimmer with gold and copper-colored aspens in autumn.
Family-Friendly Hot Springs
If you've got little ones with you and are looking for a place with drive-in, drive-out accessibility, you will find the ease and the amenities you need — along with plenty of fun — at Ouray Hot Springs Pool. A diving area, slide, shallow section for younger children and game area for water volleyball will entertain families for hours. Glenwood Hot Springs, the world's largest mineral pool, also caters to big-time fun with a huge swimming pool, a diving pool, a kiddie pool, a therapy pool and waterslides. With a full-service resort on site, you can make this a multiday getaway spot.
Hike-In Hot Springs
For those in search of an undeveloped, rustic experience, Conundrum Hot Springs, is calling your name. The reward of a dip in these steamy natural springs has to be earned — they can be reached only by hiking in, most popularly via a rigorous 8.5-mile trail that begins near the town of Aspen. The raw beauty of the mountainous setting, the 102-degree Fahrenheit water and the quiet seclusion of the area make it worth the work. Note: A permit is required to camp overnight at Conundrum Hot Springs; reserve one here.
A shorter and less demanding (yet still challenging) trek up to Rainbow Hot Springs in the San Juan National Forest near Pagosa Springs also provides a bucolic scene. At the top of this 4.5-mile wooded hike are two pools separated from the San Juan River only by rock borders. The river is handy for regulating your temperature, but brace yourself — a dip in its water is a chilly proposition year-round.
Want More?
- See our Colorado hot springs listings
- Quick Guide to Colorado Hot Springs 
- Colorado's Hottest Hot Springs for Winter 
- 5 Colorado Hike-and-Hot Springs Pairings
Photo: Ouray Hot Springs