Colorado Hut Trips for Cross-Country Skiing & Snowshoeing
Hut trips are one of the best ways to experience the true essence of Colorado high-country winter, and several organizations offer a variety of huts for cross-country skiing or snowshoeing — the perfect reward at the end of an invigorating day of trekking and tracking.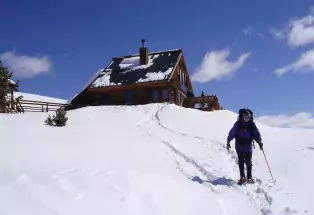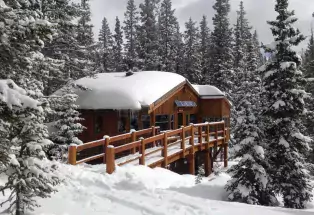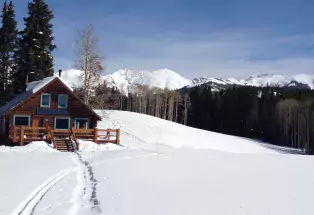 Colorado's hut systems, including the famed 10th Mountain Division huts (used for training soldiers to fight in high altitudes during WWII), are well-equipped to provide warmth and rest after a vigorous day in the sun and snow during the winter (typically November to May).
What to Expect
Be prepared: Backcountry skiing and snowshoeing hut trips are no walk in the park. Map skills to keep you on the safest, most stable trail and preparing for the unexpected are important elements of a hut-to-hut trip. Be sure you're fit and strong enough to make the trek required to get to the hut; and be sure to pack adequate clothing, food and water supplies essential for a successful excursion. Get more tips
All the huts in Colorado are extremely popular, so advanced planning and reservations are imperative. Reserving for each hut system is different, so check out individual websites. Huts sleep between three and 20 people, and it's normal to share it with other skiers and snowshoers using the trails. They typically include beds and some sort of stove; water is generally obtained by melting snow. 
Several outfitters can lead you on guided trips, including all the gear and food you may need, to many of these huts.
Colorado Hut Systems
10th Mountain Division Hut Association
Colorado's 10th Mountain Division Hut System is located between Aspen, Leadville and Vail. Linked by more than 350 miles of trails at an elevation of 9,700 to 11,700 feet, it provides winter recreation enthusiasts access to the White River, Arapaho and San Isabel national forests. The system includes 38 huts with an average route of 6 to 7 miles and a 1,500- to 2,500-foot elevation gain between each. Most of the huts sleep 16 people, but the size ranges from capacities of three to 20. The association's name "honors the men of 10th Mountain Division of the U.S. Army, who trained during World War II at Camp Hale in central Colorado."
Summit Huts Association
The Summit Huts System currently consists of five huts: Francie's Cabin and Sisters Cabin near Breckenridge (capacity 20 and 14, respectively); Janet's Cabin near Copper Mountain (capacity 20); and the Boreas Pass Section House (capacity 10) and Ken's Cabin (capacity 3) east of Breckenridge. This nonprofit organization, founded in 1987, operates under special use permit from the USDA Forest Service in the White River and Pike-San Isabel national forests. 
alfred a. Braun & Friends' Huts
Colorado's first ski-oriented hut system, the Alfred A. Braun Hut System offers seven high-mountain cabins in the Elk Mountain Range that sleep seven to 14. Ski hut-to-hut or spend a couple of nights in one place, making it convenient to venture out and back without the worry of losing your way. Located south of Aspen, unlimited mountaineering opportunities abound. Trails to these huts are not marked and there is known avalanche danger in the area; guide services are available in Aspen to help you find your way.
Near Crested Butte, Friends', Crystal Cabin and Maroon huts are situated between gorgeous mountain passes. During the winter, the area is coated in bright, white snow making the huts look like classic gingerbread houses doused in royal icing.
San Juan Hut System
With five backcountry ski huts connecting Telluride, Ridgway and Ouray in southwest Colorado, the San Juan Hut System offers a route not to be missed. You can travel hut-to-hut or access each hut individually along more 60 miles of Nordic trails in the beautiful Mount Sneffels Range of the San Juan Mountains. These huts all sleep eight, with treks between trailheads and each hut ranging from 3 to 9 miles.
Weston Pass Hut
At 11,950 feet facing a sprawling valley with expansive panoramas of Mount Holy Cross, this backcountry hut atop Weston Pass near Leadville offers a true taste of the high country. The mostly uphill trek to the hut from the confluence of Little Union and Big Union creeks in Lake County is about 6.7 miles with an altitude gain of 2,252 feet. The hut sleeps 20 and amenities include a wood-burning stove, pots and pans, foam mattresses, pillows and LED lanterns.
OPUS Hut
OPUS Hut, a sunny, cozy lodge on the south slopes of 13,661-foot Lookout Peak is located near Ophir (south of Telluride) in the northern San Juan Mountains. It offers two wood stoves, in-floor solar thermal heating and indoor plumbing. A large common area with dining space for 16, a reading/snuggle nook and a small reclining area by the fire is part of the fun. Bonus: Three meals are prepared for you daily using quality natural and locally grown products; and beer, wine and spirits are available for purchase. The OPUS is a full-service, European-style backcountry hut for those not quite into roughing it.
Hinsdale Haute Route
Situated along the Continental Divide near Lake City at over 12,000 feet, the Hinsdale Haute Route offers one year-round yurt — great for novice backcountry hut users. The Jon Wilson Yurt is a short 1.25 miles from Hwy. 149 south of Lake City, making for an easy journey for folks without a 4X4 vehicle. It offers great views of Lake San Cristobal and the Lake Fork Valley, 14,006-foot Sunshine Peak and the other alpine peaks across the valley.
Pass Creek Yurt
Sitting along the Continental Divide near Pagosa Springs in southwest Colorado, Pass Creek Yurt offers a cozy base for doing it all — or nothing at all — in the surrounding Wolf Creek backcountry. After a day of surveying the surrounding snow-cloaked wilderness, prepare a great meal and gather around the fire for a relaxing evening of games and competitive storytelling. All you need to bring is food, sleeping bags and a desire to be enchanted by the mountains.
Other Colorado Huts
The 10th Mountain Division Hut Association keeps a great list of individual huts and yurts for backcountry winter fun.
Additionally, many of the 42 Colorado State Parks are home to yurts and cabins that are great for overnight winter recreation.
You can also read about Colorado Nordic Centers for day cross-country and snowshoeing trips in Colorado.
Eldora Mountain Resort's Årestua Hut offers day and overnight access.
Huts for Summer Camping
Hut touring isn't just a winter activity. Most of the above hut systems are also available during the summer months and are an alternative to tent or primitive camping for backcountry hikers.
Tips for Your Hut Trip 
While backcountry hut trips can offer the experience of a lifetime, they're no walk in the park. Physical stamina, map skills and preparedness are all crucial for a good time.
Make sure you're fit enough to make the trek required to reach your hut. Stay on established trails and follow recommended hike times to ensure you arrive at your hut before dark.
You'll be spending a lot of time outside, so be sure to pack adequate clothing and layers to protect you from the elements. And bring a first-aid kit, just in case. 
While most huts provide cookware and utensils, you usually have to BYO food. At most locations, guests obtain water from nearby streams or snowmelt, so treat all water you drink by using a filter, SteriPEN or boiling to kill bacteria.
Pack lightly and sensibly, so you don't have to lug a lot of unnecessary weight around. All you really need is food, clothing and a sleeping bag. Most other necessities are provided, but check with your specific hut first.
Most huts sleep between two and 20, so it's normal to share them with others using the trails. If you want privacy, look for huts that only book one group at a time. If you're staying with others, pretend like your mom's watching: Clean up after yourself, restock wood and refill snowmelt pots.
Bring your confirmation letter with you. You'll likely need a com­bination to get in and, if any questions arise, it proves you have a reservation for that day. 
A Colorado backcountry adven­ture really is as cool as it sounds. Thus, huts fill up fast, so be sure to book in advance — we're talking months to years in advance.
Anyone heading into the backcountry in any season should be COLO-Ready. Check out our brochure to make sure you're raring to go.
Want More?
Colorado's Best Snowshoeing Trails
Where to Snowshoe & Cross-Country Ski
Winter Trails for All Snowy Adventures
Photos courtesy of 10th Mountain Division Hut System.