Colorado in Color: Explore the State's Black History, Culture & More
Colorado's past often calls to mind images of splashy Spaghetti Westerns filled with wind-burned, blonde cowboys galloping across the dusty plains. But there's more to the picture than that.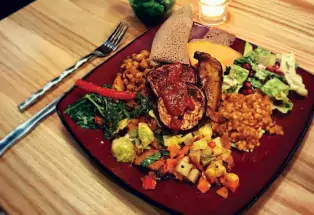 Raska Sauce & International Cuisine
Colorado not only boasts a rich Black history of civic engagement and entrepreneurship; it's also home to numerous communities of color that round out the real picture of our Centennial State.
Historical Sites
Learn about Colorado's many early Black cowboys — including the famous Bill Pickett — and the tremendous role they played in America's big Western expansion.
In the self-guided tour of historical Five Points, step into monumental footprints left by jazz legends and the local artists' community.
Known as "the Baron of Colorado," his name is based on the Lancelot Ford locomotive, a perfect symbol of the powerful force that propelled this formerly enslaved man through life.
See this once-booming community of 300 Black homesteaders who settled here in the early 1900s.
In the late 1870s, Black troops known as Buffalo Soldiers were stationed at Fort Garland and served in innumerable ways. They did everything — from preventing conflict between the Native Americans and the white prospectors to guarding and repairing the post, and they even acted as its fire department.
McDaniel's childhood home isn't gone with the wind. It's a standing memorial to her fascinating life and work.
Lincoln Hills emerged in 1922 as a recreational haven for Black people who weren't freely permitted to visit national parks and public resorts. Today, it's owned privately and its outdoorsy outings empower youths by connecting them with nature.
Download the History Colorado app, which features the Black Heritage Trail, for your next road trip. With it, learn about the many often overlooked ways Black Americans influenced and explored the West as you stop at places of significance throughout the state.
Eats & Drinks
Fire up your tastebuds with New Orleans-style faves like po'boys, gumbo and — of course — red beans and rice. Top off your meal with a slice of boubon pecan pie.
Signature dishes include pink lentil soup, Alicha stew and Ethiopian chicken upon request. Get a "little taste of everything" to go.
They say, "beauty is in the eye of the beer holder." And with canned favorites like Eau du Cologne and Ninja Sh!t, we'll drink to that!
Passion-infused seafood satisfies at this popular eatery. You can even bring home a bottle of their signature My Secret Seasoning to inspire your own cooking.
Fresh and affordable fine dining sets this venue apart. From chicken and andouille gumbo to green-goddess salads and satisfying veggie sandwiches,
it'll appeal to all palates.
This menu offers a dizzying list of crepes, from Black Passion berry coulis to Pizza Lovers. It'll take a minute, but this menu's a sweet read you'll surely savor.
Themed as "an interstellar trading post" run by monastic "Tappist" monks, Outworld elevates this beer-drinking experience by light years.
Carefully selected small batch, farm-to-bottle ingredients make for an exciting blend of homegrown sophistication in every single pour.
Opting Outside
Get outdoors with experienced Black guides and other leaders of color. These welcoming groups will get you going across the Front Range and beyond. Get started with the basics of Colorado camping >>
Black History Bonuses
Colorado's heritage is, indeed, as colorful and notable as its cultural celebrations. Here are some fun-filled festivals that celebrate our diversity and history well beyond February's Black History Month.
Self-Guided Tours
These invite you to walk in big footprints. 
Pueblo — Explore the town co-founder by trapper-trader-explorer James Beckwourth.
The Little Rectangle — See where Boulder's Black community once lived.
Want More?
Get ideas for winter vacations the whole family will love >>
Check out these hidden-gem history museums >>