Colorado Mountains: 6 Famous Peaks
One of Colorado's biggest claims to fame — literally — is its 58 fourteeners: Rocky Mountain peaks that rise more than 14,000 feet above sea level.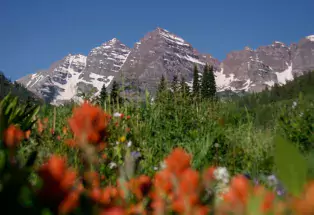 These sky-scraping mountains make us the tallest state in the nation and lure hikers and photographers anxious for that amazing photo and bragging rights for summiting their heights. Pikes Peak, Rocky Mountain National Park's Longs Peak, Mount Blue Sky, the Maroon Bells and Mount Sneffels are five of Colorado's most popular and most photographed mountains. And they're so beautiful, even the novice photographer will look like a pro.
1. Mount Elbert
Mount Elbert is the tallest mountain in Colorado, coming in at 14,433 feet. It's also the second-highest peak in the contiguous United States. With such honors, you can imagine that the Sawatch Range peak is popular with climbers and hikers. Reachable from the home bases of Leadville and Twin Lakes, one of the best ways to see the peak (and its neighbor, Mount Massive) is from the window of the Leadville Colorado & Southern Railroad.
Hikers are lucky, as there's a 9.1-mile round-trip trail that goes all the way to the lofty summit — though with an elevation gain of nearly 4,500 feet along the way, they may not feel so lucky.
Location: The Mount Elbert (Northeast) trailhead is located off North Halfmoon Road southwest of Leadville, just past Elbert Creek Campground.
2. Maroon Bells (pictured)
It's said that the Maroon Bells (actually, two peaks: Maroon Peak and North Maroon Peak) are the most photographed peaks in Colorado's Rocky Mountains, and when you see them, you'll understand why. With a reflective lake to cast back their beauty and a crystalline blue sky to frame their edges, the pyramid-like peaks of these sister mountains are a photographer's dream. The naked faces of these often snow-dusted behemoths stand in contrast to the lush greenery of conifers and brilliant wildflowers that grow in their shadows.
Maroon Bells hikers and bikers can access a moderate, 1.5-mile trail that hugs the lake and provides many areas to stop and snap a shot. For much of May through late October, a shuttle from Aspen Highlands that runs 8am–5pm is the only way to reach the peaks. (You can drive there outside of those hours, but parking reservations are required.) Maroon Creek Road is closed during the winter, so cross-country skiing, snowshoeing or snowmobiling are the only ways in. Learn about overnight permits and fees for camping in the Maroon Bells-Snowmass Wilderness >>
Location: From Glenwood Springs, travel southeast on Highway 82.
3. Pikes Peak 
At 14,115 feet, Pikes Peak is a monolithic monument named for explorer Zebulon Pike, whose travels left an indelible mark on the psyche of the American people and the Rocky Mountains. While Pike himself was never able to reach its summit, he was the first documented pioneer to try. Well before Pike, however, the Ute people summited the mountain, which they called Tavá Kaa-vi (the Sun Mountain). Infused with historic significance, a picture of this peak is more than just a shot of scenery — it's a glimpse into Colorado's identity.
If you have an adventurous spirit, drive the Pikes Peak Highway to get your shot. (Note: Visitors who want to drive to the summit park in the top lot from May–September will be required to make an online reservation.) It has more than 150 turns that traverse the mountain face, each one providing a vista worth photographing. Or, leave the driving to your conductor on the Broadmoor Manitou and Pikes Peak Cog Railway, where your hands will be free to snap photos as you're treated to the history and lore of the mountain. 
4. Longs Peak 
The centerpiece of Rocky Mountain National Park, Longs Peak regally stands at 14,259 feet. This odd-shaped peak juts up like an eroded box displaying both sharp corners and flat faces, including a flat summit. Thanks to these geometric angles, light and shadow compete throughout the day, providing dramatic contrasts and breathtaking photographs.
Longs Peak takes its name from an explorer of the area, Major Stephen H. Long. In 1820, his group explored the Colorado territory's newly defined northern boundary. Their party only witnessed this peak from afar, but even at a distance they found the largest mountain on the horizon fit to bear the name of their respected leader. When you encounter this Longs Peak, you'll see why they were inspired to do so.
For those looking for a "Longs Peak hike," you should look no further: Rocky Mountain National Park is careful to stipulate that there is no Longs Peak hike — it's a climb with vertical rock faces, narrow ledges and loose rock and should only be tackled by those experienced and prepared enough to do so. There is, however, a lovely hike within the park that offers great views and pics of the peak: The 5.3-mile Mills Lake via Glacier Gorge trail is perfect for ogling Longs. (Note: Rocky Mountain National Park requires a timed-entry reservation from late May through late October.)
Location: From Boulder, travel north on Highway 36 to Estes Park and Rocky Mountain National Park.
5. Mount Blue Sky
There are few places in the world that you can motor over a mountain more than 14,000-feet high. In fact, at 14,130 feet, the route over Mount Blue Sky (formerly Mount Evans) leads you along the highest paved road in the United States. The road is closed and impassible due to snow from Labor Day to Memorial Day, but once it opens, bring your camera and be prepared for some of the most magnificent views you've seen. A short hike takes you to the pinnacle of Mount Blue Sky at 14,265 feet where views of the surrounding ranges and valleys capture the sheer greatness of the Rocky Mountains themselves. Learn about the Mount Blue Sky Scenic Byway. (Note: A timed-entry reservation is required to drive the byway.)
Location: From Denver, travel west on Highway 70 to the town of Idaho Springs. From town, continue along Mt. Blue Sky Road, past Echo Lake, to the peak.
6. Mount Sneffels
Mount Sneffels juts out of the earth like a mythical peak. High-alpine trees abruptly give way at timberline allowing the naked face of the 14,157-foot peak to loom over the landscape. This mountain sits in the extremely rugged Mount Sneffels Wilderness Area. If you're able, grab your camera and take the time to explore on foot the stunning natural lands that surrounds this peak.
There are no roads to this mountain, so set up your tripod on Dallas Divide Pass on Highway 62, just outside of Ridgway. Or for hike-in views, tackle the strenuous 14-mile Sneffels Highline Loop, which starts right in Telluride. 
Location (driving): From Telluride, travel along Highway 145 north, to the junction of Highway 62. Turn onto Highway 62 toward Dallas Divide Pass.
Want more?
Quick Guide to Colorado's National Parks >>