Colorado Restaurant Bites: Granny's Pesto Pizza at Hot Tomato Cafe in Fruita
Colorado's Western Slope is a sacred playground for mountain bikers. When the sun sets and it's time to replenish and trade tales of the trails, they head to Hot Tomato Cafe in Fruita for several slices of Granny's Pesto Pizza, which is known for being "basically addictive."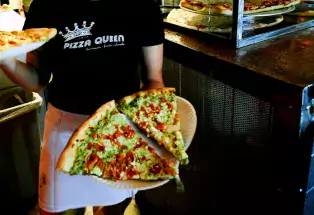 This level of demand ensures Hot Tomato always keeps the pie in the rotation. Zesty basil and garlic, tangy parmesan, fresh mozzarella, roma or heirloom tomatoes, crumbly feta cheese and handmade crust dusted with secret spices combine to create the object of pizza-hounds' dreams. When in season, the Hot Tomato folks strive to source their ingredients from local farms, including basil and organic tomatoes.
Once the pesto pilgrimage has been completed, diners can focus on choosing from a sweet selection of local beers on tap, including hard-to-find, small-batch, experimental series when available.
Then it's time for these riders, visitors to nearby Colorado National Monument and Colorado wine country, and other restaurant regulars to take in the cafe's welcoming atmosphere — and find out why many consider this the best place to hang in Fruita. A lounge-inducing patio dripping in honeysuckle, summer concerts in the back alley,  friendly employees with extensive trail tips, and a solid rotation of seasonal pies make for a fun meal you're sure to return for again and again.
Want more?
Check out this Fruita itinerary >>
Learn why Fruita is a biker's paradise >>
Photo: Courtesy of Hot Tomato Cafe.