Colorado Scenic Byway: Los Caminos Antiguos & Great Sand Dunes National Park
Larger than the state of Massachusetts, the San Luis Valley is one of Colorado's most impressive landscapes, with massive sand dunes, nine 14,000-foot peaks ringing its edge and the historic Rio Grande pulsing through its heart.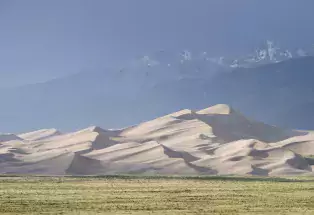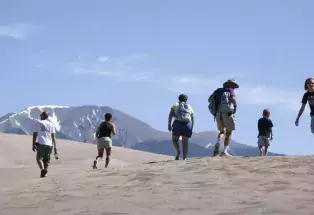 Colorado's Los Caminos Antiguos Scenic Byway explores the wide and flat expanse of the valley floor that served as a gateway into Colorado for Spanish explorers arriving from the south. As a result, the state's oldest communities can be found here.
Los Caminos Antiguos zigzags through the belly of the valley and eventually rises into the southern San Juan Mountains. Here are some highlights of this route:
Get out of the car and board the Cumbres & Toltec Scenic Railroad in Antonito, an authentic original of the narrow-gauge railroad era.
Finish your route atop beautiful La Manga Pass, whose aspen-shaded reaches offer a magnificent conclusion to your tour.
Total distance: 128 miles 
Suggested time: 3 hours 
Want More? Check out this two-day San Luis Valley itinerary and San Luis Valley Heritage.
Colorado is home to 26 Scenic and Historic Byways, 13 of which are also federally designated America's Byways. Read about all 26 in our Quick Guide to Colorado's Scenic & Historic Byways; check out our new Colorado byways microsite with videos, trip tips and more; or view our virtual Colorado Byways Guide.
Photos: Great Sand Dunes National Park and Preserve near Alamosa; the Shrine of the Stations of the Cross in San Luis, Colorado; Great Sand Dunes National Park and Preserve.