Colorado State Park Profile: North Sterling State Park
On the plains of northeastern Colorado, North Sterling State Park may draw boaters and anglers to its 3,000 acres of pristine water, but it certainly doesn't disappoint landlubbers who enjoy Elks Campground year-round, or early-morning wildlife viewers trying to spot a hawk, an eagle or other wildlife.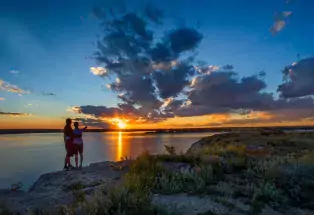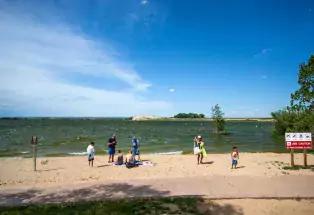 Bikers and hikers enjoy the 3.5-mile South Shoreline Trail, while waterfowl hunters are permitted in designated areas from the first Tuesday after Labor Day to the Thursday before Memorial Day.
Gain a new appreciation for the wildlife and plants that thrive on the plains by checking out a free Family Activity Backpack from the Visitor Center that includes a nature journal, bug boxes, magnifiers, binoculars and a field guide. The Visitor Center also loans out life jackets and a handheld GPS unit. While there, pick up a Geohunt Scavenger Hunt Activity guide to complete.
Magic Moments
Glimpse the nesting bald eagles as they hunt for food for their families on the north shore of the reservoir. Catch a wiper bass or walleye that'll be big enough for a tall tale. Enjoy the serenity of a sunset picnic on the water.
Extend Your Trip
Fort Sedgwick Museum, Kit Carson County Carousel, Old Town Museum, Overland Trail Museum, South Platte River Trail Scenic and Historic Byway
Nearby Towns
Burlington, Fort Morgan, Julesburg, Sterling
Photos: Courtesy of Colorado Parks & Wildlife/Verdon Tomajko (images 1–3) and Mike Alosi (last image).