Colorado Towns With Visit-Worthy Designations
From the Wildflower Capital of Colorado to the Switzerland of America, Colorado cities and towns have a plethora of pleasing nicknames. Here's what's behind the state's most famous monikers and how to enjoy each location's specialty.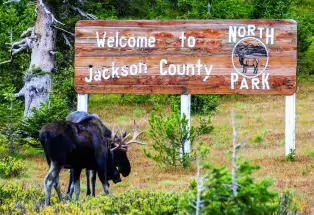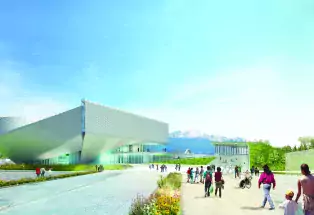 What's behind the name?
Home to well-defined muscles, unbridled competition and, of course, lots of spandex, Colorado Springs is a hub for all things Olympics. Journey to Colorado's second-largest city to take an athlete-led tour of Colorado Springs Olympic and Paralympic Training Center. The Springs is also home to Olympic and Paralympic Committee Headquarters and National Sports organizations.
How to enjoy it:
The training center welcomes more than 10,000 athletes annually, all of them nurturing dreams of becoming America's next Mikaela Shifferin or Missy Franklin. And 130,000 visitors flock there every year to soak in all the Olympic glory with a tour.
June 23 is Olympic Day, celebrating the world's first modern-day games in 1894. In Olympic City USA, this means free training-center tours and opportunities to mingle with Team USA athletes. Head to teamusa.org/OlympicDay for info.
Designed to mimic the undulating flow of an athlete in motion, the $90 million U.S. Olympic & Paralympic Museum and Hall of Fame is the place to be for Olympic history, memorabilia, an interactive opening-ceremonies tunnel (where you can run with the athletes) and a medal-and-torch display.
Wildflower Capital of Colorado, Crested Butte
What's behind the name?
Every summer the high-alpine fairyland surrounding Crested Butte is set aglow with violet-hued bluebells, vibrant sunflowers and tricolored calypso orchids (aptly nicknamed fairy slippers).
How to enjoy it:
A meandering hike supplies plenty of wildflower grandeur. Take Lupine Trail for corn lilies and lupines; Rustler Gulch Trail for sunflowers, sneezeweed, scarlet gilia and larkspurs; Copley Lake for mountain bluebells, marsh marigolds and glacier lilies; and Columbine Trail for columbines.
Trek the challenging, 11-mile West Maroon Pass trail between Crested Butte and Aspen for flower peeping between two historical towns. Depending on your pace, this photo-worthy jaunt will take anywhere from six to 10 hours on foot, its highest point reaching 12,500 feet. Spend the night at whichever end you find yourself, then head back the way you came. Bring snacks, lots of water and plenty of layers.
Held annually since 1986, typically in July, the Crested Butte Wildflower Festival is scheduled to coincide with peak bloom. Enjoy garden tours, guided hikes, seasonal treats and art workshops.
Switzerland of America, Ouray
What's behind the name?
Grab your alphorn and yodel your way to Ouray, America's own lil' Switzerland. A siren song for Patagonia-clad adventurers, this ice-climbing spot turned summer destination becomes a flower-speckled playground every June, whether you're trekking to waterfalls, four-wheeling or horseback riding.
How to enjoy it:
Off-roading will make your stomach flip — in a good way — with guided backcountry Jeep tours. Experience chauffeured thrills and postcard-worthy views with outfitters like Switzerland of America Jeep Adventures.
Head off the grid with a rugged hike. The dog- and kid-friendly Baby Bathtubs Trail winds along a stream that's fun for splashing. You're sure to get wet as you hoof it to the cascading Box Canyon Falls. The lightly used Blaine Basin Trail offers solitude with stately views of Mount Sneffels. And if you're heading up Horsethief Trail, bring some snacks and plenty of water. Its winding switchbacks — along 12 or so miles — burn major calories. 
Unwind, post-adventure, with a steaming dip into Ouray Hot Springs Pool. A bone-soothing tradition since 1927, this year-round pool boasts naturally heated mineral water along with family fun: slides, a climbing wall and an obstacle course.
Peach Capital of Colorado, Palisade
What's behind the name?
Most Coloradans agree that Palisade peaches are simply the best. That's because the western farm town's unique climate (hot during the day and cool at night) cultivates a perfectly sweet flavor. While area orchards, some of which date back to the 1890s, also grow delicious apples, apricots, cherries and pears, the peach is Palisade's fuzzy crown jewel.
How to enjoy it:
Delight your taste buds with a tree-ripened peach. Find them at area farm stands or pick your own. Palisade Peach Shack, Green Barn Fruit Co. and Mount Lincoln Peach Company all offer u-pick options for the whole family.
From peach-infused cocktails to smoothies and salsas, area restaurants serve their take on this yummy seasonal food. Sample peach pizza at Fruita's Hot Tomato, peach brandy from Peach Street Distillers and peach sorbet from Pêche in Palisade.
Palisade's first Peach Day Festival was inaugurated in 1909 with a speech by President Taft. The tradition lives on with the annual Palisade Peach Festival every August. Join time-honored activities like the peach-eating and biggest-peach contests, along with events like car shows and foot races.
Moose Viewing Capital of Colorado, Walden & North Park
What's behind the name?
With more than 600 moose hanging around Walden and North Park, they're fairly easy to spot year-round. Kings and queens of the forest, these ginormous antlered beasts are just as likely to saunter down the street as graze in the forest. Just keep a respectful distance — unlike Bullwinkle, they can be aggressive.
How to enjoy it:
Start with a visit to Moose Visitor Center at State Forest State Park near Walden, then head out for a hike. Besides moose, the state park boasts elk, mule deer, beaver, fox, eagles and black bear. The center itself offers guidance on the best places to spot wild things and lots of fun moose facts.
Be patient and keep watch — one will pop up eventually. Bring binoculars for some long-distance viewing.
On the search for a moose? Then leave your dog at home. Moose instinctually identify them as predatory, just like wolves. There's no quicker way to make a moose peevish — and ready to charge.
More Towns With Fun Nicknames:
Want more?
Check out these cool Colorado summer festivals >>
Explore 8 ways to enjoy summer in Colorado >>
Photos courtesy of State Forest State Park and the Olympic & Paralympic Museum.