Colorado's Ultimate 3-Day Arkansas River Rafting Trip
Cutting through central Colorado canyons and dropping 5,000 feet in the first 125 miles, the Arkansas is one of the nation's most popular rafting rivers.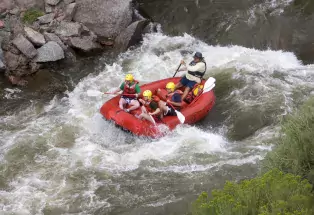 The following three-day itinerary offers up the most continuous whitewater in the state, combining Browns Canyon, Bighorn Sheep Canyon and the Royal Gorge with camping and hot springs in the beautiful Arkansas Valley.
Hook up with a Colorado rafting outfitter, and here's what a few days on the river could look like for your group.
Watch an Arkansas River video >>
Day 1: Browns Canyon Rafting
This journey begins in Buena Vista, where you'll head toward scenic, family-friendly Browns Canyon National Monument. Relax for rolling Class II rapids (learn more about the rating system below), taking in skyscraping granite walls and ancient rock formations, and then paddle hard through jarring Class III and IV gauntlets that include the Pinball and Widowmaker rapids.
Recharge with a catered riverside lunch prepared by your raft guide. (Outfitters typically provide meals on overnight trips. Check with individual companies for specific meal plans.) Continue your trip through the canyon, taking in spectacular views of Colorado's highest peaks, and finish strong with the infamously drenching Class IV Seidel's Suckhole.
Dry out, establish camp and spend the evening on a hike, relaxing on the riverbanks or checking out the Hot Springs Aquatic Center in nearby Salida, where you'll find natural mineral pools ranging from 84 to 100 degrees.
Day 2: Bighorn Sheep Canyon Rafting
Wake to the rushing river and smells of a delicious hot breakfast wafting in the crisp mountain air. Stretch your muscles — or initiate a light yoga session — to prep your body for another day on the river.
Keep your head up and paddle gripped for more than a dozen boat-rocking rapids in aptly named Bighorn Sheep Canyon. Scan the sidelines for lingering bighorn sheep as you float past the Sangre de Cristo mountain range and tackle Class III and IV rapids such as The Flume and Tin Cup. Embrace warmer water and air temperatures as you drop in elevation and take the opportunity to splash around in swimming holes along the river.
After a lunch stop, strap on your helmet and get ready for some whitewater monsters. Technical rapids with daunting names like Devil's Hole wait around upcoming bends.
Set up camp and settle around the campfire under bright stars making their way to the summer sky. Bring fishing gear and a Colorado fishing license and cast into the dusking hours for some of the river's abundant German brown trout. You might get lucky and catch dinner!
Day 3
After consecutive days on the river, your team will be a powerful in-sync rowing machine, ready to take on the Royal Gorge. Fuel up with a hearty breakfast and get pumped for massive waves and stomach-dropping plunges.
Entering the Royal Gorge, rock walls rise up around you and approaching rapids scream and crescendo in the narrowing canyon. Serious Class IV and V rapids come one right after another — Sunshine, Sledgehammer, Wall Slammer, Boat Eater — in an exhilarating rush of whitewater. Stay focused and paddle hard, but don't miss the Royal Gorge Bridge (one of the world's highest) hovering more than 1,000 feet above.
Top off the trip with a final shot of adrenaline on the Royal Gorge Bridge and Park's Skycoaster and swing out 1,200 feet over the canyon you just rafted.
For more, check out our complete guide to Colorado's whitewater rivers and our list of whitewater outfitters.
International Whitewater Difficulty Rating Scale
Class I: Moving water, riffles, small waves
Class II: Easy rapids, waves, clear channels
Class III: Large waves, obstacles, narrow passages
Class IV: Long rapids, unavoidable waves, many obstacles
Class V: Violent rapids, extremely difficult, unseen hazards
Class VI: Unpredictable, dangerous, nearly impossible to run