Cruise-Worthy Curves: Colorado Motorcycle Touring
What makes Colorado a world-famous destination for motorcycle touring? Basically, it's our curves. Getting over and around our distinct mountain ranges and thousands of peaks requires an immense network of hairpins, switchbacks and skyscraping summits.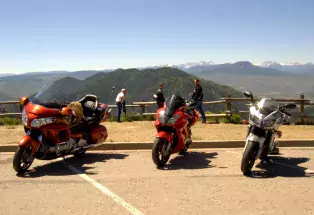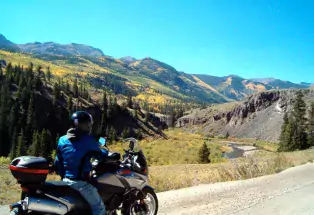 Combined with our dramatic alpine scenery and 26 scenic byways, that network is pretty much heaven for riders.
"You'll never have the experience in a car what a motorcyclist does when you're swooping left and right and left and right up a steep incline," says Ken Bingenheimer, whose Passes & Canyons: Motorcycle Touring in Colorado website is one of a rider's best resources for route and travel-planning information.
"There's no question that bikers prefer the mountains. When you're on a bike, you are out there in the environment and you have a 360-degree view of the world around you. As beautiful as the mountains may look from inside a car, that's nothing compared to the experience on a motorcycle."
Most of these well-rounded roads also have another quality that makes them a siren song for motorcyclists: very little traffic. Sure, there are plenty of wide-open, multilane interstates for when you're in a hurry, but for those who seek the peaceful scenic route, two-lane tarmac makes for the easiest ride.
One thing experienced riders keep diligent track of in Colorado is the weather. With the higher altitudes of western Colorado's mountains come weather that isn't always predictable. For that reason, most riders hit our scenic routes between May and September, when it's easier to count on clear roads and comfortable temperatures.
Those used to the wide-open rides of flatter states should prepare for shorter rides in Colorado's high country.
"In the mountains," says Bingenheimer, "where speeds are slower and the roads curve more and there's more to see, 250 miles can easily take all day … If you're really taking it easy, you might get on the road around 9am and be looking for a place to spend the night by 3 or 4pm."
Many of Colorado's mountain routes pass through historic towns and past ghost towns, so riders should also factor in a little off-bike exploring. Colorado's 26 scenic and historic byways are a great road map for passing through some of our most treasured pasts.
Must-Ride Motorcycle Routes in Colorado
Bingenheimer's must-ride Colorado roads include:
• U.S. 550 (also known as the Million Dollar Highway) from Durango to Ouray
• U.S. 34 up the Big Thompson Canyon to Estes Park and over Trail Ridge Road inside Rocky Mountain National Park
• CO 82 between Aspen and Twin Lakes over Independence Pass
If those rides have whet your appetite for Colorado-style rides, we'd also add these winding routes:
• CO 145 between Dolores and Telluride over Lizard Head Pass
• CO 131 between Wolcott and Steamboat Springs
• U.S. 160 between South Fork and Pagosa Springs via Wolf Creek Pass
• CO 114 between Saguache and Gunnison via North Cochetopa Pass
For more, be sure to check out Passes & Canyons: Motorcycle Touring in Colorado, our 10 Colorado Motorcycle Tours and our quick guide to Colorado's 26 scenic byways.
Photos: Denise Chambers/Miles; copyright flickr/ladylens; courtesy of Colorado Mountain Moto.