A Day of Life on the Frontier in Colorado
Before the Gold Rush inspired droves of eager prospectors to set up camp on our turf in the late 1850s, the stars of Colorado's frontier were Native Americans, explorers, homesteaders, military men, and fur trappers and traders. Follow the itinerary below to trace the footsteps of the guys and gals who made our state what it is today.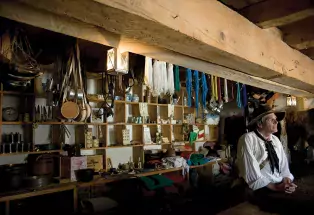 Morning
Start your journey at Bent's Old Fort National Historic Site near La Junta, a reconstructed 1830s fur-trading post where Cheyenne and Arapaho tribes, trappers and travelers gathered to swap hot items like buffalo robes. Situated on the Santa Fe Trail, a route between Missouri and New Mexico traversed by fortune seekers, Bent's Old Fort became a center of commerce for those living on the plains and a hub for cultural interaction between settlers and Native American nations. Stroll the adobe structure's rooms and corridors, and chat up the period-clothing-clad employees about life at the isolated fortress.
Drive northwest to Pueblo's El Pueblo History Museum, which honors El Pueblo, the 1842 fort and settlement where white trappers and traders, Mexican settlers, Cherokee people, and Indigenous peoples of the Great Plains traded and got along (for the most part). The fort was eventually attacked in 1854 by a band of Ute and Apaches and remained abandoned until 1989, when archeologists unearthed its remains and the museum was opened nearby. Must-sees include replicated portions of El Pueblo and other artifacts from Colorado's fur-trade era, including the carved wooden grain chest owned by William Bent (Bent's Old Fort's co-founder).
Afternoon
The best lunch in Pueblo comes in the form of a slopper: cheeseburger patties drenched in green chile made from the city's legendary Mirasol peppers — a recipe cherished by generations of residents (trust us on this one). Eat it at Gray's Coors Tavern or Sunset Inn — the two establishments once went head-to-head in a Travel Channel battle for slopper bragging rights.
After wiping the chile residue off your face, hop on the 103-mile Frontier Pathways scenic and historic byway, which marks the intersection of Native American, Spanish, French and American territories and offers the same views of snow-marbled mountains, rugged canyons and vast meadows encountered by the first Coloradans.
Or head southwest toward Fort Garland, a military post built in 1852 to protect the new settlers in the San Luis Valley against resistant Ute people, who had called the area home for centuries. Bookended by the Sangre de Cristo and San Juan mountains, the valley's history stretches back to the Ice Age. Nomadic hunters thrived on the area's abundant wildlife, and a bevy of storied figures strolled across the landscape, including explorer Zebulon Pike, mountain man Tom Tobin (a regular at Bent's Old Fort and El Pueblo), and frontierswoman and daredevil Calamity Jane.
At Fort Garland Museum & Cultural Center, learn about the many careers of Kit Carson, the famed wilderness guide, army officer and Native American agent who commanded the fort in the 1860s. View a replica of the commander's crib, and peruse a rare exhibit about Buffalo Soldiers, black troops assigned to the West after the Civil War.
Evening
Head west to Alamosa to conclude your history lesson on Medano Pass, where Zebulon Pike is rumored to have been awestruck by the sight of what is now Great Sand Dunes National Park and Preserve. Watch the sunset over North America's highest dunes and understand why Pike, who traveled to the San Luis Valley after "discovering" Pikes Peak in 1806, called them a "sea of sand."
Want More?
Discover more ways to experience Colorado history >>