Relive the Wild West on the Historic Durango & Silverton Narrow Gauge Railroad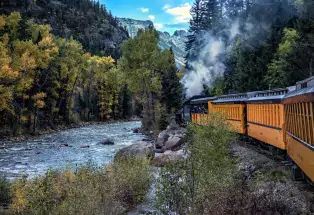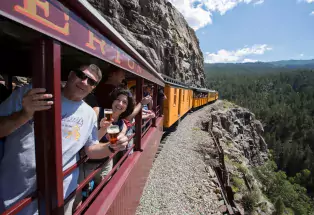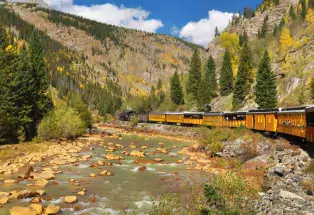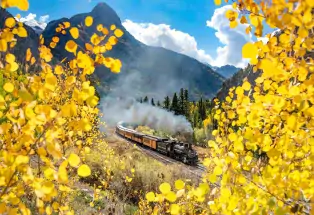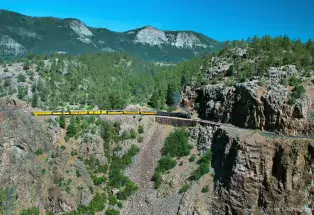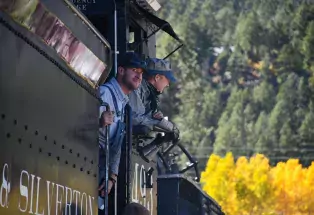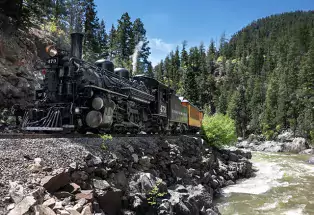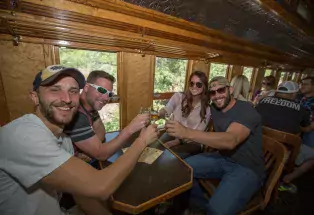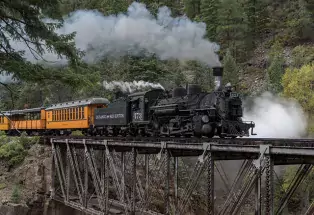 This railroad is designated as a National Historic Landmark by the National Park Service and is also an American Society of Civil Engineering Landmark. The Durango Train is world famous and one of the most popular heritage railroads in North America, offering a unique, affordable, family-friendly travel experience that combines Colorado's colorful pioneering and mining histories with unparalleled Rocky Mountain beauty.
Listen to the steel wheels sing as you venture alongside the rushing waters of the Animas River and amid the towering peaks of the San Juan Mountains to beautiful Cascade Canyon or the historic mining town of Silverton. Operating year-round, the Durango Train is a unique and wonderful way to witness the changing of the seasons, learn about the rich history of Durango and the state's railroading industry and experience the dramatic alpine landscapes of southwest Colorado. 
The train travels to Cascade Canyon, located deep in the wilderness of the San Juan Mountains, year-round. From early May through October, the train carries passengers to and from Silverton, a destination that feels like stepping back in time to the Wild West — when gold and silver mining in the area was at its peak. 
While you're at the Durango Depot, don't forget to visit the free Durango & Silverton Narrow Gauge Railroad Museum, a 12,000-square foot facility situated in the railyard, housing a carefully curated eclectic collection of artifacts and exhibits that paint a picture of Colorado's rich railroading and mining histories. Even more interesting, the D&SNGRR Museum is located in one part of the railroad's roundhouse, the only one of its kind in the world to house authentic narrow-gauge steam locomotives. The museum is open every day the train operates. 
Reservations: 877-872-4607
About Durango & Silverton Narrow Gauge Railroad & Museum
Ride the Cascade Canyon Express
Take the Silverton Steam Train
Hop on the Cascade Canyon Winter Train
Book Your Train
Learn More About The Durango Train's History