Experience Arkansas River Whitewater Rafting in Salida & Buena Vista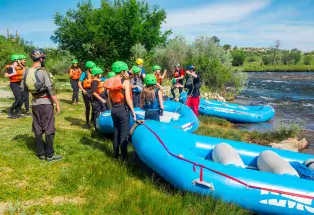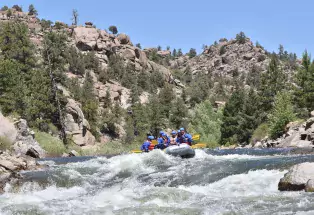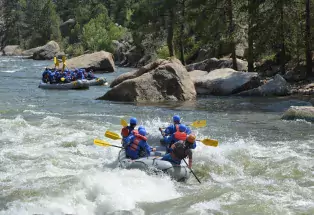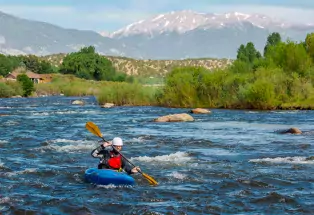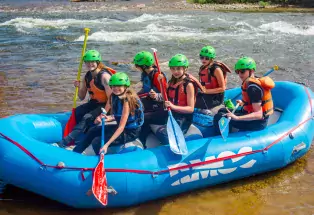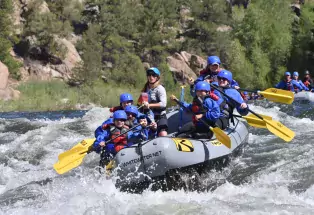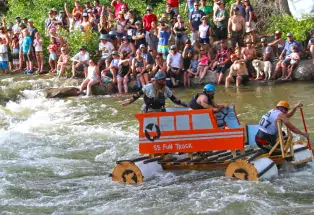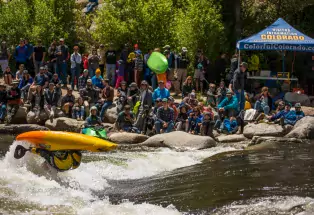 Check out our insider tips for planning your Arkansas River adventures in Salida and Buena Vista, whether you're looking for a family-friendly Colorado whitewater-rafting experience or a ride that'll get your blood pumping.
Whitewater Rafting in Salida & Buena Vista
Salida and Buena Vista sit in the heart of the Arkansas Headwaters Recreation Area. Known for being home to some of the best rapids country, this stretch of river offers a mix of avenues suitable for all ages and skill levels. Here are some locally loved sections.
1. Milk Run
Looking for a whitewater-rafting trip for the whole family? Search no further than Milk Run. This section of the Arkansas is ideal for little ones and those just getting their feet wet in the world of Colorado rafting. The waters here are so calm that kids as young as 2 can come along on a family float trip. The short trip usually runs about an hour, and you'll be treated to exciting (yet gentle) splashes and a wealth of stunning mountain views.
2. Browns Canyon National Monument
This rafting trip is ideal for all skill levels and ages, including kids, adult beginners or advanced rafters who want to stay overnight near the river. Craggy granite cliffs that animals like bighorn sheep call home rise on either side of the river, offering a magical solitude you just don't get with other whitewater experiences. The section of the Arkansas River known as the Browns Canyon National Monument offers plentiful sweet features (think staircases, falls and eddies), plus tours ranging in length from a few hours to multiday camping trips — just imagine falling asleep to the sound of that river running — so you can stretch out the fun as long as you'd like.
3. Pine Creek
Touted as one of the most challenging sections of the Arkansas, Pine Creek is the place to go get your heart pounding if you're an expert-level thrill seeker on the rapids. The river narrows significantly here, creating the Class V Pine Creek Rapid. This natural amusement-park ride spans more than a mile of distance and is loaded with big drops as it plummets more than 200 feet in that space. Immediately after clearing Pine Creek, you'll dip into another complex Class V section called the Triple Drop, giving you even more whitewater-rafting action.
4. The Numbers
This hardcore section of the river has so many rapids that people gave up on naming them and just numbered them instead. There are seven or eight total major rapids (depending on who you ask), making for 7 miles of fast-moving, nonstop-paddling good times for advanced adrenaline fanatics. As with Pine Creek, this is one of the most advanced portions of the river, with big waves, drops and wild currents.
Want to try out the whitewater in a different way? Take some kayaking lessons or an inflatable kayak tour. Find kayaking outfitters in Salida & Buena Vista
When to Go Arkansas River Rafting
Timing is key when booking a rafting trip, as snowmelt dictates the flow of the river. Water levels are important because they impact the type of rafting experience you'll have. 
Late May–Late June
Waters are typically at their highest this time of year, which means thrill-seekers will be treated to plenty of wild rides. Think big waves, fast currents and lots of that churning whitewater magic.
Late June–Mid-August
This is the sweet spot for beginner or family rafting trips on the Arkansas, as water levels are low enough to provide milder paddles, but still high enough to prevent encounters with technical obstacles. The exception to this is more challenging sections, like Pine Creek and The Numbers, which are ripping and ready to provide plenty of action to expert rafters during these times.
Guided Colorado Rafting Trips
Unless you're a pro, you should definitely take on the rapids of the Arkansas River with an experienced local outfitter. Aside from the fact that it's just safer to hit the water with someone who knows how to navigate currents or where tricky wave pockets might be hidden, guides can enhance your time on the river. Here's how:
They can help you plan your ideal outing. Maybe you're looking for a chill family float trip with riverside camping, or perhaps a ride that balances challenging paddle sessions and serene drifting. Outfitters can craft a whitewater-rafting vacay that ticks all the boxes on your wish list. 
Most provide the gear you need and — depending on the length of your trip — will hook you up with meals, campsites and more. 
Best of all, guides really amplify the enjoyment factor by pointing out wildlife and teaching you about the area's geology and history — including cool local lore — as you paddle along.
Find whitewater-rafting outfitters and guides in Salida and Buena Vista
Arkansas River Rafting Festivals
The Arkansas River's whitewater is such an integral part of the culture and history of Salida and Buena Vista that residents celebrate it annually with two local festivals. 
Memorial Day weekend is synonymous with whitewater at Buena Vista's CKS Paddlefest. Get ready to whoop it up on the water with kayaking, river surfing and SUP competitions. Dry off with live music, trail-running races and a disc-golf tourney. 
Each June in Salida, FIBArk takes over the Arkansas for three days of expert-level whitewater competitions and wild races like rafting rodeos with paddlers decked out in costumes. Known for being American's oldest whitewater festival, FIBArk ups the fun ante with bike and foot races, live music, craft brews and a parade.
Check out whitewater parks in Salida and Buena Vista
Explore trout fishing on the area's Gold Medal waters