Experience the Legacy of Buffalo Bill in Colorado
The mystique of this legendary frontiersman and entertainer has lived on near Denver since his death a century ago.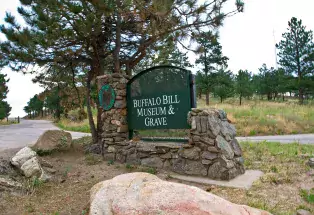 When it comes to historical characters, few embody the spirit of the American West more than Buffalo Bill. Born William Frederick Cody in Iowa in 1846, he rose to international fame as a showman. 2017 marked the 100th anniversary of his death here in Colorado, but his larger-than-life reputation and legacy continue to live on.
The Life & Times of Buffalo Bill
Cody left home around age 11 to become a cattle herder, and then joined the Pony Express as a rider in 1860. His resume also includes stints with the Army as a private in the 7th Kansas Calvary, and later as a scout. But his legend really began to grow as his buffalo-hunting skills became renowned, earning him the nickname Buffalo Bill. With the buzz about his exploits on the plains spreading — thanks to newspapers and dime novels, exaggerated as they may have been — Cody parlayed his status as a national folk hero into a show-business career.
Starting off as an actor in a stage production, Cody went on to create "Buffalo Bill's Wild West Show," a circus-like traveling outdoor spectacle. Real-life ropers and wranglers joined the troupe, helping to popularize the term "cowboy" and serving as a forerunner to modern-day rodeos. Performers like Annie Oakley and Sitting Bull also became household names as the show spanned 30 years in one form or another and made stops in more than 1,400 communities across North America and Europe.
Where to Relive Buffalo Bill's Legacy in Colorado
So what's all this got to do with Colorado? Sadly, Cody died on Jan. 10, 1917, in Denver while visiting his sister. But because of the frozen ground, he wasn't buried until June 3, 1917, outside of Golden, with thousands of people in attendance. Though tales involving a band of body-stealing Wyomingites have been perpetuated by conspiracy theorists since the time of his funeral, Colorado's Lookout Mountain is widely regarded as the site of Cody's final resting place.
These days, visitors can make the drive up to Lookout Mountain Park and the Buffalo Bill Grave & Museum, overlooking the Great Plains and the Rockies with stunning views of the surrounding landscapes. Part of the Denver Parks system, an observation deck is open to the public free of charge, picnic areas abound and a 1-mile hike connects the museum to the Lookout Mountain Nature Center. Inside the museum, you'll find exhibits about Cody's life and the Wild West shows, along with firearms and Native American artifacts like Sitting Bull's bow and arrows.
Want a way to really kick up your heels and harken back to the days of Buffalo Bill? The town of Golden has long celebrated William F. Cody with a summertime fete. In fact, the Golden Buffalo Bill Days, held each July, originated with trail rides up to his gravesite that began in the 1940s. Over the years the event has evolved and expanded into a festival complete with a parade, mutton bustin', live music and even a showcase of "Cody's Wild West" in the spirit of his original production.
Want more?
Check out Colorado's top museums, and for more Western-themed fun look no further than these rodeos throughout the state.