Explore the Maroon Bells: What You Need to Know
While the Maroon Bells are touted as the most photographed place in Colorado, pictures simply don't do the peaks justice. Learn how to visit this iconic landmark and see what makes it a fixture of the state's breathtaking scenery.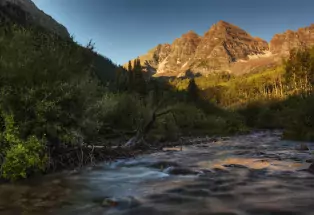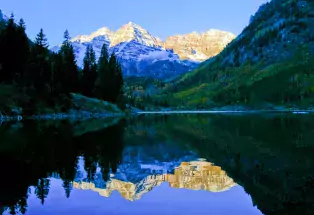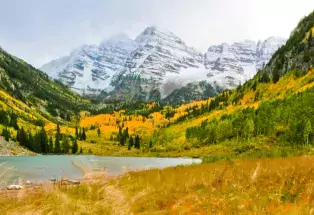 If the views of this pristine valley look familiar, it's likely because the Maroon Bells are the most photographed mountains in America — and for good reason.
Located just 10 miles west of Aspen or 16 from Snowmass in a glacial valley, the 14,000-foot bell-shaped peaks (fourteeners) truly capture the beauty of the Rocky Mountains. Anchored by a stunning reflective lake, Maroon Peak and North Maroon Peak tower over the area, creating an oasis of natural wonder that captivates visitors of this unique destination year-round.
More than 300 million years of geologic activity, including sedimentation, uplift and erosion by wind, water and ice, are credited to the creation of Maroon Valley. And according to the U.S. Forest Service, the mountains received their distinctive maroon coloring from the weathering of hematite, an iron-bearing mineral, while Maroon Lake occupies a basin that was sculpted by Ice Age glaciers.
Now, hiking trails provide access to plenty of these photo-worthy scenes in the White River National Forest, including hypnotizing fields of wildflowers and anglers seeking catches in tranquil Maroon Lake. Fall colors make it an especially dreamy time to visit, when the Maroon Bells are cradled by cloud-speckled blue skies and golden aspen groves. No matter the season, beauty abounds at the Maroon Bells, which is why it's become a bucket list destination for so many.
Getting to the Maroon Bells
Because the natural landmark is so popular, there is limited access to the area during the summer and fall, and reservations are required to visit the Maroon Bells Scenic Area by car or shuttle.
The best way to see the Maroon Bells is to take the public bus operated by the Roaring Fork Transportation Authority (RFTA). Pro tip: Visit mid-week when there's a higher chance you could have the place all to yourself.
The RFTA shuttle service runs between the hours of 8 a.m. and 5 p.m. from late May through late October at a fare of $16 per adult and $10 for children under 12 and seniors. Those who'd rather take their own ride can make reservations to arrive and park at the trailhead outside of these hours at a rate of $10 per vehicle. Note: You must arrive before 8am to park from late May to late October. Reservations for shuttles and trailhead parking open months ahead of time, so book early to make sure you don't miss out. Learn more about Maroon Bells reservations >>
To access the shuttle, catch the free RFTA shuttle from Rubey Park in downtown Aspen to Aspen Highlands for your ticketed connection to the scenic area. Or, park your car at the Aspen Highlands parking garage for $6 per hour.
Visiting in the Winter
Maroon Creek Road is closed to cars and shuttles in cold-weather months, but you can cross-country ski, snowshoe or snowmobile to the area. T-Lazy-7 Ranch offers a snowmobile tour of the snow-dusted Maroon Bells, which includes the opportunity to cruise miles of groomed trails amid wintery meadows and dense aspen groves.
The Aspen Chamber Resort Association and Snowmass Tourism also have great info on getting there and back.
Maroon Bells Hike
Hiking to the Maroon Bells provides immersive access to breathtaking scenes in one of Colorado's natural wonders. With hikes for every skill level, anyone can experience the splendor of the area, but no matter the ease of the hike that you have planned, you should always come prepared. For the best experience possible, be sure to bring proper shoes, sunscreen and drinking water. Dogs are welcome on the trails (and are allowed on the RFTA bus), but they must be kept on a leash.
Maroon Lake Scenic Trail
Perfect for stretching your legs, this easy 1-mile round-trip trek starts at the parking area and follows the circumference of the lake, providing access to the area's most recognizable views as well as an active beaver pond.
Maroon Creek Trail
Start at the outlet of Maroon Lake and travel north along Maroon Creek to encounter alpine meadows, aspen forests and rocky slopes. This 3.2-mile one-way trail is an excellent place to spot wildlife such as mule deer, red fox, bighorn sheep, porcupines and a variety of birds.
Crater Lake Trail
This 3.6-mile round-trip trail adds a bit more challenge, but rewards hikers with breathtaking vistas of bushy Aspen woodlands and Crater Lake. Start at the Deadly Bells Kiosk from Maroon Lake Trail and be prepared for a steep and rocky ascent as well as some cooler temperatures.
Pro tip: As you gain altitude, spontaneous thunderstorms and hail are common for mountain regions, especially in the afternoons. Plan ahead to start and finish your hike early, always check the weather report before heading out and come prepared with a rain jacket.
Find more Maroon Bells hiking trails.
Maroon Bells Camping
Nestled on the banks of Maroon Creek at 8,460 feet, Silver Bell Campground has 14 tent sites and boasts gorgeous panoramas of aspen groves, wildflower meadows and towering spruce and fir forests in the White River National Forest. Access to the Maroon Creek Trail is available nearby as well as excellent trout fishing in Maroon Creek. Permits and overnight fees are required for several areas of the Maroon Bells-Snowmass Wilderness. Find more information on Maroon Bells reservations, permits and fees.
Driving Directions
From Aspen, take Hwy. 82 to the roundabout on the west edge of town, choose the exit for Maroon Creek Road and keep going about 4.7 miles until you reach a welcome station. If you're coming from Glenwood Springs, take Hwy. 82 south toward Aspen until you reach the roundabout (about 40 miles).
Want More?
Hiking to Hanging Lake Colorado
Colorado Mountains: 6 Famous Peaks
 
Photo credits: Heather Rousseau/Aspen Chamber Resort Association, Matt Inden/Miles, Matt Inden/Miles, Jeremy Swanson/Aspen Chamber Resort Association