Find the Best Vanlife Camping in Colorado
Ever dreamt about the vanlife? Waking up and sliding open your side door to see snow-dusted mountain peaks or golden aspen leaves fluttering to the ground? Well, renting a campervan is the perfect way to make those dreams a reality. 

 

Learn about the sweet perks you can expect with a ride from Denver's Native Campervans, as well as some of the top places you can explore.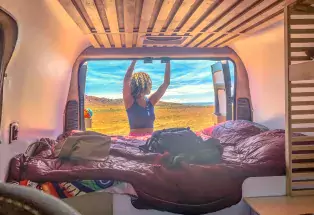 Play where you stay with Denver's Native Campervans.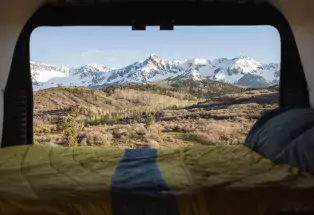 Soak up amazing sights — like the Dallas Divide near Ridgway — from the comfort of your campervan bed.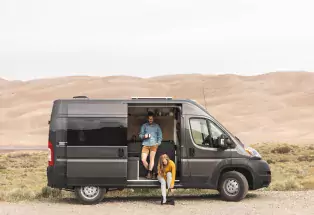 Live the vanlife in Great Sand Dunes National Park, Rocky Mountain National Park and beyond.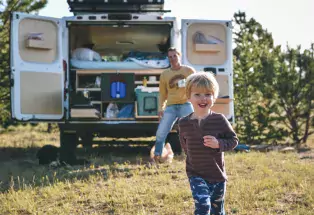 Make lifetime memories on a campervan vacation.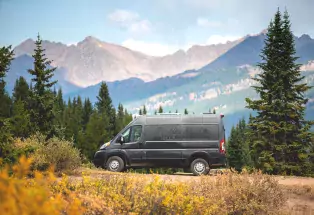 Shot of a Native Campervans rental in its natural habitat. 
Wake up surrounded by Colorado's gorgeous golden aspens.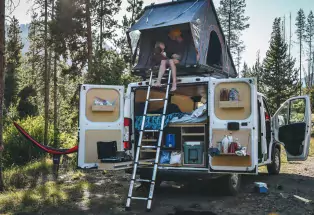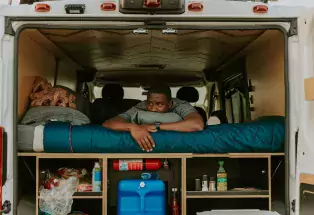 Level up your relaxation on a campervan road trip.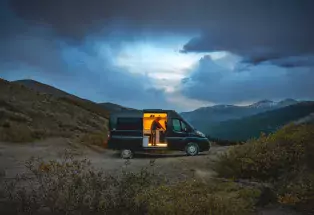 Vanlife equals warm meals, amazing settings and cozy vibes.
Get winter campsites all to yourself thanks to a snug, heated campervan.
Perks of Renting a Campervan
Living the vanlife means you've got your rental car and accommodations in one sweet package. Chase fall colors, change plans on a dime or don't even bother making plans: The extra freedom is part of the experience you get when you rent a campervan. Your lodging goes wherever you do, so you can unlock vacation achievements ... like falling asleep on a comfy, memory-foam bed as the wind rustles through sweet-smelling evergreens … or tossing open your van's back door to watch the sun rise over alpine lakes as you sip green tea under a cozy blanket. Renting a campervan is more than a convenience — it's a full-on experience.
Check out the cool places you can go when you rent a campervan in Denver, as well as what the different rides — The Biggie, The Squad and The Smalls — have to offer. 
Top Spots for Van-Friendly Camping in Colorado
Open: Mid-March through late December
Our favorite season: Winter
Also known as the 18 Road Trails system, North Fruita Desert is mountain-biking haven. Unrack your mountain bike and crank straight from your campsite to 30-plus miles of world-famous, high-desert singletrack. Whip past the base of the Bookcliffs — a gorgeously striated flat-top mountain range — on trails that range from flowy to intensely technical. In winter, you stand a better chance of getting these popular tracks to yourself. The desert can get chilly at night, but you'll stay plenty warm with winter perks like built-in heaters and zero-degree sleeping bags.
Open: Mid-May to early October
Our favorite season: Fall
Wake up to bursts of orange, gold and deep reds when you rent a campervan and spend some time at Difficult Campground. The autumnal atmosphere here is going to be so enchanting, you won't want to leave. Good thing your campervan came stocked with camp chairs and a table, right? Kick back while your coffee percolates on the camp stove, listening to the cheerful current of the Roaring Fork River and maybe the sounds of bugling elk. Or cast for rainbows, brooks and cutthroat. (You've got a cooler to stash your catches, after all.) This is relaxation done right.
Open: Park is open year-round; campground is open late May to Late September
Our favorite season: Summer
There's no better way to experience Colorado's most iconic national park than on a vanlife vacation. Scoop up your campervan rental in Denver, cruise two hours northwest and — boom — you're surrounded by more nature than you'll know what to do with. Roll into your site at Aspenglen Campground, where you'll be surrounded by sweet-smelling thickets of evergreens that give way to meadows dense with colorful wildflowers. Spend the day hiking past glaciers and lakes, where you might catch sight of moose along with black, furry-eared Abert's squirrels and yellow-bellied marmots. Come nightfall, melt into your van's camp chairs and pick out constellations while enjoying freshly made s'mores. 
Open: Year-round
Our favorite season: Summer
Vanlife meets beach life at Steamboat Lake. Brace yourself for misty mornings during which the haze lifts to reveal shimmering waters reflecting snowcapped peaks. Lock your stuff up tight in your campervan, and head out for a day of summer lake fun. Ride the mountain air on a parasail; soak in the views as you float an SUP; or carve up the lake's glassy surface while waterskiing and boating. You're bound to be hungry after a day on the water. Quiet rumbling stomachs with the help of your camp stove — a grilled cheese enjoyed by the lake shore is the perfect end to the perfect day.
Open: Year-round
Our favorite season: Spring
There's nothing quite like renting a campervan and heading to Colorado's high desert in spring, when the plants and critters are the most vibrant. Brace yourself for low-lying explosions of red and pink cactus blooms and swallows swooping down cliffs lined with scrubby juniper. Cruise the 23-mile scenic drive in your home-away-from-home-on-wheels, pulling off to hike any of the monument's many trails. Once you've had your fill of ruddy sandstone spires and wind-etched hoodoos, set up your camp chairs and sunshade and watch for the bobbing movements of collared lizards (easily recognizable by their bright yellow heads and green bodies).
Open: June until October or November (depending on snowfall)
Our favorite season: Fall
The San Juan Mountains put on quite an autumn show at this photogenic hidden gem, so make sure you've got your cameras charged up. (Your ride's solar power and ancillary battery are there to help you, so don't sweat that.) Capture the crimsons, yellows and oranges that streak the views of hulking Wilson Peak as you make your way along Last Dollar Road, which offers a surprise around every bend. One minute you're marveling at the jagged San Juans, while the next you're surrounded by the quaking golden leaves of whispering aspens. 
Open: Year-round
Our favorite season: Winter
Combine the magic of Colorado State Park camping with easy access to city comforts when you roll your campervan into Chatfield. Within the park, you'll find nearly 30 miles of hiking, biking and walking trails. Paved trails connect to the Mary Carter Greenway, where you can cycle to Breckenridge Brewery Farmhouse or Locavore Beer Works to pick up some brews to enjoy while you watch for shooting stars. Colorado winter sunrises are Instagram gold; charge your phone on the van's handy invertor so you don't miss shots of amazingly neon pinks and vibrant purples illuminating the reservoir's frozen surface. Bonus fact: Chatfield is just a short 15-minute drive to Red Rocks Amphitheatre. 
Find more campervan hot spots near Red Rocks >>
Open: Year-round (winter access may be limited due to mud)
Our favorite season: Spring
Nestled in the rolling foothills of the Front Range, Buffalo Creek Recreation Area offers a wealth of fun trails for mountain bikers and hikers. In fact, you can even pick up the extensive 500-mile Colorado Trail and add part of that experience to your vacation memories. Pine's also got its fair share of mountain-town charm. After a day of adventurous trail exploits, load your gear back on your van and roll to Zoka's Restaurant & Bar to enjoy buffalo cauliflower and ribs on the patio as hummingbirds zip by. In late spring and early summer, sip a can of beer by a rushing creek at the must-visit Bucksnort Saloon before heading back to your campground for sweet forest dreams in clean sheets and your campervan's soft bed.
Open: Late May to late September
Our favorite season: Summer
Set your sights on one of Colorado's most scenic campsites, found way up at 9,600 feet. You'll sleep alongside two nearly identical lakes, both of which stun with reflections of Mount Elbert's snow-flanked summit. (Elbert is the state's highest peak and is a truly impressive sight.) While it's unlikely you'll get hot at these high elevations, you've got remote-activated fans at the ready if you do. Spend your days paddling across the lakes, fishing for trout or reading a book in what's surely one of the most beautiful settings in the world. In the evenings, listen to the gentle lapping of the lake on the shore and marvel at the profile of Mount Elbert in the moonlight.
Ready to get your adventure started? Reserve your Denver campervan rental today >>
Pricing
Just like flights and hotels, the cost of renting a campervan depends on availability and demand. Prices fall anywhere from $69 to $299 per night based on the size of your van, your mileage package, how long you're vanlifing and the time of year. Bonus: Native Campervans hooks you up with 100 free miles per night. Learn more about Native Campervans pricing >>
Want more? 
Find your perfect campervan rental in Denver >>
Check out ideas for vanlife camping in Colorado>>
Read five tips for first-time vanlifers >>