Highlights of the High Plains
Only-in-Colorado wildlife, historic sites, cowboy heritage and Americana attractions — to say the least — are proof that our often-understated eastern quadrant is anything but plain. These highlights are just the beginning.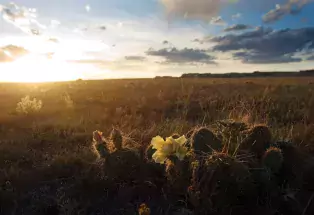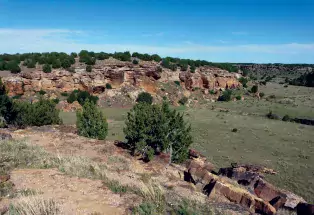 Wildlife Encounters
Start in the northeast-Colorado town of Wray for some one-of-a-kind birding. In the spring, colorful and peculiar greater prairie chickens strut and dance across local grasslands in search of mates. The ritual is such a spectacle that the Wray Chamber of Commerce, East Yuma County Historical Society and Colorado Parks & Wildlife have teamed up to offer special viewing tours.
Rare species like the lesser prairie chicken, golden eagle and swift fox are among the more than 300 species of critters roaming the 440,000-acre Comanche National Grassland in southeast Colorado near La Junta, some of the last short-grass prairie left in the U.S.
Like a hall of fame for dinos, Purgatoire River Track Site (also known as Picketwire Canyonlands) in Comanche National Grassland boasts the footprints of the Jurassic period's biggest celebrities, including the long-necked Brontosaur and carnivorous Allosaurus. Other places to find dinosaurs.
Large populations of bass, walleye and catfish make Lake Pueblo a beloved southeast Colorado fishin' hole. The lake is also an excellent place to spot feathered beauties like red-tail hawks, egrets and great blue herons.
Windows into the Past
Honor the 200 Cheyenne and Arapaho Indians who died when a band of U.S. soldiers attacked their camp in 1864 at the Sand Creek Massacre National Historic Site near Chivington and Eads. Attend a ranger-led talk (daily at 10am and 2pm) to learn how the tragic skirmish forever changed relations with Native American tribes, who claimed the plains as hunting grounds and seasonal homes.
Native American petroglyphs adorn the sandstone walls of Vogel Canyon near La Junta. Visit at sunrise or dusk to heighten your chance to encounter characters like great horned owls, coyotes and pronghorn. Read Ancient Peoples of the Great Basin and Colorado Plateau by Steven R. Simms to learn about the Native American settling of the plains.
Catch a can-can show in the bar at Burlington's Old Town Museum, home to 21 antique-filled buildings, including an old schoolhouse, beauty parlor and doctor's office. Then, mosey over to the 1905 Kit Carson County Carousel, one of only 150 wooden carousels still in existence. The 46 hand-carved animals march to the tunes of a 1909 Wurlitzer Monster Military Band Organ.
Housing one of the only permanent Smithsonian exhibits outside of Washington, D.C., the 13,500-square-foot Wray Museum features an extensive Paleo-Indian exhibit, displaying one of the largest and oldest Stone Age bison kill sites.
Cool Rides
If you dig long-distance rides, the 4,228-mile TransAmerica Bike Trail from Oregon to Virginia passes through Pueblo, Ordway and Eads — delightfully flat riding territory full of charming small towns. Other events in the area include the Kit Carson County Fair in Burlington (July/August) and Doc's Chuck Wagon Cookoff in La Junta (October).
Starry-Night Hot Spots
Pawnee National Grassland: Count up to 15,000 stars while camping at this 193,060-acre wonderland of grass and sky in northeast Colorado.
John Martin Reservoir State Park: With less than one person per square mile, Las Animas County's lack of light pollution supports super-dark nights for easy stargazing. 
Jackson Lake State Park: See the Milky Way two ways — in the sky above and flawlessly mirrored in crystal-clear Jackson Lake near Orchard. In 2020, Jackson Lake was named an International Dark Sky Park, making it the first Colorado State Park to hold the coveted designation.
Other places to stargaze in Colorado.
Check out these Colo-Road Trips across the plains:
Peaceful Eastern Plains: Explore Sterling & Logan County >>
3 Days on the Pioneering Plains >>
Lincoln County Adventure >>
Exploring the High Plains East of Denver >>