Hiking Fourteeners in Buena Vista & Salida
Adventurers convene in Salida and Buena Vista summer after summer for the area's high concentration of hikeable fourteeners (what Coloradans call mountains with elevations of 14,000 feet and up).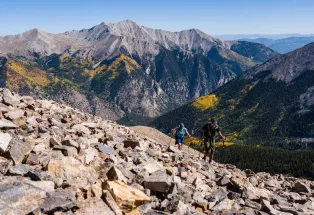 Here's where the Sawatch, Mosquito and Sangre de Cristo mountain ranges meet for unparalleled views as you explore Colorado's wild, peaked and flower-strewn scenery.
Fourteeners To Climb
Mount Harvard
Touted as the Chaffee County high point and third highest peak in the state, Mount Harvard's 14,420-foot elevation offers peak seekers 14.1 miles of captivating sunrises and plentiful wildflowers. This trail may require route-finding skills toward the summit.
La Plata Peak & La Plata-East Peak
Known as Colorado's fifth highest mountain at 14,366 feet, La Plata's challenging 9.6-mile round-trip trek is sure to please with mountain brooks and fabulous above-treeline views. From the summit, extra experienced mountaineers can traverse the difficult ridge to reach neighboring East Peak.
Mount Antero
Level up with this challenging 15.2-mile out-and-back route packed with otherworldly vistas. River crossings and colorful pops of alpine blooms add to the enjoyment, as do marmot and pika, which you might hear chirping near the 14,269-foot summit.
Mount Shavano
Sometimes visible in early summer, The Angel of Shavano, a massive snowfield resembling an angel, is just one of the unique draws of this mountain. The rugged 9.3-mile round trip tops out at 14,229 feet. Very advanced hikers looking to double their adventure can tag on Tabeguache Peak to bag two fourteeners in one day.
Tabeguache Peak
Often called a hidden gem because hikers bypass it for Shavano, this 14,155-foot peak puts the magnitude of the Sawatch Range into perspective with awe-inspiring views from the top. Because it's so lightly trafficked, Tabeguache's 7-mile trail requires excellent route-finding skills and GPS. 
Mount Princeton
Reaching the apex of Mount Princeton — at 14,197 feet — will test your hiking abilities on a notoriously rocky 6.8-mile out-and-back excursion. Rock fields and gullies, as well as steep inclines, are a constant on this peak.
Mount Belford & Mount Oxford
Columbines and dense pine forests flank Belford's 8.1-mile trail that tops out at 14,197 feet. For an extra hard, yet extra rewarding day, you can also tackle Mount Oxford (14,153 feet), bringing your mileage up to 12.5 miles round trip. 
Mount Yale
The dramatic 14,196-foot mountain appears to pierce the sky when viewed from the valley. Mount Yale promises hikers a 10.2-mile adventure from start to finish. Expect lush forestland, alpine wildflowers and maybe even a mountain goat sighting. 
Mount Columbia
The 12-mile trek to Columbia's 14,073-foot cap snakes through shady evergreen forests and before opening up to curving, exposed switchbacks. Expect nearly 2 miles of navigating loose rock fields near the summit and an equally challenging descent.
Missouri Mountain
With an 11-mile out-and-back trail, Missouri Mountain offers an exhilarating route that takes you up to 14,067 feet. As you hike through Missouri Gulch, you'll get a slight break from the intense climbing, as well as sweet views of mountaintops peeping over the gulch rim.
Huron Peak
Hike 6.6 miles through stands of whispering aspens and past streams on the on your way to Huron's 14,033-foot peak. From the top, you can catch stunning views of the Three Apostles — a trio of neighboring thirteeners.
Backcountry Safety Tips
While fourteeners are certainly alluring, hiking them responsibly is key to fully enjoying the experience. 
Research Your Route
The more you know about the trail, the better the experience. Make a route plan and consider group size, equipment needed for the terrain, skill level, private land boundaries, varying terrain possibilities, elevation demands, time expectations and any regulations or restrictions. You also want to make sure you have the right vehicle to get to the trailhead — some roads require 4x4s.
Weather
Early starts are a must. Reaching the summit by late morning is recommended for safer hikes due to weather changes, including strong winds and thunderstorms above treeline on summer afternoons. Being keenly aware of weather forecasts is necessary to position yourself for the safest ascent and descent possible. 
Communicate Your Plan
Leave your plan with a trusted friend making sure to include the route, estimated times of arrival and departure and anyone else going with you. In addition, don't rely solely on cellphones, as there's a good chance they won't work at higher elevations.  
Pack the 10 Essentials
Make sure you're prepared with the following hiking must-haves:
Appropriate footwear, including proper traction and support
A map, compass and GPS (All three and the know-how to use them. GPS might not work in the mountains.)
Water/water purification method (Remember that you need more water at higher elevations.)
Food for yourself and your dog
Rain gear and quick-dry, moisture-wicking clothes
Safety items, including head lamps
A first-aid kit
A knife or multi-tool
Sun protection (You'll be thousands of feet closer to the sun.)
Shelter
More summer backcountry safety tips
Wildlife Spotting on Colorado Fourteeners
As you hike your way to 14,000 feet, you'll pass various landscapes and ecosystems, each home to different animals. Towards the trailhead, keep an eye out for wildlife like elk, mule deer, bighorn sheep and even moose. As you climb, look for hawks, eagles, mountain goats, and marmots with ptarmigan and pika closer to — or on top of — your summit. 
Fourteener Etiquette
Keep these scenic trails and mountaintops in great shape for future generations by being a good steward and following Care for Colorado Leave No Trace Principles, including packing out your trash, respecting wildlife and leaving what you find. 
Want More?
Find more info on Buena Vista and Salida
Your guide to camping in Salida and Buena Vista
Check out Buena Vista and Salida's interactive hiking map
Soothe your muscles at Salida & Buena Vista's best hot springs
All photos: Scott Anderson