Hiking to Hanging Lake Colorado
Hanging Lake is one of Colorado's otherworldly gems. Its wispy waterfall tendrils, gumdrop-green waters, cliffside location (hence the name) and lush surroundings make it one of the state's most popular hikes and are why it was named a National Natural Landmark in 2011.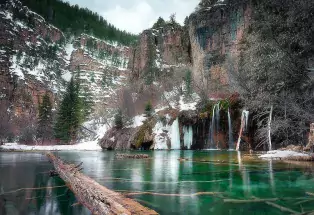 Branching off I-70 just 10 miles east of Glenwood Springs in the spectacular Colorado River-carved Glenwood Canyon, the Hanging Lake Trail is a must-stop along this scenic patch of highway. The trail is relatively short — just over a mile — but it's quite steep and rocky.
There are, however, plenty of places to rest along the way, take epic photos of the canyon and the river flowing through it, and explore rocky hideways. And handrails on especially tricky parts of the trail help keep you moving in the right direction. Making it to the top will take your breath away!
A walkway surrounds the lake, from which you can gaze into its hypnotic waters and spy the native trout frittering within. 
According to the National Park Service's National Natural Landmarks Program, "Hanging Lake is a unique example within the Southern Rocky Mountains … of a lake formed by travertine deposition, " which we know better as a form of limestone deposited by mineral springs. Here, "natural geologic and hydrologic processes continue to operate as they have done throughout the history of the lake. The site also supports one of the best and largest examples of a hanging garden plant community." (See other mineral waters at work at the nearby Glenwood Hot Springs Resort, home to the world's largest hot-springs pool.)
Getting to Hanging Lake Colorado
A Hanging Lake permit system is in place to protect the fragile ecosystem and provide visitors with high-quality experiences through education and interpretation at the trailhead and along the trail. Permits are required year-round.
Visitors can purchase permits online at visitglenwood.com/HangingLake for $12 per person May through October and $10 per person November through April. Hikers can either self-drive and park at the Hanging Lake Rest Area; alternatively, visitors can bike or hike along the Glenwood Canyon Recreation Path to the trailhead. Both permits are identical in cost and time slot inventory. All hikers will be asked to present their permit upon arrival at the Hanging Lake Rest Area; only those with permits will be allowed to park.
What to Bring
Be sure you've got good hiking/walking shoes, sunscreen, a hat, a camera and plenty of water to drink along the way.
There are no restroom facilities at the lake or along the trail, so be sure to use the restroom at the trailhead before you hike. In winter, you should bring traction devices (such as crampons) for your footwear and hiking poles, as the trail gets icy and snow packed.
What Not to Bring
Your dog (they are forbidden from the trail and the lake), fishing gear or swim wear. Though it looks quite inviting, there's no swimming or fishing in the lake. Additionally, touching or drinking Hanging Lake's water is strictly prohibited as well as standing under, behind or on top of the waterfalls and walking on the fallen trees within the lake.
Part of the reason the lake and the area around it remain so majestic generation after generation is that people are asked to stay in designated areas. The lake's ecosystem is quite fragile, and we want people to be able to enjoy it for years to come.   
Want More?
Glenwood Canyon made our list of 99 Gorgeous Places in Colorado. See what else made the list >>
The Hanging Lake permit and shuttle system is in place to protect the fragile ecosystem. Find out how to apply for a permit and more information on the shuttle. You can also purchase a permit to bike to the trailhead.
Learn about other National Natural Landmarks in Colorado: Garden of the Gods, Roxborough State Park and Spanish Peaks.
And find other popular Colorado hikes and read about Colorado hidden gems like Island Lake near Silverton.
Check out our Colo-Road Trip itinerary: Hike Hanging Lake & Soak in the Roaring Fork Valley
Photos 1 and 2: courtesy of Visit Glenwood Springs; 3: geoffpiperphotography