Hit Colorado's Trails Like a Pro With These Tips
There's nothing like Colorado's great outdoors, where visitors from near and far have found a haven for adventure, moments of peace and a chance to wonder at the pristine natural beauty of our diverse landscape. With over 39,000 miles of awe-inspiring trails to explore, there's a lot to see and do — but there's also a lot to know about traveling our four-cornered state.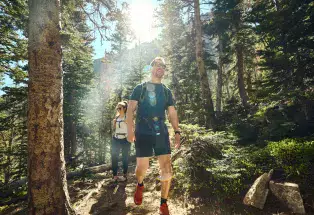 Do Colorado Right by learning about hiking in our state before you hit the trailhead. By being thoughtful with our actions and aware of our impact, we can keep Colorado a special place for generations to come. 
Plan Ahead
A bit of advance planning will ensure your time on the trail is a walk in the park. Here are a few tips to know before you go:
Pick a hike that matches the abilities of your group. You're sure to enjoy the hike more when you know what to expect of the terrain and how long the hike may take you. 
Bring your map along, as there may not be cell service in the place you are visiting.
Check the forecast. The weather can change quickly, so pack layers and make sure you're ready for sun, rain, wind and even snow. 
When hiking in the high country, starting your hike early in the morning ensures you're back at your vehicle before afternoon storms roll in.
Stick to the Trail
It can be tempting to wander from the path when there's so much beauty to chase in Colorado, but staying the course keeps natural lands healthy.
Staying on the trail — even when grabbing that glorious high-country selfie — can also protect vulnerable plants, keep animal habitats healthy and preserve the trail for your next visit.
Wear sturdy, waterproof hiking boots. That way, if there's a puddle on the trail, you can stride right through it instead of going around it. When too many people take detours, the trail widens into areas that need to be preserved.
Trash the Trash
Another way to preserve the trail for the future is to pack out what you pack in and use trash cans to keep these spaces sparkling clean.
Consider bringing along a grocery bag to tote along your banana peels, protein-bar wrappers and even pet waste until you can find a proper trash can. You'll be doing a double-good deed if you also pick up trash left by others.
Bring snacks in reusable containers to reduce the number of things that need to be thrown away.
Throwing food — even compostable items — on the ground can harm the habitat, take a long time to decompose and muck up your scenic vistas.
Stay Hydrated
In Colorado, the higher you go, the drier it gets — and you won't find a drinking fountain at the end of the trail.
A good rule of thumb is to pack and consume double the amount of water you do when you're not hiking.
Bringing it in a reusable water bottle or bladder means you won't have to worry about disposing of it later.
Drinking plenty of water can also prevent altitude sickness as you head farther into the high country.
Camping? Set up in one of thousands of designated campsites in Colorado. They boast some of the most scenic views and protect the landscapes. And remember to camp at least 200 feet from waterways to leave space for wildlife.