9 of the Best Lakes in Colorado
Colorado may be landlocked, but that doesn't mean we lack shoreline. With a large collection of lakes and reservoirs — many that are a boon for boaters — Colorado has its fair share of weekend sailors, windsurfers, swimmers, flat-water kayakers and canoers. Plan your escape to the Centennial State with this list of the best lakes in Colorado.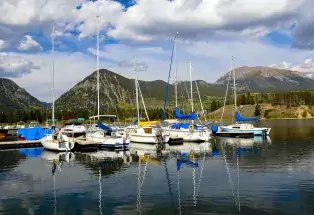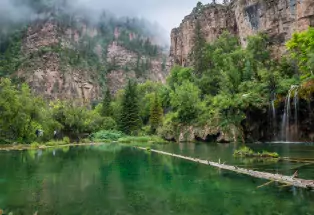 Hanging Lake near Glenwood Springs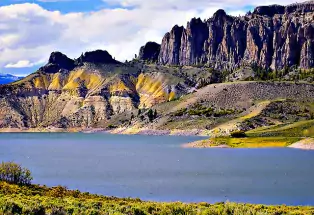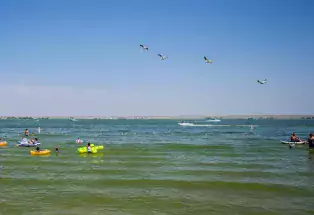 1. Blue Mesa Reservoir
Driving along Hwy. 50, west of Gunnison, you'll be blown-away by the seemingly endless expanse of Blue Mesa Reservoir. With many branching coves and narrow tributaries, this lake offers a remarkably diverse topography. Explore the sprawling windswept beaches and observe the towering geological formations of Dillon Pinnacles. You'll have access to two marinas where you can purchase a fishing license or tackle, and you can rent everything from tandem kayaks to pontoon boats.
Season: Open year-round
2. Lake Haiyaha
Surrounded by craggy granite walls in the glacial valleys of Rocky Mountain National Park, Lake Haiyaha is a small lake that's big on views. In 2022, a massive rockslide offloaded hundreds of gallons of soot and clay into the lake, turning the water a milky sea-green color. This phenomenon garnered some well-deserved attention and further cemented the national park as a must-visit destination for travelers. Lake Haiyaha is a short 2-mile hike from Bear Lake Trailhead — and with a few short detours along the way, you can hit other staples like Bear Lake, Nymph Lake and Dream Lake. Note that this lake is for lookin', not for swimmin'. 
Season: Year-round, though the road to the trail head may close and/or the trail may be blown over in winter
Learn about Rocky Mountain National Park's timed-entry permit system.
3. Horsetooth Reservoir
On Horsetooth's 6.5 miles of water near Fort Collins, canoeists and kayakers explore hidden coves, while hikers emerge from wooded areas and knobby ridges (called "hogbacks") to find blue waters snaking into view. In summer, you'll find swimmers and stand-up paddleboarders enjoying the waters around the South Bay and Sunrise day-use areas. And boaters can be spotted floating in the open waters, observing the sun-washed hillsides. Horsetooth is also a rock-climber's paradise. Test your abilities with hundreds of routes of varying difficulty like Ship's Prow, Penny Lunge and Bolt Wall — all of which are found in Horsetooth's Rotary Park.
Season: Year-round
4. Lake San Cristobal
Near Lake City and Creede, Lake San Cristobal is a geologic marvel amid the San Juan Mountains. The high alpine lake was formed by the Slumgullion Slide — a rare natural earthflow that blocked part of the Gunnison River with weathered volcanic rock. Catch a glimpse of this 4-mile-long natural dam as you ascend Slumgullion Pass or from atop Windy Point Overlook. Here, you can spot the shark-fin peaks of the San Juan Mountains as they soar above the crystalline waters below. Take your boat, canoe or kayak to the public ramp on the west side of the lake or practice your cast at any public-access area for a chance to catch a trophy trout.
Season: Year-round
5. Twin Lakes
Just 17 miles south of Leadville, Twin Lakes is a welcome retreat for travelers of all kinds. Stake a claim on its southern shores for a glimpse of Mount Elbert (Colorado's tallest mountain) reflecting off its placid waters. Or grab a kayak or paddleboard to explore 2,700 acres of pristine mountain lake. Twin Lakes is also home to a sizable population of brown, rainbow and cutthroat trout making this a prime spot for anglers (including those who want to ice fish in winter).
Season: Year-round, but subject to closures in winter
6. Grand Lake
One look at Grand Lake and you'll understand why it's so beloved: Miles of deep-blue waters give way to dense forests, colorful mountain cottages and a long corridor of rising peaks. This Colorado icon resides just outside the little-known western gateway to Rocky Mountain National Park and it's the largest natural lake in the state. Drop by Grand Lake Marina to rent a pontoon boat, fishing boat, canoe, paddleboard or a one- or two-person kayak. Then stroll through the boardwalk in the town of Grand Lake for some local eats and shopping.
Season: Year-round
7. Boulder Reservoir
This 700-acre recreation hotspot boasts lively events all summer long, in addition to water skiing, fishing and spectacular views of Boulder's famous Flatiron Mountains. For the perfect family outing, pitch a lawn chair on one of the sandy beaches and let time pass you by. Lifeguards are on duty around the clock to keep an eye on the kids and there's a playground for when they want to get reacquainted with solid ground.
Season: Year-round
8. Hanging Lake
Hanging Lake is one of Colorado's natural wonders that has to be seen to be believed. Hidden in the rocky alcoves northeast of Glenwood Springs, this lake yields mystifying views of crystal-clear water and the soothing sound of tumbling waterfalls. While you won't be doing any swimming or fishing here, the joy of Hanging Lake comes with its discovery. Start your journey at Hanging Lake Trailhead just off of I-70, where you'll begin your 1.2-mile ascent to the lake. Expect a challenging, steep climb and plenty of scenic landscapes along the way. To protect the gentle ecosystem of this natural wonder, you can't enter the lake's waters. But that doesn't make its beauty any less worth the hike.
Season: Year-round
Make a reservation to hike the Hanging Lake Trail.
9. Jackson Lake State Park
Jackson Lake State Park will take you out of the mountains and place you in the wide-open prairies of The Great Plains, about 26 miles northwest of Fort Morgan. This 2,411-acre lake is host to a range of activities like boating, swimming, water skiing, Jet Skiing and fishing. But what truly makes Jackson Lake so exceptional is its diverse wildlife. Located within the Central Flyway, this lake is home to a colorful array of migratory birds making their journeys across the plains. Bird enthusiasts should keep an eye out for grassland birds like lark buntings and western meadowlarks, as well as long-billed curlews and whooping cranes.
Season: Year-round
Want more?
Discover Colorado's Best Beaches.
Sleep under the stars in Colorado's Lakeside Lodging.
Find more boatable waters on Colorado Parks and Wildlife's website.