Learn About Colorado's Mythical Creatures & Where to Spot Them
You already know that Colorado hosts an array of fascinating wildlife, like mountain lions, moose, bighorn sheep and elk (and that's just naming a few). But have you heard about the myriad mysterious creatures that also live amid our alpine forests and streams?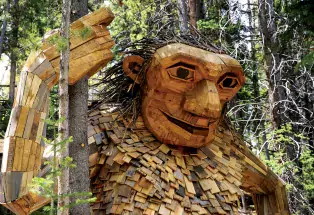 Pay homage to some of Colorado's favorite — and most frightening — mythical beasts with visits to attractions and restaurants…if you dare.
Tommyknockers
These wee tricksters, much like leprechauns, reside in Colorado's gold and silver mines. Cornish miners believed many an eerie underground noise was attributed to Tommyknockers, who also warned miners of impending disasters by knocking from inside the walls.
Where to find them: Explore with Capital Prize Gold Mine Tours in Georgetown to live the legend by venturing 1,000 feet underground into a working mine that's been operating for more than a century. Or, stop at Tommyknocker Brewery in Idaho Springs for a different type of gold — IPAs, lagers and even craft soda made in flavors like almond and orange creme. 
TROLLS
It's speculated that these Scandinavian creatures of snow and ice came for ski season and stayed forever — much like many of Colorado's gnar-loving humans. And whether they're cave- or mountain-dwelling, big or small, cute or downright ugly, one thing is certain: Trolls are super cranky (just like moose) so don't trifle with them. They're also known night owls, most likely because they'll turn to stone and burst if caught out in the sunlight. In fact, any rock you see while driving through our mountains just might be all that's left of one! 
Where to find them: Breckenridge has its very own, they say "friendly," troll — Isak Heartstone. Located on Trollstigen Trail, the charming statue is hewn from wood and stands 15 feet tall. See the troll in all its grandeur, then plan some Isak-approved tomfoolery at Breckenridge's oldest saloon, The Gold Pan. Or "troll" along Cucumber Gulch Wildlife Preserve's scenic hiking trails for treasured wetland views. Find Isak's cousin Rita the Rock Planter in the historical mining town of Victor. (Both trolls were created by Danish artist Thomas Dambo.)
Perched high atop Iron Mountain, you'll find Halvor Flowstone, the sole troll inhabitant (as far as we know) of Glenwood Springs. Wave "hello" to all 14 feet of Halvor from the exhilarating heights of Glenwood Caverns Adventure Park's rides, or take the King's Row Tour to wander the cave he once guarded. After a day of fun, treat yourself to ultimate and all-natural relaxation in the Yampah Spa's hot-springs vapor caves before sating your Halvor-sized appetite with elk meatballs or Impossible Burger sliders at Native Son Restaurant and Bar.
VAMPIRES
Yet another mythical nighttime creature, vampires never age, shapeshift into bats and feed off the blood of the living because these guys are totally undead. Only sunlight and garlic (or maybe a silver bullet, depending on who you talk to) will keep them at bay. So, set out looking for vamps at your own risk!
Where to find them: Head to Lafayette to see a historic grave marker that local lore says belongs to Fodor Glava, a Coloradan miner who was also a real-life vampire. Then sink your fangs into a juicy steak at William Oliver's before getting a bat's-eye view of the Rocky Mountains on a hot-air balloon ride with Fair Winds in nearby Boulder. 
SASQUATCH
Often confused with Yetis, Sasquatch — aka Bigfoot — is actually the hairy, brown cousin of the Abominable Snowman. Bigfeet live in the wild and leave behind, you guessed it, extra-large footprints. 
Where to find them: Test your luck with gaming fun at Sasquatch Casino in Black Hawk or enjoy some peaceful fishing — and hopefully some Bigfoot spotting — at Rocky Mountain National Park with Sasquatch Fly Fishing out of scenic Estes Park. 
YETIS
Otherwise known as an Abominable Snowman, this folkloric beastie is super tall, ape-like and covered in long, white hair. Indigenous to the Himalayas and lovers of mountainous lands, Yetis — much like trolls — lurk around at night. They also pack a mean punch, so stay out of their way.
Where to find them: So many Colorado Yetis, so little time! Get your abominable on with a steaming hot latte at Yeti's Grind in Vail or sip a Snuggler (peppermint schnapps and hot cocoa) on the deck at Bart & Yeti's, also in Vail. In the mood for Himalayan food? Samosas and saag paneer at Yak and Yeti Restaurant in Brighton, Arvada and Westminster will make you smile. Then burn off those calories shredding trails on a bike from Yeti Cycles in Golden.
Want More? 
Check out our less mythical creatures